Sports > Seattle Mariners
Ex-Mariners star Ken Griffey Jr. prepares to join baseball's greats in Cooperstown
Sat., July 23, 2016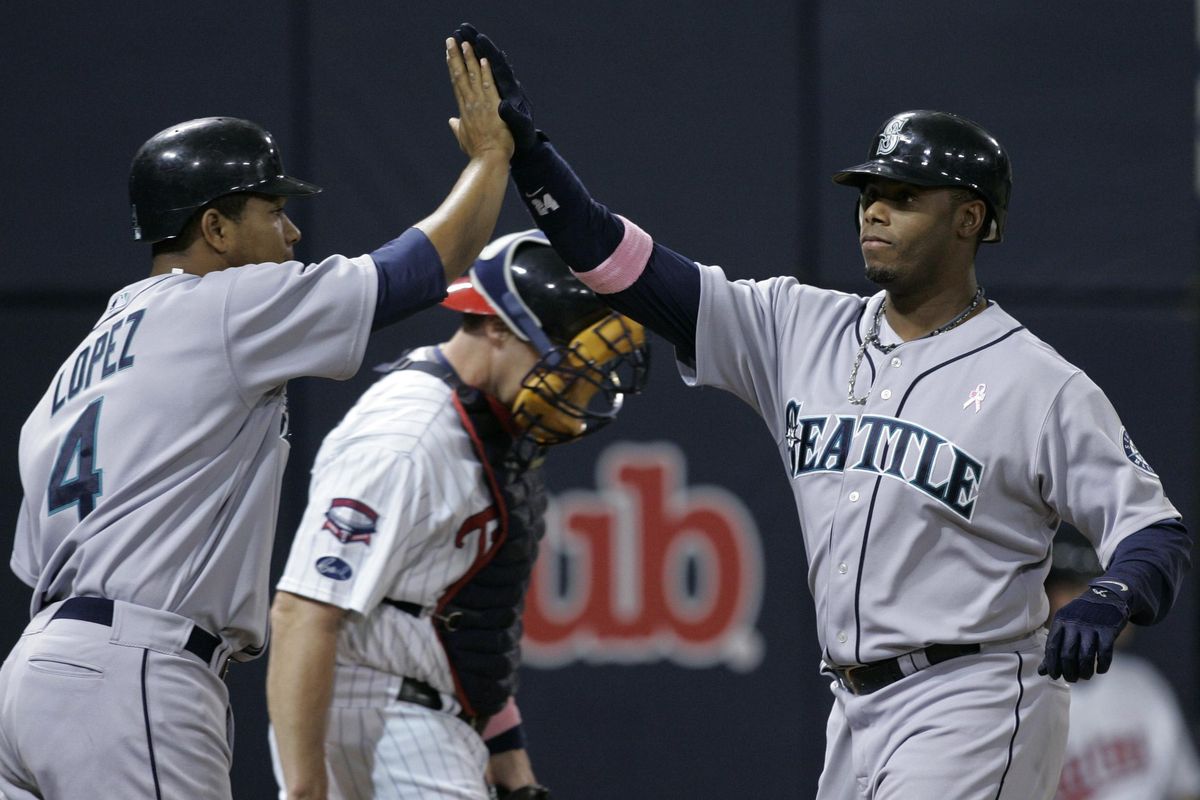 Ken Griffey Jr., right, received 99.3 percent of the votes on his hall of fame ballot. (Jim Mone / Associated Press)
COOPERSTOWN, N.Y. – The plaques of George Herman (Babe) Ruth, Tyrus Raymond Cobb and Honus Wagner hang straight ahead.
Two columns to the right of that is an empty space next to Pedro Jaime Martinez's and a few feet away from Randall David Johnson's. It's reserved for George Kenneth Griffey Jr.
Griffey had a private tour of the room that will immortalize his baseball legacy. It's where he'll be the first of what will be 314 plaques in that famous room in the National Baseball Hall of Fame and Museum to feature a player wearing a Seattle Mariners hat (and it will face forward).
"Quite interesting – knowing that from here on out I'm going to be in there," Griffey said Saturday from the Clark Sports Center. He'll give his induction speech just outside the building on Sunday.
"I got to see all the plaques and I went down the row and looked at all the guys I played against and my dad played against. It was pretty interesting to look at that and look where I'm going to be for the rest of my life and then some."
Most of the hall of famers here aren't new faces to Griffey. He said he met Friday night with Dave Winfield, Eddie Murray and Rickey Henderson – all players he's considered family since Griffey's days hanging out in the Cincinnati Reds clubhouse with his father, Ken Griffey Sr.
"The thing they always tell me: 'What took you so (dang) long to get here?' " Griffey said. "I'm like, 'I apologize. I'll work on it next time.'
"They've always been there. They came up yesterday and I'm walking to dinner and they gave me a hug and patted me on the back and said, 'Hey, welcome.' "
Griffey didn't give away much of what his induction speech will include. His father said Friday that he believed Junior would probably just say what comes to mind at the time. Griffey said he's written a few things down, but "not a whole lot."
But cry? … Not Griffey, right?
"No, that's not going to happen," Griffey said (though it seemed like wishful thinking). "I've got a 22-year-old football player (Trey) who sits in the front row who's going to be like, 'Don't be no punk, Dad. Don't be no punk.' "
He said former Mariners teammate Randy Johnson has offered the most speech advice. Former Reds teammate Barry Larkin said he told Griffey just to avoid looking into the eyes of his three kids.
"Once he does that, he's going to be very emotional," Larkin said. "And I expect him to do that."
Griffey said he plans to wear either glasses or blinders to combat that. Or ask his wife and kids to go to the bathroom so he can talk about them without having to look at them.
"I think it's going to be fun," Larkin said. "I think he should address some of the hall of fame players he played with, and, of course, about his dad and his time playing with his dad. But I expect Junior to have a good time and to be fun and be a kid."
Rickey Henderson said Griffey should mention Rickey Henderson.
"He is a good kid," Henderson said. "For me, I would say you maybe probably thank me for throwing the balls in the hallway and staying and playing pepper with you. And don't forget the basketball shot I made and got back in the car and drove off."
"He's going to bring that up, huh?" Griffey asked. … I got to rewrite a little. I got to touch that up a little bit. OK, Rickey."
But most of the hall of famers here have just jested him to keep the speech to about four minutes. Griffey said it will probably be more like 20.
He hinted he'll advocate former Mariners teammate Edgar Martinez's hall of fame credentials. And that he might talk about his first impressions of Seattle after the Mariners selected him No. 1 overall in the 1987 draft and how that changed over the course of his 22-year career, including an injury-riddled second half that kept him on the disabled list in Cincinnati far longer than he would like to talk about.
When he finishes, Griffey – who rose to such stardom in the 1990s that he made the all-century team in 1999 (just 11 years into his career) – will finally get to see his name etched among the game's greats.
And he'll be the first to do so as a No. 1 draft pick, the first as a Seattle Mariner, and the first to have received 99.3 percent of votes.
"Being the first (Seattle Mariner) – it was something that I talked about and pretty much dreamed about," Griffey said. "To be able to choose what team I wanted to go in with was something special. Obviously, it was going to be the Mariners because of the history I have with the team.
"This is such an honor. I'm overwhelmed and excited at the same time. I've got friends and family who have traveled not only throughout the United States, but one of my friends came from Israel to be here. This is something I can't describe."
But he'll give it a try Sunday.
Local journalism is essential.
Give directly to The Spokesman-Review's Northwest Passages community forums series -- which helps to offset the costs of several reporter and editor positions at the newspaper -- by using the easy options below. Gifts processed in this system are not tax deductible, but are predominately used to help meet the local financial requirements needed to receive national matching-grant funds.
Subscribe to the sports newsletter
Get the day's top sports headlines and breaking news delivered to your inbox by subscribing here.
---