News > Nation/World
Fire near Santa Clarita continues to burn out of control, explodes to more than 20,000 acres
Sat., July 23, 2016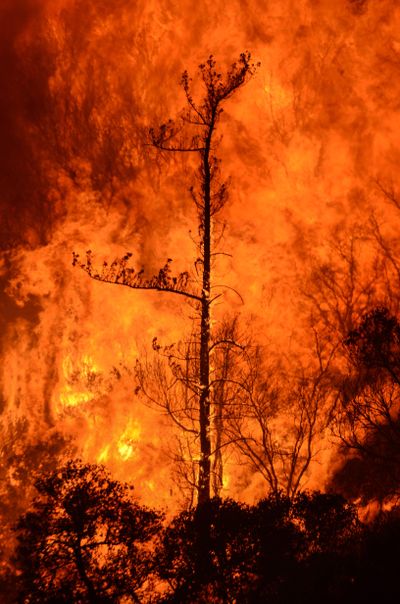 LOS ANGELES – A wildfire in the Santa Clarita Valley area has grown to more than 20,000 acres, prompting new evacuations Saturday for hundreds of homes in canyon areas, authorities said.
The evacuation order was issued about 3:15 p.m. for residents in Sand and Placerita canyons, according to the Los Angeles County Fire Department.
At least 1,500 homes are threatened, fire officials said.
The Sand fire, which was reported about 2 p.m. Friday, is still only 10 percent contained, fire officials said.
The fire had largely burned in areas without many homes until late Saturday afternoon, when winds began to shift from the northwest to the southwest, driving them closer to the Sand Canyon neighborhood in Santa Clarita, county fire officials said.
"Those residents have to be watching the weather, watching the media, and have to be ready to evacuate," John Tripp, a Los Angeles County Fire Department deputy chief, warned at a noon news conference.
The fire's rapid growth has been fueled by "excessive heat, low humidity, extreme dry fuels that have not burned for several decades, and very rugged terrain," said Los Angeles County Supervisor Michael Antonovich, who represents the area and attended the news conference.
Weather officials warned that Saturday would mark the peak of a regional heat wave. Forecasters say temperatures in the eastern Santa Clarita Valley area – where the fire is raging – were expected to reach up to 106 degrees. Red-flag warnings remain in effect for much of the region until midnight.
The strong winds and high temperatures had driven the flames into new pockets of the mountainous area Saturday, Lincon said. Steep hillsides and deep ravines have prevented fire crews from heading into some areas to dig lines that could keep the fire from spreading further.
"Probably five years ago, based on our fire behavior, if we had a similar fire, we would have probably caught this fire at the ridge," L.A. County fire chief Daryl Osby said. "Because this is the fifth year of an ongoing drought this fire has increased to 11,000 acres just overnight."
Meanwhile, a cloud of smoke blanketed much of the Los Angeles region Saturday morning, prompting the South Coast Air Quality Management District to issue a smoke advisory for much of the county that will remain in effect until midnight Sunday.
People are advised to avoid vigorous outdoor activity, and children, older adults and those with respiratory or heart disease should remain indoors. Residents also are being asked to keep their windows and doors closed or seek alternative shelter.
Wildfires increase the particulate matter in the air, and the increased concentration of those particles can cause irritation to the eyes, nose and throat, said Jo Kay Ghosh, SCAQMD's health effects officer. People with asthma could experience wheezing and an increased risk of attacks. The poor air quality could also affect lung functions and people's ability to take deep breaths.
Ash is a relatively large particle, but the fine, invisible particles are most dangerous because people can breathe them into their lungs, Ghosh said. Handkerchiefs and masks are likely to stop ash, but not the finer particles, she added.
If the air quality is "making you uncomfortable, do whatever you can do to remove yourself," Ghosh said. "At the end of the day, people need to use their judgment. . For people who are sensitive, I certainly would encourage them to be more careful."
The fast-growing Sand fire, which originated on the eastern edge of the Santa Clarita Valley next to the 14 Freeway at Soledad Canyon Road, spread southeast into the northern flanks of the Angeles National Forest, a terrain of steep arroyos and dry chaparral.
Robbie Munroe, a meteorologist with the National Weather Service in Oxnard, said winds Saturday will be weaker than they were Friday night – gusts of only 25 mph compared with 40 mph – but still "gusty enough to cause problems" for firefighters.
Conditions remain very dry, with only 5 percent to 10 percent relative humidity in the area where the blaze is burning, Munroe said. The combination of low humidity, high temperatures and significant winds creates conditions that make fires more dangerous – more likely to spread quickly and more erratic, Munroe said.
"The heat and the dry air, for this time of year, aren't that unusual," he said Saturday. "If there's anything that's unusual with this event, it's the extent of the gusty north winds. And anytime we do have red-flag warnings out, we expect critical fire conditions."
Relief is on its way, though.
Forecasters expect "pretty significant cooling for coastal and valley areas" Sunday, Munroe said – as much as a 10-degree drop in temperatures – as the high pressure baking the region begins to weaken. The cool-down is expected to begin Saturday evening and continue overnight, though Munroe cautioned that some inland valleys could feel just as hot because humidity there is expected to increase.
Local journalism is essential.
Give directly to The Spokesman-Review's Northwest Passages community forums series -- which helps to offset the costs of several reporter and editor positions at the newspaper -- by using the easy options below. Gifts processed in this system are not tax deductible, but are predominately used to help meet the local financial requirements needed to receive national matching-grant funds.
Subscribe now to get breaking news alerts in your email inbox
Get breaking news delivered to your inbox as it happens.
---