Sports
MLB Notes: Chris Sale scratched from start for clubhouse incident
Sat., July 23, 2016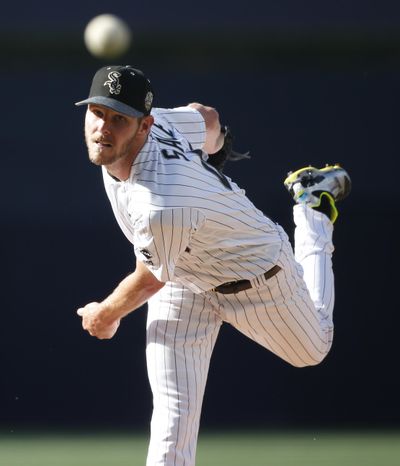 Chicago White Sox ace Chris Sale was scratched from his start against the Detroit Tigers on Saturday night after he was involved in what the team said was a "non-physical clubhouse incident."
Sale, who was to attempt to become the majors' first 15-game winner, was sent home from the park.
FanRag Sports first reported the incident involved Sale's protest of the throwback jerseys the team was scheduled to wear. Fox Sports reported Sale cut up the throwback jerseys during batting practice.
"The incident, which was non-physical in nature, currently is under further investigation by the club," general manager Rick Hahn said in a statement. "The White Sox will have no additional comment until the investigation is completed."
The White Sox marketing department described the night as the "Throwback Game." It announced the team would wear collared, blue and white V-neck jerseys first worn during the 1976 season.
The players instead wore more conventional, throwback white jerseys with no collar and no navy.
Right-hander Matt Albers started in Sale's place and the White Sox planned to use multiple relievers. The crowd booed when Albers was announced as the starter as the teams warmed up.
With the White Sox fading from playoff contention, Sale's name has been mentioned as a possible trade target for contending teams.
The left-hander, 14-3 with a 3.18 ERA, has been outspoken in the past.
Sale was openly critical of team president Ken Williams during spring training when he said the son of teammate Adam LaRoche would no longer be allowed in the clubhouse. LaRoche retired as a result, and Sale hung LaRoche's jersey in his locker.
The 27-year-old Sale has said he'd like to stay in Chicago. He was the 13th overall pick out of Florida Gulf Coast in 2010 and has been selected as an All-Star five times. He started for the American League in this month's All-Star Game.
Sale, who is 71-43 in his career, entered the day leading the majors with 133 innings pitched and three complete games.
In his last outing Monday, Sale allowed one hit over eight shutout innings before closer David Robertson gave up four runs in the ninth in Chicago's loss to Seattle.
The White Sox, who started 23-10, had dropped eight of nine games before Saturday and sat in fourth place in the AL Central, creating speculation that Sale and fellow lefty Jose Quintana could be dealt.
Tigers GM Al Avila said before the game that many teams are looking for starting pitching.
"Yet there are not as many good starting pitchers available," Avila said. "And the guys that may come available are going to come at a steep price."
Hahn said Thursday the White Sox were "mired in mediocrity" and hinted at possible big roster changes.
Giants flip weekend starters
Johnny Cueto started for San Francisco against the New York Yankees on Saturday and Jeff Samardzija will go in the series finale, which Giants manager Bruce Bochy said was his plan all long.
Cueto pitched six innings, allowing an unearned run on six hits an a walk – with nine strikeouts – in the Giants 2-1 win over the Yankees.
Samardzija had been listed as Saturday's starter, and Yankees manager Joe Girardi said he was not notified of the change until noon, about 4 hours before game time.
Bochy, whose first-place team was in a season-high, six-game losing streak, attributed the confusion to a failure to inform the Giants' media relations staff.
"We thought we had done it. This wasn't done last night, which a lot of people think," Bochy said. "I guess it's our fault for not putting it out there a little sooner. I think it was more we took for granted that everybody knew that."
Cueto, the NL's All-Star starter, follows staff ace Madison Bumgarner, who did not get a decision in Friday's series opener.
Both pitchers will be making their second start since the All-Star break. Samardzija did not get a decision in a 7-6, 10-inning loss at San Diego on July 16, and Cueto took the loss in a 5-3 defeat to the Padres the following day – his first loss since April 21. Cueto had pitched that day after waking up with pain in his left side.
Padres, Astros agree with Cuban prospects
Top Cuban prospect Jorge Ona and the San Diego Padres have agreed to a minor league contract with a $7 million signing bonus.
The 19-year-old outfielder receives $4.9 million within 30 days of the deal's approval by the commissioner's office and $2.1 million on Jan. 15. The deal is pending a physical.
Ona was ranked as the No. 8 international prospect of the 2016 class by MLB.com and the fourth-best available Cuban player earlier this year by Baseball America.
General manager A.J. Preller said during a conference call Friday that the contract is for 2017. He hopes Ona will play in the fall instructional league and then report for spring training and start his pro career next season.
The Houston Astros signed Cuban shortstop Anibal Sierra, the team announced on Saturday. Terms of the contract weren't disclosed. The 22-year-old Sierra played for Avispas de Santiago from 2012-14 in Cuba's Serie Nacional. Sierra appeared in 91 games, playing 47 games at second base and 26 games at shortstop. "Anibal is an athletic shortstop who can hit and play multiple positions, and possesses the intelligence, work ethic, and baseball instincts to succeed at the highest levels," Astros international director Oz Ocampo said.
Remy leaves after being struck by monitor
Red Sox TV analyst Jerry Remy was hit in the head by a falling TV monitor as swirling winds caused havoc during the first inning at Fenway Park.
Remy was sent home from Boston's game Saturday night against the Minnesota Twins but is expected back Sunday. Former player Steve Lyons, also an analyst during some games, came in for Remy.
The strong winds made for an interesting first.
Minnesota's Robbie Grossman hit a fly that appeared headed for center, but a gust blew it to right, sending right fielder Michael Martinez twisting as the ball fell for a triple.
There were a handful of stoppages as dirt and litter swirled around the field. Batters stepped out to wipe their eyes and Red Sox first baseman Hanley Ramirez headed to the dugout to have a trainer help him clear his left eye.
Suzuki hurt by foul ball
Minnesota Twins catcher Kurt Suzuki left Saturday night's game against the Boston Red Sox in the second inning after getting hit in the mask with a foul ball.
Suzuki walked to the dugout with a team trainer holding a towel to his chin. The team announced later that Suzuki got stitches on his chin. He was replaced by Juan Centeno.
Local journalism is essential.
Give directly to The Spokesman-Review's Northwest Passages community forums series -- which helps to offset the costs of several reporter and editor positions at the newspaper -- by using the easy options below. Gifts processed in this system are not tax deductible, but are predominately used to help meet the local financial requirements needed to receive national matching-grant funds.
Subscribe to the sports newsletter
Get the day's top sports headlines and breaking news delivered to your inbox by subscribing here.
---