Sports > Outdoors
Mountain goat ambassadors working on Scotchman Peak
Sat., July 23, 2016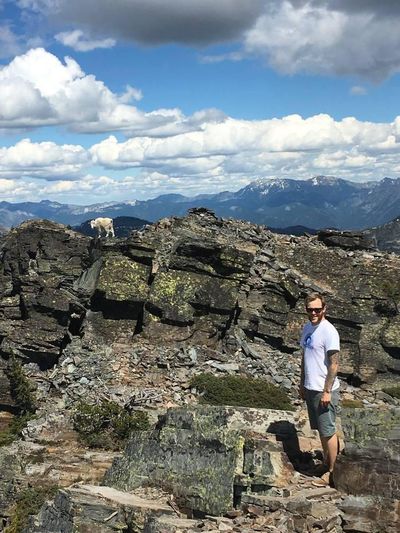 To prevent a repeat of last year's trail closure, North Idaho volunteers are trying to help hikers understand the dangers and ethics of hanging out with the mountain goats on Scotchman Peak.
Trail ambassadors trained by the Friends of the Scotchman Peaks Wilderness are going beyond the trailhead signs to educate visitors to the popular hiking trail overlooking the town of Clark Fork and Lake Pend Oreille.
At least two hikers were injured last year by aggressive mountain goats near the top of Trail 65 and the peak's rocky 7,009-foot summit. The hike involves a 7-mile round trip and significant ascent to the top.
Presented with the possibility of having to kill some of the goats, the Idaho Pandhandle National Forests chose to close the trail for hiker safety.
Idaho Fish and Game officials said the goats had been conditioned to approach people by hikers who let the spike-horned goats lick the salty sweat off their skin or offered them food. Some of the mountain goats were biting hikers when the animals didn't get what they wanted, officials said.
In one reported case, a hiker was gored and suffered a minor wound. State and federal officials took that seriously. In 2010, a mountain goat fatally gored a visitor who was hiking in the Hurricane Ridge area of Olympic National Park. A $10 million lawsuit was filed claiming the park was negligent for not acting on previously reported aggressive goat behavior. A judge later dismissed the suit.
For the sake of the mountain goats, the friends group has posted signs and recruited volunteers to spread the word about giving the goats lots of space.
"Although a few goats have been a little stubborn when it comes to getting off the trail, overall, it seems that people have started to realize the potential dangers of interacting with them," said Jay Sicilia, the group's ambassador program coordinator.
Mountain goat experts recommend that people stay more than 100 feet away from the animals even though they look tame and docile.
Citing increasing goat numbers, Olympic National Park officials are warning visitors to keep at least 150 feet from all park wildlife.
"Mountain goats are unpredictable," park officials said in a release. "They have sharp horns and powerful bodies that can inflict significant or lethal injuries.
In late June, Sicilia encountered nine mountain goats on the rocks near the top of Scotchman Peak, including three nannies, three kids and three 2-year-olds.
"Of those, only one momma was reluctant to move away as she was approached," he said. "After a series of attempts to shoo it away and a couple rocks thrown at her feet, she retreated to higher ground, showing natural mountain goat behavior."
Goat ambassador Mary Franzel of Clark Fork cleaned up canned corn that had been dumped on the peak last month, apparently to lure goats for a photo.
That's one of the visitor behaviors they're trying to change, she said, noting that any dose of human food could make a goat aggressive to the next hikers on the peak.
"People really seem to care and want to help the mountain goats, as well as learn more about them," Sicilia, noting the ambassadors have received positive feedback.
"Most everyone understands that they are wild animals and should be left alone, even if that means shooing the goats away from them."
On the other hand, having a regular presence on the peak has revealed to ambassadors that education about mountain goats is regularly needed.
Local journalism is essential.
Give directly to The Spokesman-Review's Northwest Passages community forums series -- which helps to offset the costs of several reporter and editor positions at the newspaper -- by using the easy options below. Gifts processed in this system are not tax deductible, but are predominately used to help meet the local financial requirements needed to receive national matching-grant funds.
Subscribe to the sports newsletter
Get the day's top sports headlines and breaking news delivered to your inbox by subscribing here.
---