News > Pacific NW
Pre-K a luxury in Idaho
Sat., July 23, 2016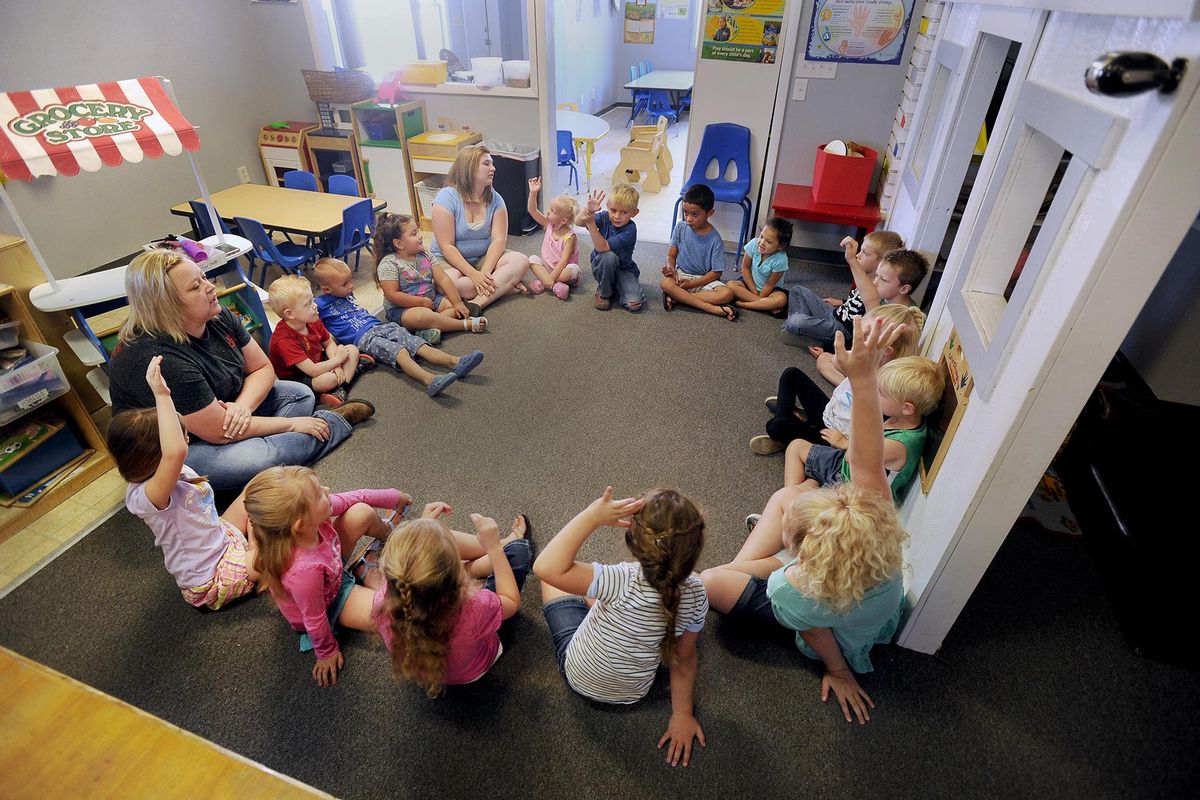 Students at Kids Korner preschool start the day with circle time. The students are given a chance to talk about their activities the day before, and instructors also outline what students will be doing the rest of the day. (Monte LaOrange / AP)
IDAHO FALLS, Idaho – A group of preschoolers clamped their outstretched arms together, an uneven chorus of 'ah' noises in the air as they all pretended to be "Allie Alligator."
It was a Thursday morning at Kids Korner Preschool and Daycare, just after the Pledge of Allegiance. The 16 children were playing Zoo-phonics bingo, a multisensory game used to teach the alphabet.
A mock grocery stand stood in one corner with plastic lemons and chickens. A nearby science center held bins of animal toys and seashells next to a rainbow-colored reading hutch.
Owner Lisa Disney and manager Pam Taylor passed out paper plates and scissors to the children after they finished their game.
The kids began cutting shapes from orange construction paper.
Mostly ages 3 to 6, they became studious, asking each other for directions after not paying attention earlier. They sat slack-jawed, gluing hearts and triangles onto their plates.
"What shapes are these?" Disney asked the big-kid table.
"Rectangle! Oval! Diamond!" the children shouted back.
One boy proudly hoisted his art into the air. "It's a tree!" he said.
Pay to learn
Programs such as Disney's are offered throughout the Gem State. But placing your child in one can be expensive.
Idaho is among five states nationally that don't fund preschool, despite the proven benefits it can offer.
Though the Legislature did boost education funding by $107million last session, preschool was ignored.
Idaho has the highest rate of preschool-age children absent from the classroom: 69 percent, according to the 2016 Kids Count Data Book.
And only 59 percent of Idaho's K-3 children – and 52 percent of kindergartners – hit the Idaho Reading Indicator benchmark in the fall of 2015.
Many early education advocates believe that number could be improved if more children were enrolled in preschool.
At Kids Korner, tuition runs $115 per week, which can be a burden for many families already struggling to make ends meet, especially if they're enrolling more than one child.
And for some preschools, tuition doesn't even provide enough funds to hire qualified teachers.
"I think Idaho is behind almost all the other states by at least three to four years in early childhood education," Disney said. "To work at a preschool, you don't even have to technically be a teacher."
The benefits
Though some studies have suggested that the benefits of preschool disappear after a few years, especially for high-income families, the New York Times found that well-constructed programs often bolster K-12 achievement.
There's also evidence that preschoolers are more likely to attend college when they grow up, and less likely to fall into addiction and crime.
"Children's brains develop 90 percent by the time they're 6, so we have a remarkable opportunity to help those kids develop and grow," said Beth Oppenheimer, executive director of the Idaho Association for the Education of Young Children.
Done well, preschool provides a foundation for skills expanded upon in kindergarten and first grade.
Students at Kids Korner aren't filling out math equations and writing short-answer essays all day, but they are learning sounds, letters and how to hold a pencil.
"A child without that is lost in kindergarten," Disney said. "It makes teachers' jobs easier when they know their ABCs, how to count, how to process colors, how to use scissors even."
The difference is obvious in children who have attended preschool, said Bonneville Joint School District 93 Superintendent Chuck Shackett.
"There's no comparison with how much better they are coming into the first grade with their letters already learned," he said. "We have so many parents who call us and want preschool, but we can't offer it because there's no way we can afford it."
Shackett supports state-funded preschool, partially because of the increases in childhood literacy it could lead to.
"I think the greatest goal we have is to get all students reading on grade level by third grade, and statistics show if that happens, the chances of graduating high school are at least three times greater," he said.
Preschool is also a place for children to learn how to be around other children in a group setting – one that doesn't exist in most homes.
Many children who enter preschool, Disney said, aren't used to routines.
"When to use the bathroom, how to eat lunch in a group, waiting in line to wash hands. You get 30 of them in here shouting 'No, it's my turn!'" Disney said. "They're learning to share, to play with other kids."
Studies have also found that lower-socioeconomic preschoolers receive greater benefits from time spent in the classroom. Preschool serves as a kind of equalizer between households that don't provide equal resources for their children.
"If we can get children who come from lower socioeconomic homes in preschools, they get that exposure to reading and language they'd find in higher-income households," said Rex Miller, District 93's elementary special services director.
Conflicting ideologies
District-operated preschool does exist in the state – Boise School District runs a program with city tax dollars and private donations – but it's rare.
There have been many legislative efforts as recent as 2015 to introduce public preschool to Idaho, but none have grown past ideas. Last year's bill didn't receive a hearing.
And the 2017 legislative agenda doesn't include a state-funded preschool-related bill, said Idaho State Board of Education spokesman Blake Youde.
Gov. Butch Otter's Task Force for Improving Education gave the board 20 recommendations to work on between 2014 and 2019, and preschool "isn't in those 20," Youde said.
"We're not opposed to it at all; we're just focused on the 20; that's where they think the lasting impact is."
One issue is money – there already isn't enough for school districts – but another is ideological.
Many legislators and organizations believe preschoolers should be spending their time at home with parents.
Sen. Steven Thayn, R-Emmett, a prominent critic of state-funded preschool, drafted a 2007 House Resolution against it when he was a member of the House Education Committee.
"Early on, the most important factor in a student's education is the support they get from their parents," Thayn told Boise State Public Radio in 2013. "We don't need to be rewarding parents who are not working with their kids by sending their kids to a program. We need to be encouraging parents to work with their kids."
Fighting to scrape by
Many of those parents, however, are too busy supporting their families financially.
"It has to do with unrealistic values. We agree families have a huge responsibility to ensure their children are getting the foundational skills they need, but we have such low-wage jobs in Idaho that parents have to work two or three jobs to put food on the table," Oppenheimer said.
Jenesa Johnson has two children enrolled at Kids Korner.
The Idaho Child Care Program pays for part of her children's preschool and daycare, but money is still tight.
"It's my most expensive bill, so it's pretty tricky. If I didn't get help from ICCP, I don't know what I'd do," Johnson said.
She works at Broulim's Fresh Foods, and doesn't have time to teach her preschool-age daughter during the day.
"Building those values at home, having meals, is really important," Johnson said. "But in reality most people's entire lives don't just revolve around family. People have to work and go to school."
Disney has a stack of ICCP applications in her office from people trying to enroll their kids at preschool who can't otherwise afford it.
"We work with foster care, with the Department of Health and Welfare. Even $100 per week is too much for many. That money could go toward food or clothes," Disney said.
On average, Disney sends $10,000 per year to collections.
Federal Head Start education programs do exist for low-income families, but many aren't aware of them, or are reluctant to accept the stigma associated.
A low bar
To keep enrollment fees manageable for parents, most preschools can't afford to pay their teachers standard K-12 district wages.
The U.S. Department of Education reported in June that an average Idaho preschool teacher makes $21,930 per year compared to the average elementary school teacher, who makes $44,940.
Subsequently, the qualifications needed to teach preschool are low. It takes 15 hours of training per year to get and renew a Child Development Associate credential, Disney said, with no base degree required.
For Oppenheimer, that's a problem.
"Our child care regulations are among the lowest in the country. You almost need more training hours to become a dog groomer in Idaho," she said.
The result is varying levels of preschool quality around the state.
Disney and her staff have taken hundreds of hours of voluntary training, but she started six years ago with limited experience.
"Looking from then to now, that wasn't preschool – that was just sitting a bunch of kids down with glue and scissors," she said. "Education is the best way to help that, otherwise you're just a glorified baby sitter out here."
The pool of qualified applicants – same as in K-12 – is lacking.
There isn't much incentive to earn a childhood development bachelor's degree and teach preschool when the resulting salary is a stone's throw from the minimum wage.
"I pay my teachers $9 per hour; that's not a career. And we still don't clear very much money. 'You're going to put me in there with 24 kids? I'd rather go work at McDonald's, thank you very much,'" Disney said. "I generally don't lose people for any reason other than, 'I just can't do this, not for the pay I'm getting.'"
Local journalism is essential.
Give directly to The Spokesman-Review's Northwest Passages community forums series -- which helps to offset the costs of several reporter and editor positions at the newspaper -- by using the easy options below. Gifts processed in this system are not tax deductible, but are predominately used to help meet the local financial requirements needed to receive national matching-grant funds.
Subscribe now to get breaking news alerts in your email inbox
Get breaking news delivered to your inbox as it happens.
---