Fashion model from Sandpoint shows different is beautiful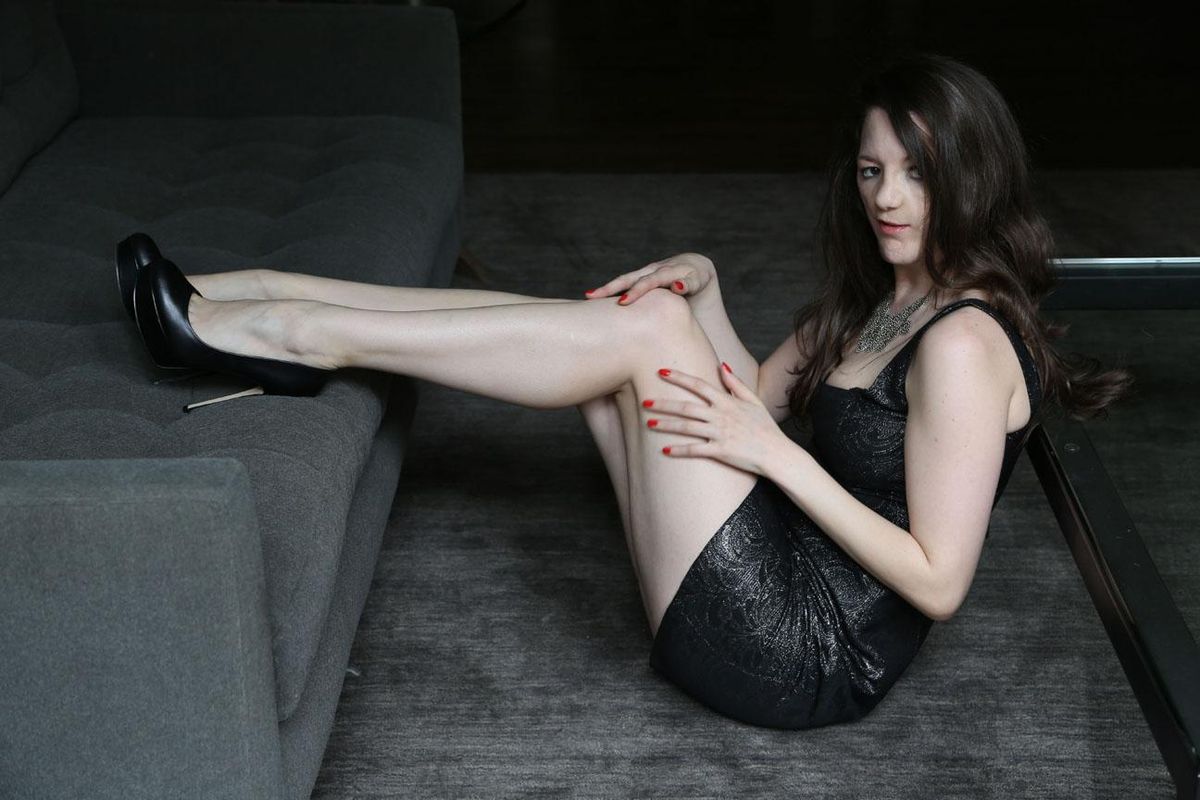 Far from the shores of Lake Pend Oreille where she grew up, Alison Midstokke is showing the world "a different kind of beauty."
The 31-year-old New Yorker is realizing her dream to be a fashion model and actor – ambitious goals for anyone, but especially challenging for a woman who has endured scores of surgeries on her face since birth.
Midstokke was born with Treacher Collins syndrome, a genetic disorder affecting the development of the cheekbones, jaw, chin and ears. Her childhood in Sandpoint was happy, but she wrestled with her condition even as she was drawn to fashion and theater.
"I had to learn to accept myself, and it took a long time," she said.
Growing up in Sandpoint, Midstokke took acting, dance and ballet lessons and appeared in school plays. But her parents always emphasized that the greatest role she would have was creating her own life story.
"You have to have a pretty strong philosophy, especially in our culture right now with how beauty is portrayed, and you have a little girl who is going to be asked why her face is so different," said her mother, Denise Midstokke, a Sandpoint midwife.
Alison Midstokke has had more than 60 surgeries in her life, beginning the day she was born.
"I don't think I remember most of them," she said.
She had reconstructive surgery at age 16 and again in 2010. Over the years, the procedures reshaped her facial features and improved her hearing and speech. She learned sign language before she developed verbal skills and worked with an interpreter as a child.
Today Midstokke works at a law agency on Wall Street and says she wants to be an entrepreneur and run her own business one day. But for now, she increasingly is getting calls for photo shoots and acting parts.
"Mostly I work with independent artists and photographers," such as for photo exhibits, she said.
Her modeling work has emphasized her legs and hands as well as full-body images. She aspires to do a fashion shoot for a major magazine.
"The kind of work I love to do is beauty shoots. I'm considered more of a parts model and beauty model," she said. "I don't think I would do well in a photo shoot for Macy's. Unless they're selling nylons. I could show my legs."
Midstokke also has modeled clothing of her own design. She took an interest in fashion design as a teenager and earned a bachelor's degree in fine arts at The Art Institute of California in San Francisco.
But after moving to New York in 2008 she found it difficult to get work in fashion design.
"Since doors were not opening up in the fashion world – I still do gigs once in a while – I started getting more modeling and acting opportunities," she said.
Midstokke recently starred in a short film, "Splendona," about a physically disfigured fashion model in the 1980s who is haunted by eerie visions as she prepares for her runway debut. It's in post-production.
"I applied and the director called me up for an audition, and he knew I was right for the part," Midstokke said. "It was a great experience."
She's also getting a lot of publicity. Her story has been reported on Huffington Post, in the Sun and the Daily Mail in the United Kingdom and in other media around the world. She has received fan mail from France, Brazil and Taiwan.
"It was very touching," she said.
Hiding her differences
Midstokke was adopted as an infant and moved to Sandpoint with her parents and two older siblings – one of whom is Ammi Midstokke, a freelance writer whose columns appear in the Spokesman-Review's Outdoors section – when she was 6 months old.
The family home-schooled their other children for years but sent her to public school so she could establish a group of friends early on. "Because little kids are so wonderfully accepting," Denise Midstokke said.
But the inevitable stares and hurtful comments came as well, she said.
Alison Midstokke recalls her childhood as a happy time, playing in the woods and making friends.
"I think it was a stable environment," she said. "I was fortunate."
But she was self-conscious about her appearance.
"I was always hiding my differences. I didn't want to be treated differently than all the other kids," she said.
Midstokke had a small role in "The Last Game," a family film starring Joey Travolta of the well-known acting family.
"I took a lot of acting classes, did theater work when I was growing up, but of course surgeries got in the way," she said.
Her family spent a lot of time at Seattle Children's Hospital in those days.
Midstokke remembers in seventh grade looking through some fashion magazines and feeling pulled toward that world.
"I wanted to be a part of that," she said.
At age 16 she worked with a family photographer and found the experience fun. She also designed some screen-printed T-shirts that sold well in a Sandpoint store.
Her parents remained firm in their support of her chasing her dreams.
"We didn't know where she'd go with stuff, but I don't think we wanted her to not try," Denise Midstokke said.
Like a Picasso
When she was 18, Midstokke found her birth father and learned that he was an actor and had been a fashion model in his youth. She also discovered that her paternal grandmother had worked in the garment industry in the 1950s, managing a lingerie showroom in New York City.
"You cannot run away from your destiny. Destiny finds you," she said.
Still, she had doubts that people would accept her as a model or actor, and so she pursued her interest in fashion design.
"They couldn't judge my work or my designs, my art," she reasoned. "If they could see I could dress well or draw well, they'd know that I'm capable."
Still, Midstokke enjoyed being in front of the camera for the occasional photo shoot. And to her surprise, professionals began to ask to work with her. She began to collaborate with them on bigger projects. One artist told her she was like a painting by Picasso.
But even in her late 20s, Midstokke wasn't comfortable talking about Treacher Collins syndrome.
"I was not ready. I did not want the syndrome to define me," she said. "I want people to see me, see my talent."
That has changed in recent years. She is at ease discussing the condition and how it has made her different.
"I feel like you are responsible for your life, no matter how negative your background is," she said. "You can make the best of what you have or you can walk around with a chip on your shoulder and be angry at everyone, at life. My mother, she always told me be thankful for what you have and use what you got. So that's what I did."
Midstokke focuses on qualities to appreciate in herself.
"For me, I love my hair. I think I have gorgeous hair," she said. "Or I have great legs, or I'm thankful for my health. … There's always going to be something that we don't have that we wish we do have."
She hopes she can inspire others to also appreciate who they are.
"I want to be an example for anyone, for children with physical disabilities or someone who has very low self-esteem, that anything is possible and that your dreams can be fulfilled," she said.
"My overall mission is to spread that awareness and show a different kind of beauty."
Denise Midstokke said she finds her daughter's strength amazing.
"Really what we hoped for her was that she could just go have a typical life," she said, "but somewhere she's decided to have an extraordinary life."
---