Sports > Spokane Indians
Indians outfielder Travis Bolin: Hard work pays off for small-town star
Mon., July 25, 2016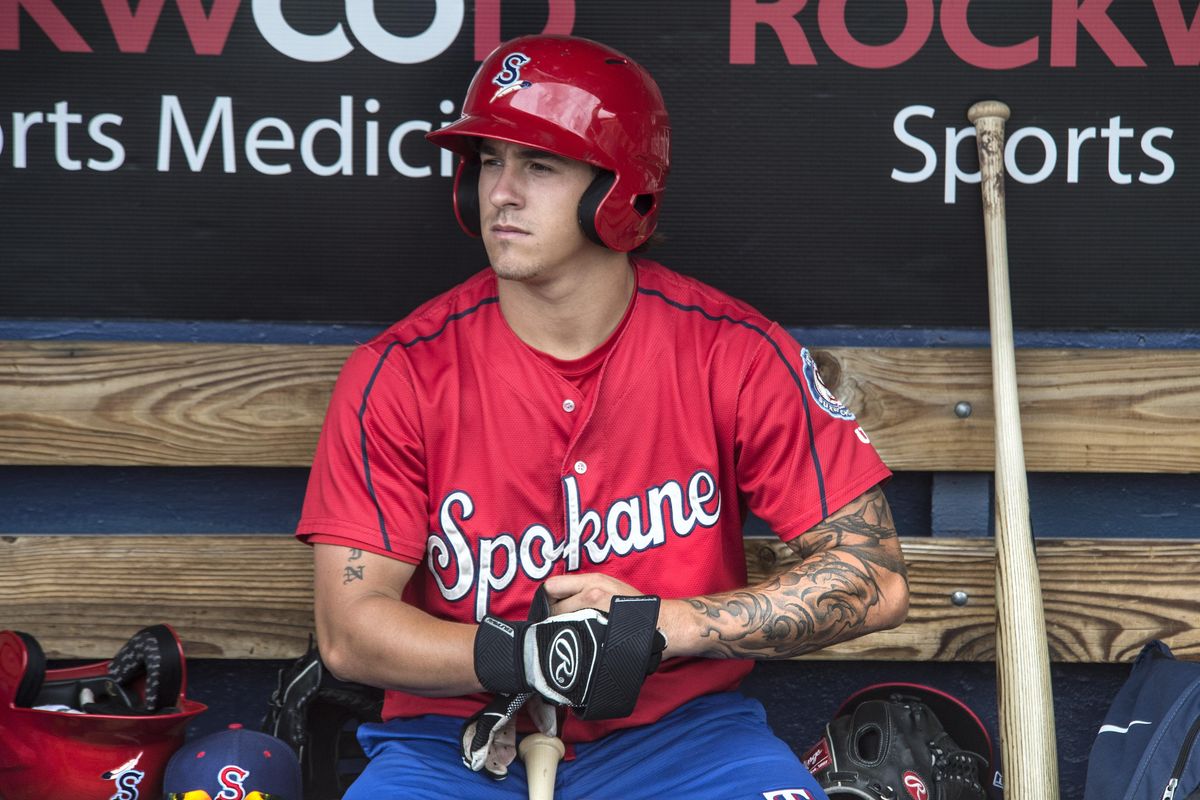 Spokane Indians outfielder Travis Bolin gathers himself after batting practice before a game on July 19 at Avista Stadium. Bolin is hitting just .238, but among his highlights is a walk-off single against Boise on July 5. (Dan Pelle / The Spokesman-Review)
When "Watervliet, Michigan" pops up on the video screen as he comes up to the plate, Spokane Indians outfielder Travis Bolin feels proud.
But it's not just love for his hometown that induces a smile when Bolin steps into the batter's box at Avista Stadium.
"Looking at that on the scoreboard makes me feel really good, because I know I had to work twice as hard as everyone else did," Bolin said. "Nobody has ever gone this far from Watervliet."
Watervliet is a small rural town in Southwestern Michigan, 10 miles away from the shores of Lake Michigan. Playing on fields pervaded with tall weeds and dead grass was common. Even Bolin admits he played on "some pretty crappy fields" growing up.
Being as small as it is, Watervliet wasn't a hotspot for college scouts. But Bolin brought them there.
"I had to do twice as good as everyone else just to get a little recognition," Bolin said. "That makes it even more amazing that I'm here."
Even though he's now playing minor league baseball, scouts came mostly to see Bolin's prowess on the football field. Bolin was courted from schools around the area, such as Western Michigan and Grand Valley. Even coaches from the University of Michigan attended a few Watervliet games to see Bolin, who received Division 6 All-State honors at wide receiver his senior year.
But once coaches got word of Bolin's poor academic standing, they backed off. If it weren't for bad grades in high school, Bolin would have pursued a career in football, which he attests was his best and favorite sport in high school.
With no junior college football teams in the area, Bolin settled to play his second favorite sport, baseball, at the next level. He started out at Kellogg Community College in Battle Creek, Michigan, and finished his career at Davenport University, an NAIA school in Grand Rapids, Michigan.
Bolin was a member of one of the most talented teams ever to play at Davenport, a school that had not had a player drafted before four Panthers, including Bolin, were selected in the 2016 Major League Baseball draft. This spring, Davenport advanced to the NAIA regional championship round before falling to Bellevue University in a three-game series.
Coming from a small town and playing at small colleges gives Bolin a chip on his shoulder, but it was his experiences growing up that give him his toughness.
Bolin's parents divorced when he was 2 years old and both remarried soon after. When Bolin was 13, both his mother and father were divorced again, each within a month of each other. It was particularly difficult for Bolin to see his stepfather, Dave Osborne, move out of the home, a man Bolin said taught him to do "pretty much everything."
It was the hardest moment in his life, but it also taught him how to handle adversity.
"I've been through a lot in my life," Bolin said. "I feel like I'm a lot tougher than most people inside."
In his first minor league season with the Indians, Bolin has struggled to find consistent playing time. He's hitting .238 in 13 games this season, but has shown promise. Bolin hit a walk-off RBI single to help Spokane edge Boise 8-7 on July 5 and went 3 for 4 with a home run away from the cycle in a 9-2 win over Everett on July 11.
Indians manager Tim Hulett says Bolin needs to break some bad habits before he can reach his potential.
"You can have bad days," Hulett added. "But having quality at-bats where you aren't flailing at fastballs out of the zone and getting behind, then getting put away with a nasty breaking ball."
While his approach to the plate is still maturing, Hulett said Bolin's baseball instincts are strong and his athleticism goes a long way on the base paths.
But for Bolin, it's his competitive edge and mental toughness that make him a special player. And for a small-town boy pursuing his dream, that's what it took to make the minor leagues.
"I feel like there was quite a few people that didn't want me to make it because I was from such a small town," Bolin said. "Proving them wrong feels really good."
Local journalism is essential.
Give directly to The Spokesman-Review's Northwest Passages community forums series -- which helps to offset the costs of several reporter and editor positions at the newspaper -- by using the easy options below. Gifts processed in this system are not tax deductible, but are predominately used to help meet the local financial requirements needed to receive national matching-grant funds.
Subscribe to the sports newsletter
Get the day's top sports headlines and breaking news delivered to your inbox by subscribing here.
---