Sports
Digest: Tina Charles, U.S. women's hoops beat France 84-62
Wed., July 27, 2016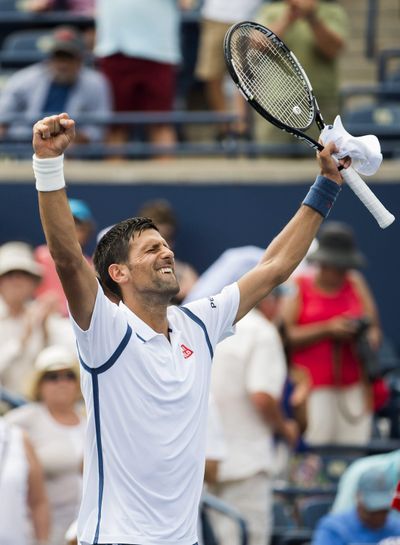 Basketball: Tina Charles scored 17 points and Maya Moore added 13 to help the U.S. women's basketball team beat France 84-62 on Wednesday night in an exhibition game in Newark, Delaware.
The game was a rematch of the 2012 London Olympics gold medal game that the Americans won 86-50. This time the U.S. took a half to get going, which wasn't a total surprise as the Americans have had little training since getting together for the first time as a full team Saturday in Los Angeles.
They played Monday night against a U.S. select team, winning by four, before flying across country for this three-game exhibition series. France's core has been together for months qualifying for the Rio Olympics in a last chance tournament in June.
The U.S. only led by one at the half, but used a 9-2 spurt to start the third quarter spearheaded by Charles and Moore to create some space. The Americans extended the lead to 63-46 after three quarters.
France couldn't get within 15 the rest of the way.
The game was a homecoming for Elena Delle Donne. She's from the area and starred at the University of Delaware, guiding the team to the NCAA Tournament regional semifinals her senior year.
A loud, spirited crowd gave her quite the ovation when she was announced before the start of the game. She addressed the sellout crowd before the tip saying:
"Puts me at a loss for words, thank you so, so much for coming out," said Delle Donne, who finished with 10 points.
Bettman downplays CTE-concussion link
NHL: Commissioner Gary Bettman's reluctance to link hits to the head in hockey with a degenerative brain disease found in several deceased former players has reached Congress.
League attorneys have filed Bettman's letter to Connecticut Sen. Richard Blumenthal with U.S. District Judge Susan Richard Nelson, who's presiding over a class-action concussion lawsuit against the NHL. Bettman's 24-page response to Blumenthal was dated Friday. He said research on the link between concussions and chronic traumatic encephalopathy "remains nascent."
The Connecticut Democrat had written June 23 to Bettman about the league's stance on CTE.
Blumenthal cited in his letter the discovery of CTE in the brains of six former players after their deaths in recent years. He is the ranking member of the Senate subcommittee on consumer protection, product safety, insurance and data security.
Bettman angered many former players last year with comments following the death of former NHL defenseman Steve Montador at age 35. Montador suffered from CTE, a diagnosis that can only be made after death. His family filed a lawsuit against the league that was eventually consolidated with the current class-action case.
In writing to Blumenthal, Bettman maintained a dismissive stance.
"The confusion in the press about CTE – no doubt further fueled by plaintiffs' counsel in the NHL litigation – relates to the simple and incontrovertible fact that none of the brain studies conducted to date can, as a matter of accepted scientific methodology, prove anything about causation, a primary subject of your letter," Bettman said.
The concussion lawsuit was formed two years ago. More than 100 former NHL players have sued the league in allegation that it had the resources to better prevent head trauma, failed to properly warn players of such risks and promoted violent play that led to their injuries.
Djokovic survives scare, tops Muller
Tennis: Top-ranked Novak Djokovic survived a scare to beat Gilles Muller 7-5, 7-6 (3) in the Rogers Cup in Toronto, his final event before the Rio Olympics.
The Serbian star won the event that rotates between Toronto and Montreal in 2007, 2011 and 2012.
Djokovic struggled against Muller in his first hard-court match since March, both with his serves and his short game. Ultimately, unforced errors were Muller's undoing, with both sets easily in reach of the unseeded player from Luxembourg.
Djokovic will face qualifier Radek Stepanek of the Czech Republic in the third round.
Third-seeded Kei Nishikori of Japan downed American Dennis Novikov 6-4, 7-5; and fourth-seeded Milos Raonic of Canada beat Taiwan's Lu Yen-hsun 6-3, 6-3.
Williams wins: Venus Williams opened play in the Rogers Cup in Montreal with a 6-3, 6-0 victory over Barbora Strycova.
Playing her last event before the Rio Olympics, the 36-year-old Williams finished off the overmatched Czech player in 58 minutes. Williams was coming a loss to Britain's Johanna Konta on Sunday in the final of the Bank of the West Classic in California.
"It was definitely more straightforward than some of our other matches," Williams said. "I'm never happy with my matches. Even an easy scoreline is never enough. But it's about figuring out how to win instead of playing perfect."
The seven-time Grand Slam champion, seeded sixth, gave up 10 points in the 24-minute second set.
The only hiccup for Williams was the seventh game of the first set. Up 4-2, she had her serve broken.
UCI find no motors inside bikes at Tour
Cycling: There were no were no cases of riders using hidden motors inside their bikes on this year's Tour de France, following extensive testing by the International Cycling Union.
In a statement Wednesday, the UCI said that 3,773 tests "using magnetic resistance technology" were carried out unannounced "prior, during or after racing, throughout the 21 stages of the (race)" and that they all came back negative.
"This demonstrates our absolute commitment to leave no stone unturned in a matter that, if not tackled properly, could seriously damage the renewed reputation of cycling," UCI president Brian Cookson said. "We will continue to test bikes heavily throughout the rest of the season, and do everything in our power to make sure this form of cheating stays out of our sport."
A magnetic resistance test is carried out with a tablet computer using software to scan a bike. It can detect motors, magnets and batteries in a bicycle's frame, wheel hubs and rims in less than 30 seconds.
This testing led to cyclo-cross rider Femke Van Den Driessche of Belgium being caught using a hidden motor at a world championship race. She was banned from cycling for six years in April.
To ensure a varied testing protocol at this year's Tour, the UCI also used supplementary methods of detection, such as high-powered thermal cameras using atomic research technology, and X-rays.
Thermal cameras help detect the heat produced by a small hidden motor, even if the motor is turned off. The clamor for using them grew after French television program Stade 2 claimed to have detected so-called `mechanical doping' at two Italian races by using roadside thermal cameras.
Eleven weightlifters banned after retest
Weightlifting: Eleven weightlifters, including three Russian medalists, have tested positive for banned drugs in the latest retests of samples from the 2012 London Olympics, the International Weightlifting Federation said Wednesday.
The IWF said in a statement that all 11 athletes, six of whom were medalists, had been provisionally suspended until their cases are closed.
Four of the 11 are Russians, who all tested positive for dehydrochlormethyltestosterone, an anabolic steroid.
The positive Russian tests came from Alexandr Ivanov, silver medalist in the men's 94-kilogram division; Nataliya Zabolotnaya, silver in the women's 75-kilogram division; Svetlana Tzarukaeva, silver in the women's 63-kilogram division; and Andrey Demanov, who placed fourth in the men's 94-kilogram division. Ivanov also tested positive for tamoxifen, a hormone modulator.
The three other medal winners in the group were Hripsime Khurshudyan, Armenia (bronze, over-75-kilogram division), Iryna Kulesha, Belarus (bronze, 75-kilogram division) and Cristina Iovu of Moldova (bronze, 53-kilogram division).
Also testing positive were Turkey's Sibel Simsek, Almas Uteshov of Kazakhstan, Georgia's Rauli Tsirekidze and Intigam Zairov of Azerbaijan.
Bulgarian weightlifters have been banned from the upcoming Rio de Janeiro Games because of the large number of positive doping tests, while Russian weightlifters also risk being barred from the Olympics.
Exaggerator joins Nyquist at Haskell
Horse racing: The Nyquist-Exaggerator rivalry is set to resume, this time in the $1 million Haskell Invitational at Monmouth Park.
Officials at the Jersey Shore track said Exaggerator's connections confirmed that the Preakness winner will be entered in the race on Thursday.
The unexpected development provides the Haskell with a compelling matchup: Kentucky Derby winner Nyquist against Preakness winner Exaggerator.
It won't top last year's breathtaking moment with Triple Crown winner American Pharoah, but it's a more than adequate follow-up. A year ago, American Pharoah blew away the field in the Haskell in his first race back after becoming the first Triple Crown winner since 1978.
Nyquist had defeated Exaggerator four times before his first career loss in the Preakness. Nyquist did not run in the Belmont; Exaggerator finished 11th.
The field for the 1 1/8-mile Haskell will include the first three Derby finishers: Nyquist, Exaggerator and Gun Runner. Also set for the race are Brody's Cause, Sunny Ridge, American Freedom and Awesome Slew.
Local journalism is essential.
Give directly to The Spokesman-Review's Northwest Passages community forums series -- which helps to offset the costs of several reporter and editor positions at the newspaper -- by using the easy options below. Gifts processed in this system are not tax deductible, but are predominately used to help meet the local financial requirements needed to receive national matching-grant funds.
Subscribe to the sports newsletter
Get the day's top sports headlines and breaking news delivered to your inbox by subscribing here.
---