Sports
Shadow women have recipe for soccer success
Wed., July 27, 2016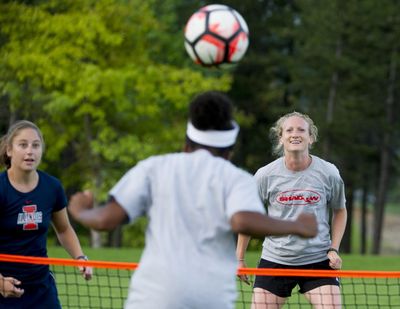 New team. New league. New coach. Lately that's been part of the formula for soccer success in the Inland Northwest.
This year's big winner is the Spokane Shadow women's team, which has run away with the title in the inaugural season of the Northwest Premier League. Going into Saturday's season finale at Spokane Falls Community College, the Shadow are 10-1 and have outscored opponents by a ridiculous 65 goals to 10.
Two years ago, it was the Shadow men who reentered the Evergreen Premier League after a long absence and promptly won a championship. The men repeated last year and are headed for another high finish, but this year's top honors belong to the women's side.
The talent is obvious – several players were stars in college – but their guidance of the younger players has been just as important.
"Some of the younger players are really talented, but maybe not so confident," coach Kevin Moon said as his team practiced Tuesday night at Plantes Ferry Park.
"There's been a lot of nurturing, and never a harsh word," Moon said.
"We always try to make it enjoyable … it's easier to get things done," said Moon, who has led the Shadow to a runaway victory in the seven-team NWPL.
It's been an ideal mix. That's evident in practice, as former Gonzaga Prep and Seattle Pacific star Megan Lindsay worked enthusiastically with recent Lewis and Clark graduate Maia Angell.
Lindsay has scored 16 goals this year – more than three other teams in the NWPL – but is looking at the big picture.
"I think this has been great for our community – a lot of young girls who don't have anything else to look up to apart from the (Shadow) women's team. That shows that we're playing for something greater," said Lindsay, who played professionally with the Seattle Sounders and in five European countries.
In the short term, Lindsay said it's "fantastic to play with these girls, who've done so much and accomplished so much in this first year."
For Angell, who leaves in two weeks to play for Hawaii Pacific, the Shadow experience has been great preparation for the college game.
"It's a big difference (from high school)," said Angell, who has four goals and two assists this season. "Two touches is all you have time for. You have to learn how to use your teammates – it's not just about yourself."
On the other hand, there's nothing wrong with playing the game you love, for as long as you can.
Former Gonzaga striker Sarah Cox spent several postgraduate years in her native British Columbia, but after getting married she found an opportunity to return to the Inland Northwest.
"I really grew to love Spokane, and it's great to be back," said Cox, whose 13 goals are second best in the league behind Lindsay.
Perhaps the happiest player is former Mead star Marissa Mykines, who led Illinois to the Big Ten Conference tournament title as a senior in 2011.
"I would have loved to do this when I was first in college," said Mykines, who played for the Widows and Shine squads but believes that the Shadow brand will "give younger kids something to look forward to."
The same goes for Mykines. "I plan to be back next year," she said.
Local journalism is essential.
Give directly to The Spokesman-Review's Northwest Passages community forums series -- which helps to offset the costs of several reporter and editor positions at the newspaper -- by using the easy options below. Gifts processed in this system are not tax deductible, but are predominately used to help meet the local financial requirements needed to receive national matching-grant funds.
Subscribe to the sports newsletter
Get the day's top sports headlines and breaking news delivered to your inbox by subscribing here.
---