News > Voices
Spokane Valley racing to finish summer road projects
Wed., July 27, 2016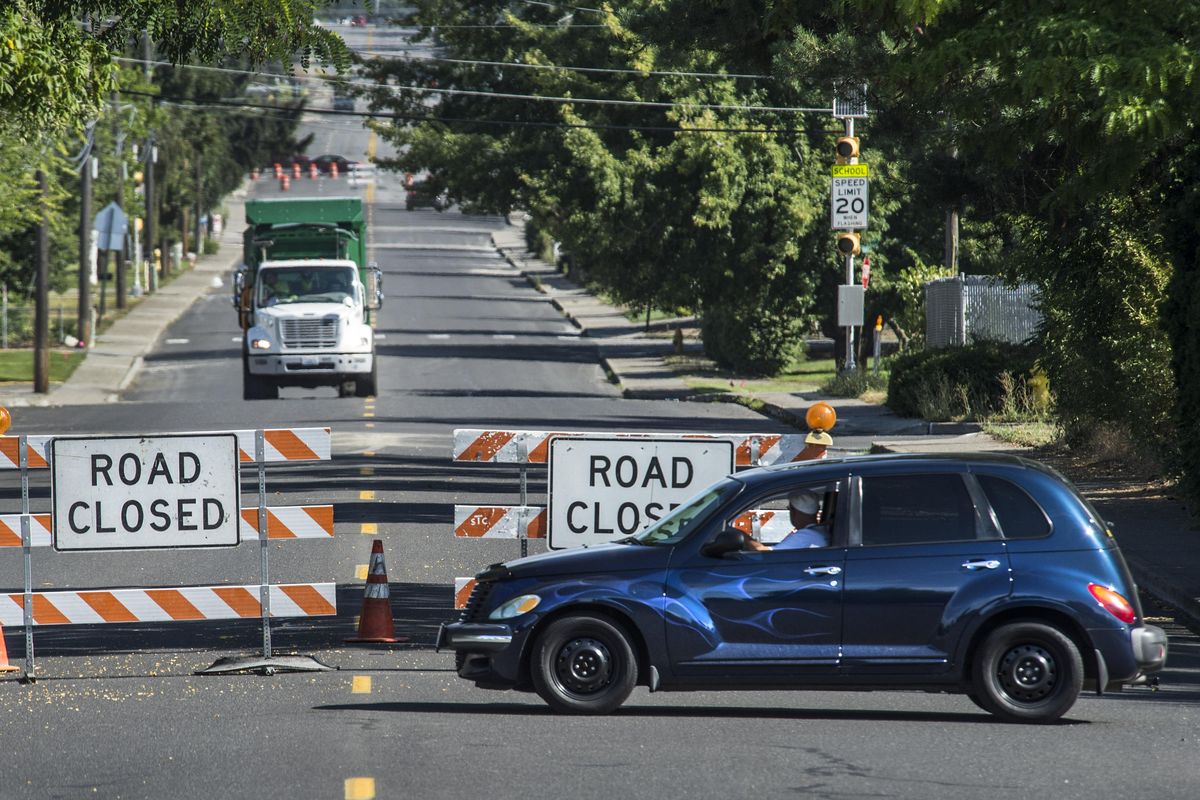 Motorists find McDonald Road closed at 9th Avenue in Spokane Valley for construction on Tuesday. (Dan Pelle / The Spokesman-Review)
With summer comes road construction season, and Spokane Valley is working on a long list of projects. Some are already completed.
Smaller maintenance projects, such as new signs, have minimal impact on traffic. But repaving of roads and sidewalk construction can be more of a challenge for drivers.
Steve Worley, capital improvement program manager for Spokane Valley, said the city got started a little late compared to other years but that most projects are on track.
Worley said it's a priority to finish road construction around schools before classes resume in the fall.
"Barring unforeseen circumstances, we should be able to get that done," he said.
Here are the current projects:
Sullivan Road Bridge: All traffic is on one bridge span, and as soon as the new bridge opens in August, southbound traffic will move there, relieving some congestion. The contractor will continue to work on the center part of the bridge until October, when the project is set to finish. Cost: $15.8 million, including moving the Centennial Trail and building new retaining walls.
Citywide safety improvements: Four intersections will get an update with "push button" pedestrian traffic signals and new crosswalk stripes. Signs will be replaced with high-reflectivity signs for better night visibility. Some countdown pedestrian lights will go in, showing how much time is left to cross. This work is ongoing. Cost: $158,000.
Intelligent Transportation Systems infill (first phase): Fiber optic traffic signal controllers on Broadway Avenue from Fancher to Park roads, on University Road from Fourth to 16th avenues, and on Fancher between Sprague and Broadway avenues. Worley said the new connectivity allows traffic engineers to adjust timing on the lights remotely. This can help traffic flow in case a major incident on Interstate 90 sends more traffic onto Spokane Valley streets. Completion expected by the end of October. Cost: $328,000.
Disability access improvements at Indiana Avenue and Evergreen Road: To provide better access to two bus stops. The project was done in partnership with STA and is completed. Cost: $85,000.
McDonald Road Diet from 16th to Mission avenues: Includes design of bike lanes and the reduction of McDonald Road north of Sprague Avenue to a three-lane road with a center turn lane and bike lanes. During construction the project closes McDonald between Sprague and 16th. It also updates curb ramps to ADA standards, improves existing storm drainage and repaves McDonald from Mission to Eighth avenues. This project will be done by Sept. 2. Cost: $1.85 million.
Traffic signal reflective back plates: Will be added to 10 of the busiest intersections. This project will be completed by fall. Cost: $81,000.
Seth Woodard Elementary School sidewalk improvements: At Mission Avenue and Park Road. This project is installing curbs and sidewalks along the south side of Mission Avenue from Lily Road to Park Road, and along the west side of Park Road from Mission Avenue, the frontage of Seth Woodard Elementary and the East Spokane Grange. To be completed before school starts. Cost: $390,000.
Replacement of an expansion joint in the Fancher Road Bridge: Completed. Cost: $160,000.
New traffic signal at Mirabeau Parkway and Pines Road intersection: Includes ADA curb ramps, traffic signals, pedestrian push buttons, pedestrian countdown lights and crosswalk pavement markings. To be finished in two parts: first, all the ground work and street construction, then a short break before signal poles and arms go in. Ground work to be completed before school starts. Cost: $446,000.
Sidewalk at Bowdish Road and 11th Avenue: Pavement widening, curb and gutter improvements, 6-foot sidewalk and drainage improvements on the east side of Bowdish Road from Eighth to 12th avenues, plus a new 5-foot sidewalk behind the existing curb on the south side of 11th Avenue between Bowdish and Wilbur roads. On hold. Cost: $506,000.
New turn lane at Pines Road and Grace Avenue: Delayed until 2017. Cost: $733,000.
Sprague low-impact development: Including open bottom planters and grassy percolation areas for stormwater runoff – on hold waiting for a grant from the state Department of Ecology. Cost: $20,000.
Street preservation (repaving) projects:
Broadway Avenue from Sullivan Road to Moore Road. Completed. Cost: $450,000.
32nd Avenue from Dishman Mica to Pines roads. Cost: $1.5 million.
Saltese-Houk to 24th Avenue. On hold until next year. Cost: $920,000.
Road construction projects usually are paid from a combination of public grants and city funding, Worley said.
"We try to do as much with grants as possible," he said.
It's possible there will be funding for one more project this year: resurfacing Appleway Boulevard from Park to Dishman Mica roads, Worley said.
"This is the part that has a lot of crack seal on it," he said. "The rest of Appleway has already been resurfaced."
Local journalism is essential.
Give directly to The Spokesman-Review's Northwest Passages community forums series -- which helps to offset the costs of several reporter and editor positions at the newspaper -- by using the easy options below. Gifts processed in this system are not tax deductible, but are predominately used to help meet the local financial requirements needed to receive national matching-grant funds.
Subscribe now to get breaking news alerts in your email inbox
Get breaking news delivered to your inbox as it happens.
---