A&E > Seven
Bookstores plan midnight parties to celebrate latest Harry Potter entry
Fri., July 29, 2016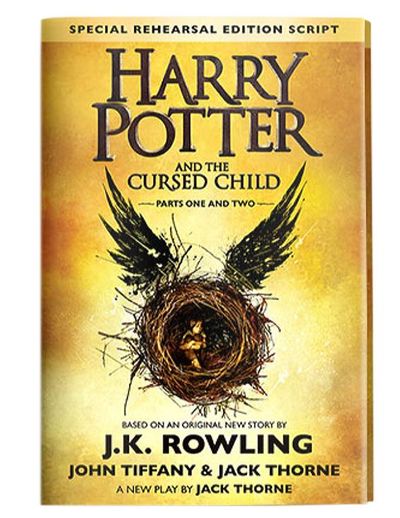 Harry Potter is flying back onto bookshelves with a new story.
The play "Harry Potter and the Cursed Child" takes off where the seventh book's epilogue ends: with Harry, Ginny, Ron and Hermione at Platform 9 3/4 as parents. For Albus, Harry and Ginny's son, it's his first year at the school.
Though the play is in previews in London, the plot has been kept under wraps. It's garnered mostly glowing, if spoiler-free, reviews.
"It is, quite simply, spellbinding: The Show That Lived Up to Expectations – and Then Some," Matt Trueman wrote in his review for Variety.
"Twenty years ago, Harry Potter turned a generation onto reading," he wrote. " 'The Cursed Child' could do the same for theater."
To celebrate the play script, area bookstores are hosting parties Saturday, leading up to the midnight release of the book. Fans are encouraged to wear their dress robes, or other Potter gear.
At Auntie's, festivities get started at 9 p.m. Inside the store, families will find crafts, a Horcrux hunt, a presentation on magic and Potter-themed items for sale.
"We created our own Diagon Alley," said Janelle Smith, Auntie's children's manager. Fans will be able to buy candy at Honeydukes, books at Flourish and Blotts, and wands at Wiseacre's Wizarding Equipment.
Uncle's Games will become Hog's Head Pub with trivia and beer. And Beautiful Grounds will turn into the Three Broomsticks with facepainting and kid-friendly Butterbeer.
"I think it's neat because the book is Harry as an adult. The people who were around when 'Harry Potter' first came out are adults now," Smith said. "They get to kind of keep going with him."
To attend the Auntie's party, families must pre-purchase one copy of the book.
Celebrations at Barnes and Noble stores start at 8 p.m. Saturday. Partygoers will be sorted into houses and there will be wand making, crafts, games, trivia, giveaways and facepainting. The cafes will be decorated and have Potter-themed drinks and treats. Plus, each store will have a Muggle Wall where people can write about what Harry Potter has meant to them.
"There's a lot of activities, and some of them are surprises," said Lynn Chapman, assistant manager at the NorthTown Barnes and Noble.
"We're all superfans and we've kind of gone out of control with excitement," said Spokane Valley Barnes and Noble manager Lesley Rabinowitz of party plans at her store.
Local journalism is essential.
Give directly to The Spokesman-Review's Northwest Passages community forums series -- which helps to offset the costs of several reporter and editor positions at the newspaper -- by using the easy options below. Gifts processed in this system are not tax deductible, but are predominately used to help meet the local financial requirements needed to receive national matching-grant funds.
Subscribe to the Spokane7 email newsletter
Get the day's top entertainment headlines delivered to your inbox every morning.
---