A&E > Food
Busy bees: Couple plans to expand Hierophant Meadery, open second tasting room in Kendall Yards
Fri., July 29, 2016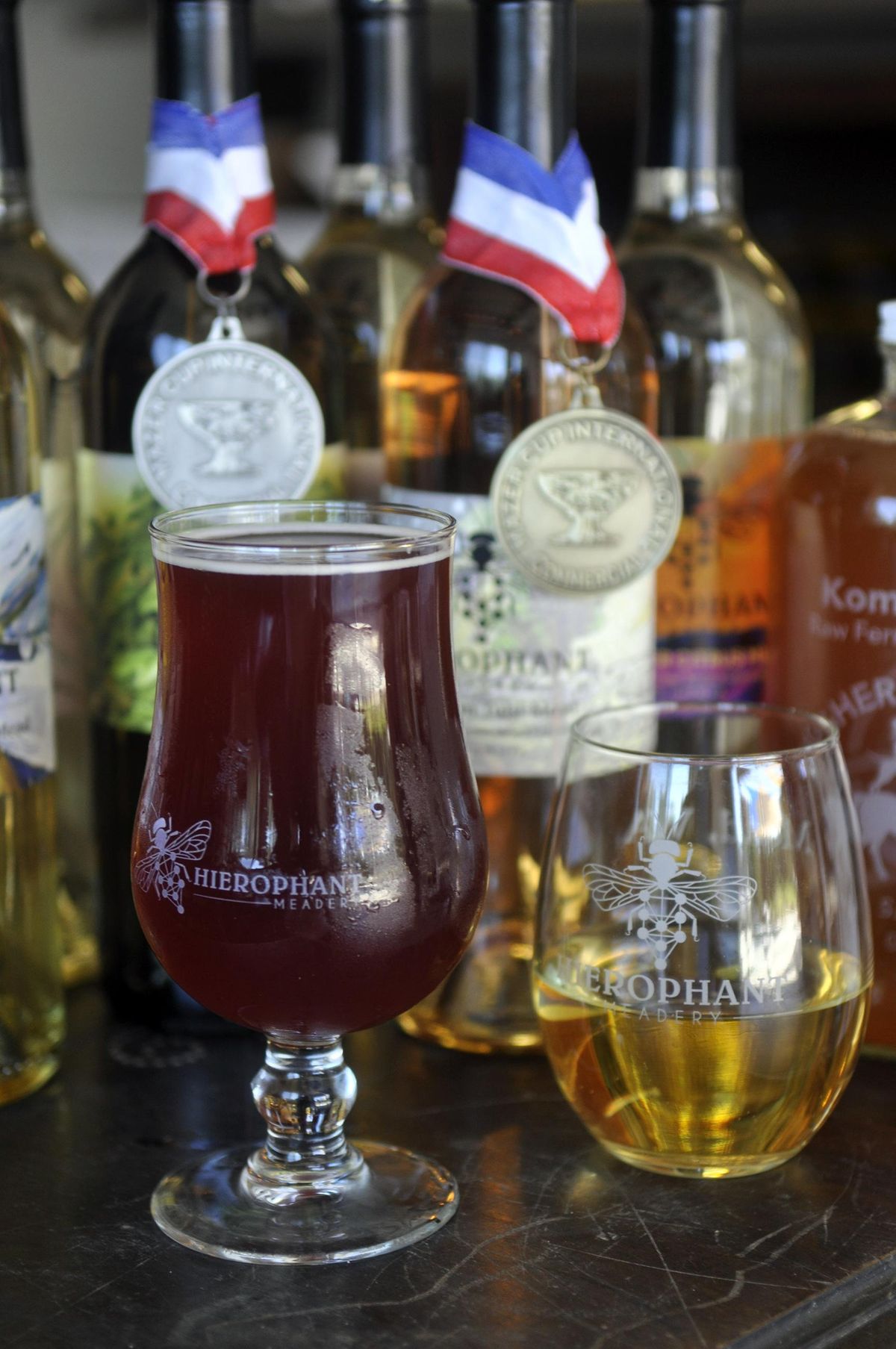 Hierophant Meadery has won several awards for its Zelena Hopped and Hawthorn Tulsi meads. Plus, last summer Seattle Magazine named Hierophant's Rose Cardamom Mead one of the top five meads in Washington state. (Adriana Janovich / The Spokesman-Review)
The first thing newcomers need to know about mead is it doesn't involve grapes.
The main ingredients are simple: honey, yeast, water and time. Fermentation takes up to two weeks.
After that, husband-and-wife herbalists and meadmakers Jeremy and Michelle Kyncl have their signature product: Chrysopoeia. During tastings, they start with the traditional, off-dry, alcoholic, honey-based beverage.
"We serve this first because it gives people an understanding of what traditional mead is," Michelle Kyncl said. "It's just a very accessible wine."
Compared to other meads on the market, Jeremy Kyncl said, "It's a relatively light wine."
It's one of nine kinds of mead, sometimes called honey wine, as well as four flavors of a session-style variety, at the couple's award-winning Hierophant Meadery. The latest, Lavender Citrus Mead, was released this month.
More expansion is in the works. Since opening their Green Bluff tasting room nearly three years ago, the Kyncls have been upping production to keep up with demand. The couple expects sales and production to double this year over last year.
In the fall, they plan to open a cooperative tasting room In Kendall Yards called Solace Mead and Cider with another Green Bluff business, Twilight Cider Works.
Two more products – Krokos Saffron Mead and a cyser, a type of mead made by fermenting honey and apple juice – are also scheduled for release this fall. By then, their lightly hopped, carbonated session-style mead, or "honey brews" – now only available in the tasting room – will be slated for distribution.
They've already begun shipping directly to consumers and retailers in Washington, Oregon and California. And they're accepting the idea that the next steps in the growth of their business will be big ones.
"We've been able to grow organically – no investors, not even the parents," Michelle Kyncl said. "We started so small."
Now, "We're at a point where we have to go big. We're talking 20-fold increases for the next step. We have proof of demand."
Mead in America
Mead is having a moment. According to the American Mead Makers Association, the number of commercial craft meaderies in the U.S. has climbed from about 30 in 2003 to about about 300 meaderies today – plus wineries and breweries that make mead along with other wine and beer.
"The industry is growing at a very rapid pace and hasn't shown any signs of slowing down," said AMMA president Michael Fairbrother, founder and head mead- and cidermaker at Moonlight Meadery in Londonderry, New Hampshire, said in a recent email. "It's my view that this will continue for the next 10 years or so. The revolution in the (craft) beer market has driven the explosion in the craft cider market, and both of these two markets are driving the consumer demand for well-crafted meads."
Mead might be a small and emerging category but, according to AMMA, no sector of the alcohol industry is currently expanding as fast. The association reports production grew 40 percent from 2014 to 2015. And gross sales, according to AMMA, have increased more than 160 percent from 2013 to 2015.
In Washington state, there are a half-dozen designated meaderies and four wineries that also make mead. In Eastern Washington, the Kyncls said they know of only two dedicated meaderies: their own as well as Adytum Cellars in Zillah in the Yakima Valley.
"We get to kind of pave the way in this industry," Michelle Kyncl said.
"It's an up-and-coming market," Jeremy Kyncl agreed. "And we're on the forefront of that. That's really exciting to us."
Beginning to buzz
Originally from Colorado, Jeremy Kyncl began homebrewing in college. He was making mead, gruit and beer – including saisons, doppelbocks and wormwood-infused ales – when he met his wife, a Central Valley High School graduate who had grown up in Liberty Lake, in 2008. They were both working on bachelor of science degrees in herbal science at Bastyr University in Kenmore, Washington, where they began to dream of starting a meadery.
"There was definitely a dream, even at that point," Jeremy Kyncl said. "It started to crystallize a lot more when we moved here. We joked about opening a meadery in Mead."
Located on Green Bluff, Hierophant's address is technically in Mead, Washington.
The Kyncls married in 2010 and moved to the Inland Northwest about five years ago, founding Hierophant in 2012 with, they said, an initial investment of about $4,000. Just over a year later, they completed their production facility and opened their tasting room in a carriage-house style building on Michelle Kyncl's parents' 17-acre property. The business is on the first floor. The couple, both 31, live with their two children – ages 2 and nearly 5 – in an upstairs apartment. "I call it the son-in-law suite," Jeremy Kyncl said.
He's the main meadmaker. She handles marketing, distributing and paperwork.
The logo depicts a honeybee. The name comes from Greek and means, in Michelle Kyncl's words, "to shine or reveal what is holy or sacred."
"We wanted to depict the honeybees as the hierophant, as something that's showing us something very important with its decline," she said.
The Kyncls worry about the dwindling honeybee population and plan to start a small beekeeping operation next summer. Meantime, they will continue to source most of their honey from local farmers who use sustainable practices. The couple buys the bulk of their honey from Tate's Honey Farm in Spokane.
When they started in 2012, they were making about 20 cases per month. Now, they produce about 200 cases per month, using roughly 110 gallons of honey.
"We expect to double this within the next 12 months," Michelle Kyncl said.
At some point, Hierophant will likely need a bigger production facility.
"We're not there yet," Jeremy Kyncl said. "But we're eventually going to plateau in this place because of the physical limitations."
Nectar of the gods
Mead is quite possibly the world's oldest alcoholic beverage. The writings of both Greek philosopher Aristotle (384 to 322 BC) and Roman naturalist Pliny the Elder (23 to 79 AD) include references to the fermented drink. Called "nectar of the gods," it was believed to have been dew, sent down from the heavens and collected by bees, messengers of the gods. Mead was also thought to have mystical powers – and later, medicinal properties, especially when infused with herbs. Today's term "honeymoon" comes from the ancient tradition of drinking mead for a full moon cycle after a new marriage to guarantee a fruitful union
Most of the mead Hierophant makes are botanical infusions, flavored honey wine infused with herbs and spices. This is known as metheglin. Other types of mead are made with fruit, called melomel; wine grapes, known as pyment; and beer, or braggot.
Hierophant offered only four when it started: its siganture Chrysopoeia along with Matricaria Chamomile, Zelena Hopped and Gilead Poplar Vanilla, available seasonally in spring.
Today, its other mead flavors are Rose Cardamom, Lemon Balm and the new Lavender Citrus. Two more – Hawthorn Tulsi and Fir Retsina Mead – are winter seasonals. The session-style meads are also released seasonally. They are: elderberry, raspberry, peach and spiced apple.
Earlier this year, Hierophant won two medals in the Mazer Cup International Commercial Mead Competition: Hawthorn Tulsi won a first place and Zelena Hopped won a second place. (Mazer is another name for meadmaker.)
Last fall, Hierophnat's Zelena Hopped won first place at the 2015 Mead Free or Die Professional Competition. And last summer, Seattle Magazine named Hierophant's Rose Cardamom Mead one of the top five meads in Washington state.
Also on the menu: elderberry syrup and kombucha, a fermented tea drink. Proceeds from its sale benefit the nonprofit Higher Ground Animal Sanctuary, located on-property. Michelle Kyncl runs it with her mom, Cheri Scandalis, who serves as president of the organization. They house about 50 rescue animals: ducks, geese, horses, donkeys, sheep, pigs, goats, bunnies, cats and dogs.
Look for the couple at a local farmers markets: Fairwood Farmers Market on Tuesday, Night Market at Kendall Yards on Wednesday, Thursday Market in the South Perry District on Thursday and Spokane Farmers Market on Saturday.
"For us, the whole ethic is to let the bones of the honey shine through," Jeremy Kyncl said. "We're looking for a wine with a hint of sweetness."
Local journalism is essential.
Give directly to The Spokesman-Review's Northwest Passages community forums series -- which helps to offset the costs of several reporter and editor positions at the newspaper -- by using the easy options below. Gifts processed in this system are not tax deductible, but are predominately used to help meet the local financial requirements needed to receive national matching-grant funds.
Subscribe to the Spokane7 email newsletter
Get the day's top entertainment headlines delivered to your inbox every morning.
---