PETA wishes Warren Sapp well after shark attack, sends fake lobster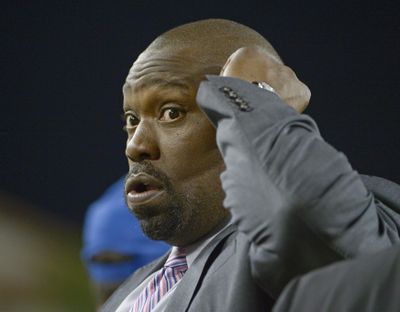 Warren Sapp was bitten by what appeared to be a nurse shark while hunting lobster off the Florida Keys on Wednesday.
The former University of Miami and NFL star will be getting at least one get-well card.
And some fake lobster.
People for the Ethical Treatment of Animals, best known as PETA, said it was not only sending its best wishes to Sapp via a card, but would also send him some "delicious cruelty-free vegan lobster" for his enjoyment.
Sapp, 43, told the Tampa Bay Times that he was diving and grabbed a lobster when a shark jumped out of the dark and attacked.
As for the prize, well, Sapp said he got the lobster and the shark didn't know what hit it.
"I was sticking my hand in a hole and a monster locked on me," Sapp told the Times.
"You've got to be careful sticking your hand in some holes down here."
Despite the deep gash, Sapp was "taped up" aboard his charter Two Conchs and continued his day hunting bugs.
"He lit me up," Sapp told the Times. "He got me all the way through the shirt. If the shirt had been a little further down, it might have protected me."
Sapp, who spent 10 seasons in the NFL with the Buccaneers and Raiders, is now selling merchandise like T-shirts and hoodies with the hashtag sappfishing with a caricature of himself sacking a quarterback with a shark's head. The score reads 2-0.
"Bite back with me," Sapp writes, "and get yours!"
PETA's motto reads, in part, "animals are not ours to eat."
It's obvious they would rather Sapp create his seafood feast out of, well, not seafood.
Also, PETA appears fond of football puns.
"We heard about your interception of a defensive shark's lobster dinner," PETA wrote in its response to Sapp according to an email sent to the Miami Herald.
"We wanted to pass along some delicious cruelty-free vegan lobster in the hope that it's a winner with you and yours.
"We don't want you running back to the water until you've tasted it – sharks work as a team to obtain food, so unwanted competition may be awaiting you. Despite that nasty bite, it's humans who rank as the deadliest predator of all.
"We hope you look after yourself, so we invite you to tackle any health problems with vegan foods and to be a champion of lobsters. All your fans at PETA are wishing you a speedy recovery."
A bag of vegan lobster, which includes 36 pieces, costs $8.45 according to the site provided by PETA.
According to the nutrition facts on the package, each piece of the pseudo-lobster is 45 calories with 9 grams of carbs.
There has been no mention of whether likes his fake lobster in a salad, with some imitation crab or in a nice Boston-style lobster roll.
---