News > Education
Migrant summer school helps fill education gaps
Sat., July 30, 2016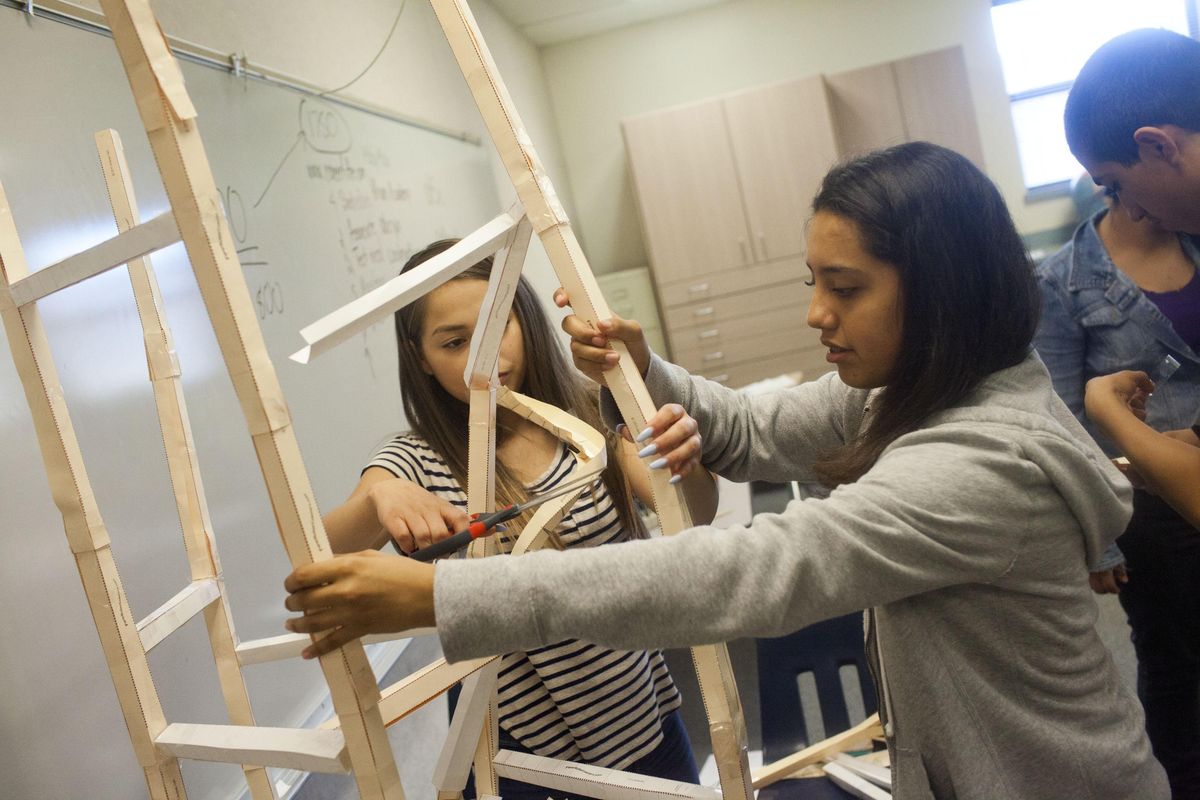 In this June 7, 2016 photo, Dulce Prieto, right, who works feeding dairy calves on weekends, builds a model roller coaster at a migrant summer school in Twin Falls, Idaho. A migrant summer school helps fill education gaps while keeping children out of farm fields. (Stephen Reiss / The Times-News via AP)
TWIN FALLS, Idaho – With paper cutters and tape, Jose Juarez and his middle school peers made marble mazes on a June afternoon. But once migrant summer school ended, 14-year-old Jose would labor in Hazelton bean fields again.
Yes, the Twin Falls School District's migrant summer school is about writing and math. But it's also about not picking rocks or feeding calves.
At least for three short weeks, reported the Times-News.
The district's annual June program helps fill academic gaps for children who move frequently and organizers say it also keeps them out of agricultural fields. But when summer school ends, many migrant students head back to work.
Their summer school lessons aim to help them see beyond the fields.
This is Jose's second summer of farm work, clocking in from 8 a.m. to 5 p.m. Last year, he earned $2,000 and gave it to his mother.
"I don't like staying at home doing nothing," the Robert Stuart Middle School student said. "I like being out in the fields."
The district's migrant program, however, aims to help students finish their educations and find more stable lifestyles.
Some parents plan their work schedules around migrant summer school, said Abby Montano, migrant coordinator for the Twin Falls district. But after that, some families move for summer jobs – perhaps in California, Texas, Minnesota or Arizona – and come back to Twin Falls in the fall.
Growing enrollment
While the number of migrant families has dropped across Idaho, enrollment in Twin Falls' migrant summer school rose sharply this year.
Normally about 100 students sign up for the summer school, which the district has offered for more than 20 years. This year, 160 registered.
Parents asked the district to expand summer school to include middle schoolers, Montano said, so their children weren't home alone. This is the second year that middle schoolers were included, and their numbers doubled to 26 students.
About $72,000 of the school district's $232,357 in annual federal migrant money goes toward operating summer school for students up through eighth grade. Academic instruction focuses on key subjects such as English and math. For middle schoolers, there's a stronger focus on math and science.
"That's the areas where they struggle more during the school year," middle school migrant liaison Carmen Castillo said.
For high schoolers, the district last year launched a summer program where they can make up lost class credits in English, math or social studies, or get extra academic help.
Younger students often ask about migrant summer school during the school year and look forward to it, Montano said. About four years ago, organizers revamped it into a camp-like atmosphere with cheers and dances every day. And instruction revolves around a different theme each year.
"The kids are really excited because we've made that change to themes," Montano said.
This summer, students went on field trips to the College of Southern Idaho's outdoor challenge course, Zoo Boise, Twin Falls City Park, KMVT and a radio station, and downtown Twin Falls.
Students also build friendships. Children from three families were meeting Twin Falls peers for the first time because they moved at the end of the school year from Kimberly and Filer.
It's still school
Migrant summer school may feel like a camp, but it still stresses academics. And it still looks like school.
On June 1, the first day of summer school, a long line of parents and children formed at Oregon Trail Elementary School's front lobby.
"Are we trying to find classes?" a school secretary asked one family. She switched to Spanish to talk with a mother.
Principal Shari Cowger stood in the junction of two hallways helping students find the correct classrooms. "First and second (grades) this way," she said, pointing down a hallway.
Three school buses were running late and finally arrived at nearly 9 a.m., about 30 minutes after the first bell rang.
In one classroom, dozens of students in third through fifth grades found chairs at pods of four desks facing each other. Teachers Katrina Allen and Noell Bautista greeted children – some of whom were former students. In the back, 16-year-old Juan Gomez Arroyo – who's too old for summer school – was watching his sisters' classroom along with several other helpers.
The teachers were expecting 56 third- through fifth-graders, Bautista said as she cradled a large stack of notebooks in her arms – the biggest group she'd ever had for migrant summer school.
Cowger's voice on the intercom welcomed students, quoting from a Dr. Seuss book and telling students to work hard and enjoy the experience.
"Make it a great day or not," she said. "The choice is yours."
Across the hallway, teacher Julie Delia told middle schoolers that migrant summer school would include fun activities. But she told them to take it seriously.
She wrote a list of expectations on the whiteboard. The first: "This is a school."
Her hot-button issue is disrespect, she told students. As she explained her expectations, the classroom was completely quiet. Finally, one of her former students said: "I know. I pushed it last year."
Exploring careers
This year's theme: "A Day in the Life." Children explored career options and what steps they'd need to take to achieve their goals.
On the first day, Cowger brought a stack of "Career Day" picture books into the third- through fifth-grade classroom.
Bautista told students to keep track of their books. "We're going to be moving rooms all the time."
Students also received journals they wrote in every day. And throughout the three-week program, they heard from guest speakers and toured Twin Falls workplaces.
"What's a career?" Bautista asked on the first day. A boy raised his hand. "It's like a job," he said.
She asked students to share what their ideal career would be. Reina Gomez Arroyo, 10, was the first to raise her hand. "Doctor," she said, and Bautista wrote that on the whiteboard. Others were interested in teaching or art.
In the middle school classroom, Delia told students they have fewer than 10 years before they'll be in the workplace. It's important to find your passion, she said.
Farther down the hallway, Jesus Becerra, 6, glued together pieces of yellow construction paper as he and the other kindergartners made chef hats.
Teacher Erin Brittain stapled a piece of tissue paper inside each hat. One boy returned to his desk with a huge smile. "I'm a chef," he said.
A week later, around 40 third- through fifth-graders took a field trip June 8 to downtown Twin Falls to learn about careers.
After getting off a school bus at the Twin Falls School District office on Main Avenue West, students grabbed water bottles from underneath the bus. They broke into small groups, each led by a teacher.
In front of Fuller Law Offices with six students, school librarian Alisa Radmall described why people may need an attorney. She gave a scenario, describing what would happen if someone robbed a bank or were falsely accused of a crime.
She also described the education needed to become an attorney. "Do they have to go to school for a long time?" she asked. Students nodded.
Their next stop: Rudy's – A Cook's Paradise. "They sell stuff to help you cook," Radmall told students, pointing out colorful strainers displayed in the store window.
It's one of Twin Falls' original buildings, she said, although it wasn't always a cooking store.
"Look up here," Radmall said, pointing to a date on the side of the building. "It says 1904. Do you see that?"
In front of Sav-Mor Drug, Radmall described a pharmacy's purpose: "This is a place where you can get medicine to help you feel better."
Students met with owners of a photography studio and Bath N Body Boutique. Inside the boutique, students petted the owner's dog, but Reina was too scared and hurried past. "Don't touch anything," teachers frequently told the students.
Bath N Body Boutique owner Debbie Parker said the store, about three years old, sells soaps and fragrances, focusing on natural and organic products. Good customer service is an important part of business, she told students. She wants to make sure everyone who comes in has a good experience.
To open a business, Parker said, "you start out with your vision and dream." She saved money for 12 years to open her own store and rents the building space.
It took about $100,000 in startup costs, she said, adding it typically takes three to five years for a new business to make a profit.
Camp-like atmosphere
Summer school has a camp-like atmosphere to make the experience more enjoyable for students – particularly those who don't like school.
Each morning, students gathered to do a dance and cheer. Delia told middle schoolers on the first day it may feel silly or ridiculous, but she encouraged them to help younger children.
"Sometimes when we are having the most fun, we're being silly," she said.
The class planned a trip the next day to CSI's outdoor challenge course. They also visited Zoo Boise later in June, and students were particularly excited about riding on a charter bus.
"Those look legit," one girl commented, and her classmates laughed.
Life skills
Beyond academic instruction, summer school students learned life skills.
On Tuesday of the second week, kindergartners through second-graders listened to a nutrition lesson from Carol Biggers of the University of Idaho's Extension office.
She told students they should eat whole-grain breads and pastas, which are "healthier for our bodies" and have more fiber, vitamins and minerals.
"Who likes pasta?" Biggers asked about 40 students, and nearly all raised their hands. She also talked about limiting sweets, calling a doughnut a "once-in-a-while treat."
Biggers quizzed students by holding up empty, collapsed cereal boxes and asking them to give a thumbs up or down to indicate whether it's a whole-grain cereal.
Demonstrating knowledge
On June 17, the last day of summer school, it was time for students to demonstrate what they learned for their families.
Third- through fifth-graders were getting ready for a dance performance – girls in white shirts and colorful skirts, boys in sombreros and fake bow ties made of ribbon.
Inside the gym, Montano had a huge smile. "I'm so happy," she said, looking around at dozens of parents and children who came for the open house. "All my families came."
As an exchange teacher from Mexico directed about 30 students in Spanish where to stand before a dance performance, Reina twirled her skirt. She fidgeted and crossed her arms after the teacher put her in the front row.
"Smile, Reina," Cowger called out. Nearby, Juan waited to join the young dancers for the performance.
After the show, parents followed students back to their classrooms to see their projects. In one hallway, middle schoolers displayed poster boards about careers and demonstrated the paper marble mazes they created.
Kindergartners waited anxiously for their parents to pick them up. One boy stood out in a hallway, repeatedly calling out, "Mommy?"
Earlier that day, elementary schoolers sat on a grassy lawn behind the school under the shade of trees. They watched as middle schoolers tested their hot air balloons made of tissue paper.
Montano passed around a glue stick for last-minute repairs. Two employees turned on a portable propane stove and held each balloon over it to heat it. Then they gently gave the balloon a push to send it into the air.
Some of the balloons had holes and didn't go far. But others sailed farther, and with each successful run, children cheered and clapped. Once or twice, they chased hot air balloons that soared above the playground.
A few balloons landed on the school roof, where a custodian waited to retrieve them.
Jose tried out his hot air balloon that day. But soon, he'd be back in the farm fields.
It's a tiring job. At the end of a work day, he said, "I just want to take a shower and lay down."
But Jose, born in Twin Falls, has bigger dreams: becoming a U.S. Navy SEAL.
"I like protecting my country."
Information from: The Times-News
Local journalism is essential.
Give directly to The Spokesman-Review's Northwest Passages community forums series -- which helps to offset the costs of several reporter and editor positions at the newspaper -- by using the easy options below. Gifts processed in this system are not tax deductible, but are predominately used to help meet the local financial requirements needed to receive national matching-grant funds.
Subscribe now to get breaking news alerts in your email inbox
Get breaking news delivered to your inbox as it happens.
---