News > Idaho
After arson fire, St. Ann's in Bonners Ferry waits to rejoice again
Sun., July 31, 2016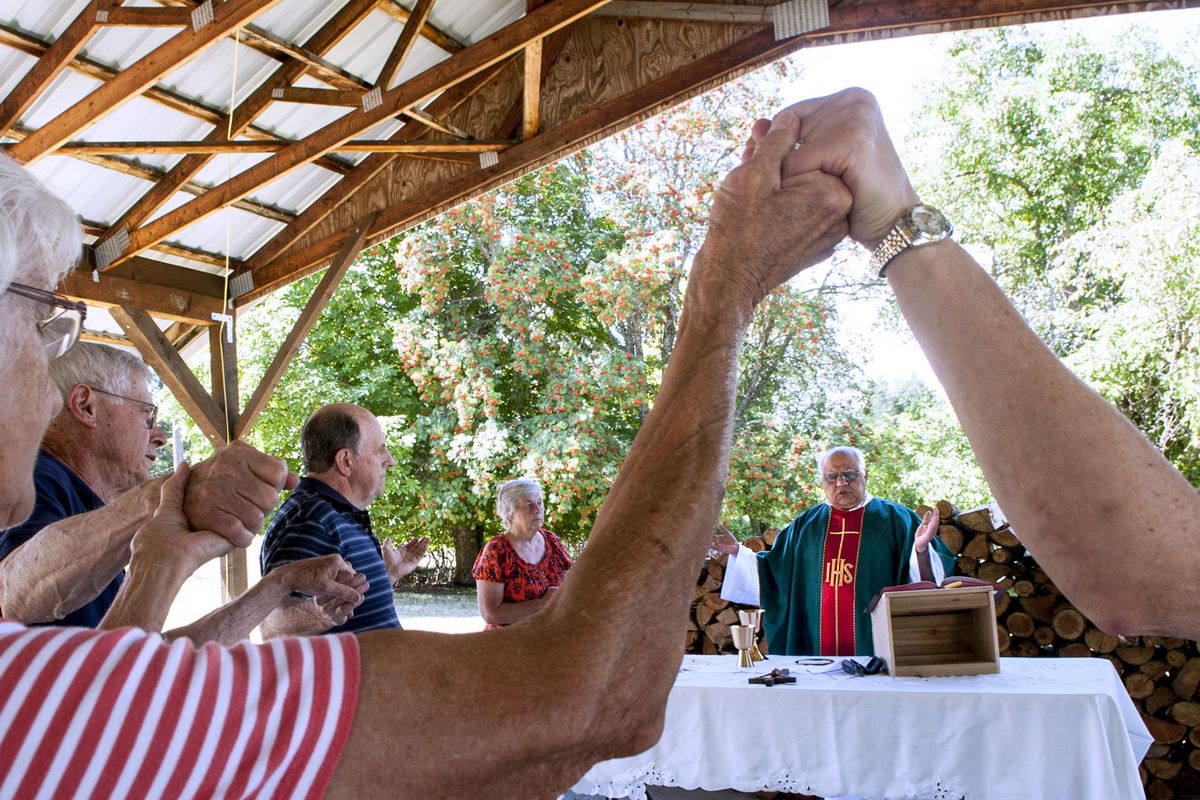 Father Carlos Perez leads Mass outside the former site of St. Ann's Catholic Church in Bonners Ferry on Wednesday, July 27, 2016. An arson blaze burned the church to the ground April 21, 2016. (Kathy Plonka / The Spokesman-Review)
BONNERS FERRY – It's noon, time for the weekday Mass at St. Ann's Catholic Church.
But the church building is gone. Just a dusty gravel lot remains. The only clue to what happened here is the charred timbers of a detached bell tower along El Paso Street.
Fourteen weeks after an arsonist burned the church to the ground, the small North Idaho parish is forging on with prayer and song and hopes of rebuilding next year.
For now, they worship on weekends in a Methodist church next door. During the week, the Rev. Carlos Perez leads Mass under a wooden pavilion next to his residence.
On Wednesday, four women and three men attend the 20-minute service, sitting on folding white chairs. It's a pleasant day to be outside in the shade. Birds chirp and a train wails in the distance.
"God is in our midst. He's always in us, in good times and in bad times," Father Perez says in his brief homily.
Carol Davis, who helps arrange chairs for the daily Mass, said she misses the quiet space for prayer in the sanctuary of the old church.
"It's disheartening," Davis said. "But at night there is weeping, in the morning rejoicing. When this is over, we will rejoice."
"It's sort of being on a permanent retreat," she added. "We're actually meeting like they did before churches, so it's kind of nice that way."
Another parishioner, Karen Amidei, said she's grateful for the shelter of the pavilion for Mass on Tuesday through Friday.
"One thing people miss the most is not being able to kneel. I've heard that from a lot of people," Amidei said. "A lot of our comforts have been taken away."
No one has been charged with setting the church ablaze. But Perez and others in this small town know that investigators suspect a man already in jail on unrelated burglary charges. The man's lawyer confirmed authorities are looking hard at her client, whose criminal history goes back almost 20 years.
"They will" charge him, Perez said with confidence. "He has to pay for this big crime. It is against the faith of the people."
The FBI confirms that there is a "person of interest" in custody on unrelated charges, and that there's no threat to public safety. The Boundary County Prosecutor's Office has not commented.
Waiting, waiting
Sitting in his office after Mass, Perez said he was depressed for several weeks following the April 21 fire.
"I feel better, but I was very sad," he said. "It is very hard for me and for the community to have services outside. Thank God the weather is good."
Two days after the smoke cleared, Bishop Peter F. Christensen of the Roman Catholic Diocese of Boise came to town and assured the congregation they could rebuild. That was a great relief to parishioners, who worried they'd have to drive to Sandpoint for Mass.
Perez said he hopes to break ground on the new church next April. He's waiting to hear from insurers on how much money they'll have for the project.
"We are waiting, waiting, waiting," he said.
The plan is to rebuild on an undeveloped corner of the same block. To do that, the church may need to ask the City Council to vacate an alley right of way through the property and agree to relocate water, sewer and electric lines. The cost of moving utilities could cost the church roughly $75,000.
"As a city we really want to see it rebuilt, and I know we'll sure do anything we can to help the process along," City Administrator Mike Klaus said.
St. Ann's is working with a Post Falls architect on some design ideas. Perez said he would prefer a traditional-looking church with room for about 300 people. He recently visited the new Our Lady of the Lake Catholic Church in Suncrest, Washington, which the Diocese of Spokane dedicated July 3.
"It's beautiful," he said. "I like it."
Perez also hopes for a more practical temporary solution on the church property, before winter sets in. He's looking for a couple of portable trailers that can be placed side by side to create an interior space large enough for about 100 people. He'd need to celebrate Mass twice each Sunday morning to accommodate everyone, as well as work through some fire safety and snow load concerns.
Little survived
St. Ann's and a Lutheran church in Bonners Ferry were vandalized about a month before the arson. Perez found strange symbols scrawled in butter around the altar and bread left at the front door and on the kitchen floor in the basement. The intruder also drew symbols on an image of the Sacred Heart of Jesus, and scratched the eyes in a picture of the church's namesake saint.
During the April fire, firefighters saw similar signs of vandalism in the St. Ann's basement where the fire had been set.
The church was busy the night before the fire with choir practice and a religious education class in the church basement. Perez said the arsonist could have sneaked in and hid until everyone else had left.
Next door in the rectory, he retired late after watching a Spanish-language show he likes. Sometime after midnight he heard a boom. Perez looked out but saw nothing.
A few minutes later he heard a louder boom and felt the house shake.
The priest grabbed his phone and went to the side door facing the church.
"I saw the flame that came from the stained glass of Our Lady of Guadalupe," Perez said. "Oh, my God, that image, my friends. I have that image here," he said, pointing to his temple.
He called 911, but the church already was beyond saving. The fire smoldered through the day and into that evening.
In his nine years at St. Ann's, Perez and his parishioners had worked hard and spent close to $400,000 to renovate the building. They put on a new roof, replaced windows, added insulation and remodeled the basement.
Virtually everything was lost to the flames, but a few relics survived and will be incorporated into the new church. They include a large cross in stained glass from the choir loft, a ceramic image of the Blessed Mother and another window of Our Lady of Guadalupe.
Also, a metal cross atop the church, which crumpled to the ground as firefighters doused hot spots on the church, was salvaged and will find a home in the new church.
Local journalism is essential.
Give directly to The Spokesman-Review's Northwest Passages community forums series -- which helps to offset the costs of several reporter and editor positions at the newspaper -- by using the easy options below. Gifts processed in this system are not tax deductible, but are predominately used to help meet the local financial requirements needed to receive national matching-grant funds.
Subscribe now to get breaking news alerts in your email inbox
Get breaking news delivered to your inbox as it happens.
---