News > Pacific NW
In Mukilteo shooting, suspect and one victim ID'd as University of Washington students
Sun., July 31, 2016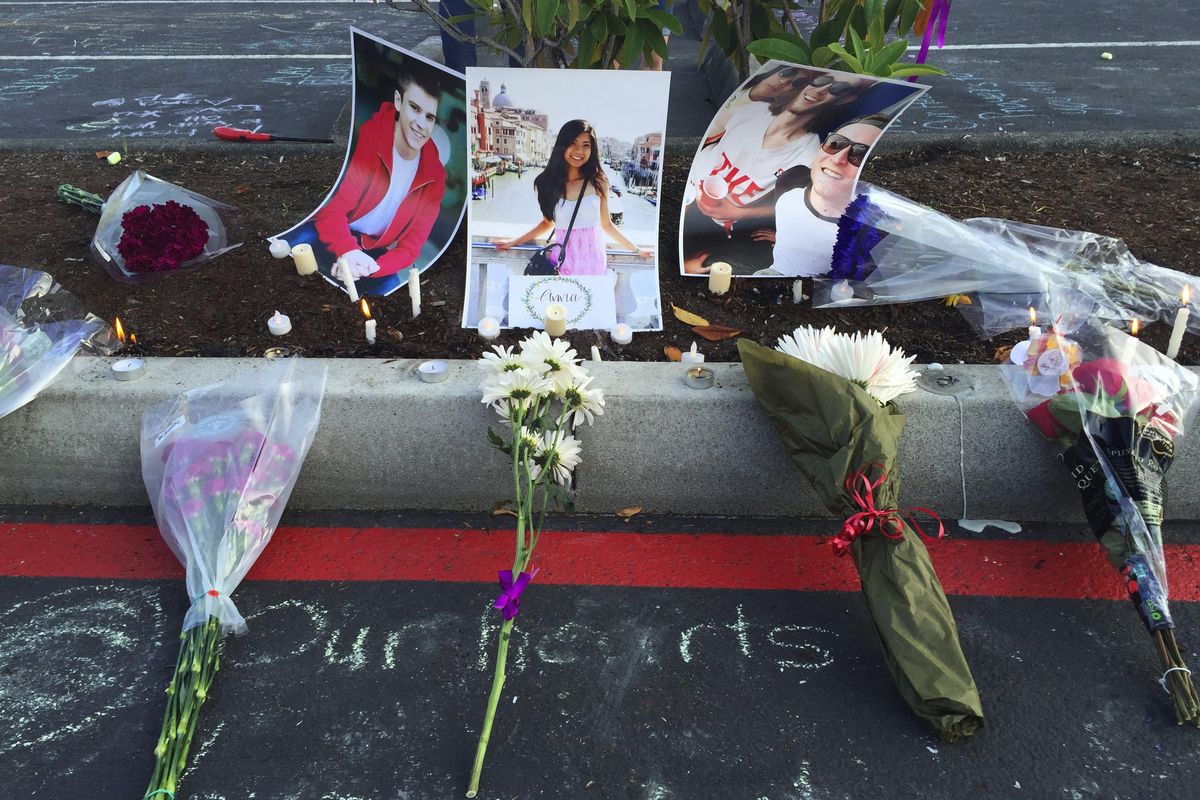 Photos of Jordan Ebner, Anna Bui and Jake Long are seen at a makeshift memorial as people gather in the parking lot of Kamiak High School in Mukilteo, Wash., to honor those who were slain Saturday, July 30, 2016. (Alan Berner / Seattle Times via Associated Press)
MUKILTEO, Wash. – The University of Washington on Sunday identified one of the three people fatally shot at a party of young adults in an upscale neighborhood as a student.
The school in a statement said Anna Bui died in the shooting early Saturday at a house in the Seattle suburb of Mukilteo. She had been enrolled at the university's campus in nearby Bothell.
The school also identified the suspected shooter, Allen Ivanov, as another of its students at Bothell.
"There's no doubt some of you know Anna or Allen, or both and will be devastated by this news," the school said, urging students to seek help through various resources, including counseling, offered by the school.
On Saturday night, hundreds of young people lit candles and exchanged hugs in a high school parking lot as the small waterfront community north of Seattle mourned the loss of three young adults.
The vigil was held at Kamiak High School, where people passed lit candles to one another. Another vigil was planned Sunday at a local church.
"It feels really good to have a community to be connected to," Olga Manko told the Q13 television station. "I thank God for that, because not a lot of places have that."
State troopers said they pulled over and arrested the fleeing 19-year-old suspect on an interstate more than 100 miles away following the shooting.
Susan Gemmer, the grandmother of one of the witnesses, said the gunman arrived with a rifle at the party of about 15 to 20 friends from Kamiak High – mostly recent graduates aged 18 to 20. The gunman walked through the house to the fire pit out back, where he shot two people. Another person was shot elsewhere on the property.
Those present knew the gunman, Gemmer said, and he and one of those shot had broken up last week.
Gemmer said her 18-year-old granddaughter, Alexis, hid in a closet and called her during the shooting.
"We were texting back and forth, telling her to stay quiet, stay calm, we're on our way. She kept saying, 'They're dead, they're dead, I saw them, I was right there and I saw them,'" Gemmer told the Associated Press.
Police did not immediately release the name of the suspect, but a man named Allen Christopher Ivanov was booked into the Snohomish County Jail on Saturday afternoon for investigation of three counts of murder, including one of aggravated murder, which can bring the death penalty.
It was unclear whether Ivanov had obtained an attorney. He was expected to face a court appearance Monday.
"We have no reason to believe there are other suspects, and we're not actively looking for anyone else at this time," Mukilteo Police Department Officer Myron Travis said Sunday.
Travis declined to release more information, including the names of the victims. A news conference will likely be held Monday afternoon, he said.
The shooting happened in the upscale Chennault neighborhood of Mukilteo, a town of about 20,000 people.
Local journalism is essential.
Give directly to The Spokesman-Review's Northwest Passages community forums series -- which helps to offset the costs of several reporter and editor positions at the newspaper -- by using the easy options below. Gifts processed in this system are not tax deductible, but are predominately used to help meet the local financial requirements needed to receive national matching-grant funds.
Subscribe now to get breaking news alerts in your email inbox
Get breaking news delivered to your inbox as it happens.
---