News > Features
Panty lines and prom-posals: 'Inside Amy Schumer' writer Jessi Klein on invented problems
Sun., July 31, 2016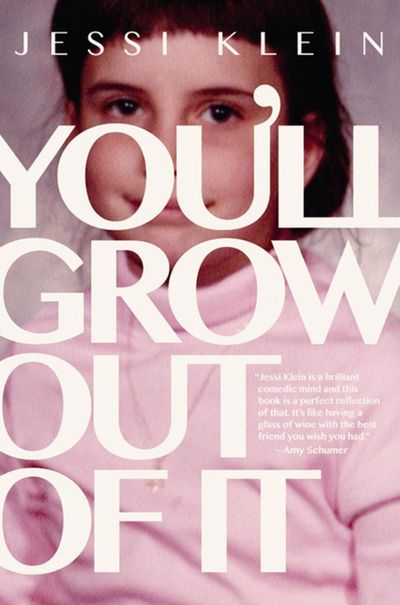 There's a great scene in Jessi Klein's new book, in which she is backstage at the Emmy Awards last year with her just-won statue – and her breast pump.
"On a professional level, it felt really good," she said of the win for her work as head writer on the Comedy Central sketch series, "Inside Amy Schumer."
"But for a variety of reasons, last year was one of the hardest years of my life," she said, alluding to marital strife. "I spent a lot of time suffering and the Emmy did absolutely zero.
"There's a glow, it does feel good to win. But all of the struggles that matter continue."
It's that authenticity, and a steady stream of truly laugh-out-loud lines that make Klein's new book of essays, "You'll Grow Out Of It," so much fun.
Klein doesn't take it as much as dish it out, especially when it comes to what she has perfectly termed "The Thong Industrial Complex."
"It's problems getting invented," she said. "Panty lines, the urgent need to have regular manicures and pedicures."
Don't forget "prom-posals" and baby sex-reveal parties.
"I know," Klein said, incredulously. "The list keeps getting longer. These invented needs, these invented problems."
Although, Klein will confess to hiring a stylist for her book tour, and that said stylist recommended she wear "little maxi pads for your armpits" to prevent "sweat stains the size of dinner plates."
She wore them for a video interview with a magazine and when she stood up, one of them fell out and hit the floor.
She also spends a fortune on Le Mer face cream ($310 will get you 2 ounces), but Klein couldn't say if it's working.
"Uh, I mean … Maybe," she said. "Maybe not. I can't tell. Like the rest of us, I am slowly dying."
The essays in the book range from her eschewing the standards of femininity as a kid, and being what she calls a "tom man" (" … what happens when a tomboy just never grows out of it"), to the distinctions between a "poodle" (women who, for example, wear matching bras and underwear) and a "wolf" (women who "can't deal with thongs").
There is an essay on her epic (aren't they all, though?) search for a wedding dress and another on her one-year stint as a writer for "Saturday Night Live," including a passage on the after-party hierarchy, established by producer Lorne Michaels.
"I realized that the real party was in the back," Klein writes. "And in the back, the real party was at Lorne's table. And even at Lorne's table, the real party is probably only in Lorne's head. And in Lorne's head, Lorne is the only person allowed in. I think maybe Paul Simon is also there."
Perhaps her best-known sketch was "Brownie Husband," a fake Duncan Hines ad for an edible, chewy-chocolate man – just 90 seconds in the microwave! – that presumably fills every single woman's need for "rich fudge and emotional intimacy."
And you have to thank her for writing the "Inside Amy Schumer" skit "The Last F**kable Day," which featured Julia Louis-Dreyfus (with the help of Tina Fey and Patricia Arquette) marking the end of her sex appeal as seen by Hollywood.
"We are just writing about our personal experiences and what it's like to be ourselves and the show is a reflection of that," Klein said of "Schumer." "We want the stuff to be really funny and we want to make ourselves laugh."
But that's not all.
"Maybe we're sneaking in a little bit of feminism in there," Klein added. "It sounds like such a cliche, how the personal is political. But like many cliches, there's truth there. There's this establishment notion that women's lives are trivial as compared to men's and it's just not true."
In Klein's hands, they sure are funnier.
Local journalism is essential.
Give directly to The Spokesman-Review's Northwest Passages community forums series -- which helps to offset the costs of several reporter and editor positions at the newspaper -- by using the easy options below. Gifts processed in this system are not tax deductible, but are predominately used to help meet the local financial requirements needed to receive national matching-grant funds.
Subscribe now to get breaking news alerts in your email inbox
Get breaking news delivered to your inbox as it happens.
---