News > Idaho
Ancestry puzzle complete for Coeur d'Alene woman
Thu., June 2, 2016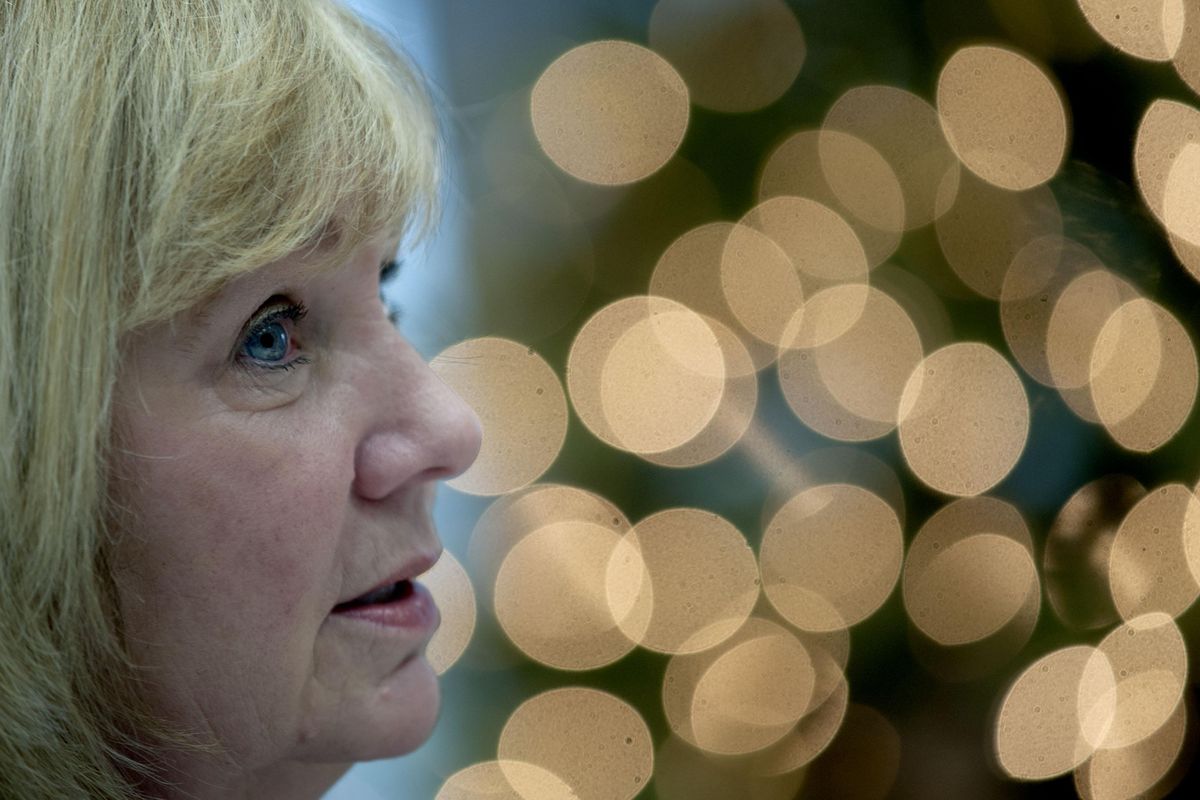 Heather Livergood was born in a Montana hotel room in 1946 and sold on the black market for $100. Last year she tracked down her birth mother's family using Ancestry.com and DNA testing, and has recently discovered who her birth father was. (Kathy Plonka / The Spokesman-Review)
Heather Livergood considered herself lucky when she discovered who her birth mother was last year. She never thought the other half of the mystery – her father's identity – would be solved so quickly.
The Coeur d'Alene woman was sold as a newborn for $100 – one of possibly dozens of babies whose fates were orchestrated by Gertrude Pitkanen, a notorious Montana abortionist and midwife who arranged black market adoptions. No records were kept of who Livergood's birth parents were, leading her to a 45-year search for where she came from.
Last year she tracked down two half-brothers in Utah with the help of a genealogy sleuth and DNA tests, and she learned all about her mother, Violet Weyland Sandberg, who died in 2003 at age 83. That opened up a branch of new relatives and friendships for Livergood, who used to work at Coeur d'Alene High School and Woodland Middle School.
But Sandberg's family had known nothing about Livergood's birth and adoption, nor the identity of the man who fathered the child with Sandberg. She apparently met the man while her husband, Evan Sandberg, an Army Air Forces tail gunner, was in Saipan during the final months of World War II.
When Evan returned home from his 15-month deployment, he found Violet six months pregnant. They traveled from Grantsville, Utah, to Butte, where Livergood was born in a motel room on Feb. 9, 1946. Her adoptive father picked her up nine hours later. She still has the handwritten receipt acknowledging his $25 down payment with $75 due to Pitkanen within three weeks.
Livergood's third cousin, Geraldine Rudloff, who lives in California, spent nine months tracking down the half-brothers – Violet's two sons – in Utah. And recently Rudloff had more good news: She was pretty sure she figured out who Livergood's birth father was.
"Good ole Geri, she can nail them down," said Livergood, 69. "She's a guru sleuth."
Livergood had just one hit on Ancestry.com that was not related to her mother. Working with that scrap of detail, Rudloff found George Wilcox, the father of her birth father. Wilcox had two sons in Utah, and they tracked down on Facebook a woman, Elizabeth, who is the granddaughter of one of the sons.
"She and I have really bonded and connected," Livergood said. "She's just a lovely young woman."
Elizabeth talked her mother Jan into a DNA test, which showed that Jan's father's brother, Ronald Wilcox, is Livergood's father.
"There's no secrets anymore, because DNA can track you down," Livergood said.
Ronald Wilcox was a successful lawyer in Midway, Utah. He was married twice but never had children with either woman. He collected luxury cars and was a Formula 1 race fan. He had blue eyes and O-negative blood, just like his daughter. During the war he was stationed for a time at Wendover Army Air Base in Utah. Wilcox died in 2000.
Livergood doesn't know how he met her birth mother or how long they were in contact.
"I don't think Ron even knew I existed," she said.
But now she has a photo of him. "I do look like him."
Livergood is one of six women delivered and sold by Pitkanen between 1933 and 1957 who have been searching for their birth parents. They call themselves Gertie's Babies and have collaborated in their efforts to unlock the mysteries of their family trees.
Three of the six have had no success, Livergood said. "I really hope they can find their answers, too," she said
"To me, it just makes the story complete now, and it kind of gives me a little peace," she said. "I have been searching for so long."
Local journalism is essential.
Give directly to The Spokesman-Review's Northwest Passages community forums series -- which helps to offset the costs of several reporter and editor positions at the newspaper -- by using the easy options below. Gifts processed in this system are not tax deductible, but are predominately used to help meet the local financial requirements needed to receive national matching-grant funds.
Subscribe now to get breaking news alerts in your email inbox
Get breaking news delivered to your inbox as it happens.
---