Eight-year-old Rachel White's transgender journey has only begun. Despite support at home and school, there is no easy path ahead.
The little girls are dressed up and made up, hair sprayed, curled and twirled into intricate patterns, playing at being models. All 15 of them sit closely together on the floor while older women sit and stand, checking themselves in the mirrors, last-minute fixes in preparation for their grand entrance.
Rachel White, 7, is wearing black tights and a white lacy undershirt. A red dress fits neatly over it all. Rachel's teal green earrings glint in the harsh electric light. Her dirty-blond hair is pulled into a messy bun.
Rachel has been at the Palomino Club, where the fashion show is taking place, since 3 p.m. After four hours, she's tired and her feet hurt.
"No guys allowed in the green room," someone says and the few men exit.
Rachel stays despite the fact that up until three years ago, she was a little boy named Trey.
---
---
"I could support my child, or I could bury my child."
Even as a toddler, Rachel was attracted to "girl" things, said Betsy White, Rachel's mom.
"We assumed that she was flamboyantly gay," she said. "Two, three years old she was always gravitating toward more female toys, wanting to play dress-up."
Then one day White received a call from Rachel's school. The principal at Stevens Elementary was concerned and told White that Rachel, then 5 and in kindergarten, said something "incredibly inappropriate." Fearing the worst, White rushed to the school. The principal told White that Rachel came up to her that day and said, "I'm going to be a girl when I grow up; could you please call me a she?"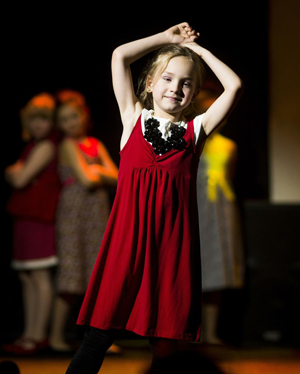 White was shocked, although she says she remained outwardly calm. When she returned home she Googled "my son wants to be a girl."
"Internally I was like, 'Oh my God,' " White said. "What does that look like? What does that mean? What is her future going to look like?"
So, White, who had just started a graduate program in public administration at Eastern Washington University, decided to write a paper about what it means to be transgender. In the course of her research, she came across some sobering facts: 41 percent of transgender people have attempted suicide.
"At that point I had a decision to make," White said. "I could support my child, or I could bury my child."
Still, White said it took her months to accept Rachel's new identity.
"I have never questioned myself as a parent more than I have right now," White said.
The kids don't care
On an overcast April afternoon Rachel is playing outside Stevens Elementary during recess. The kids chase each other, screaming raucously. Rachel and her friend Xavier Smith are roughhousing, pushing and jumping on each other. Rachel grabs Xavier from behind and the two yell happily.
"She has a lot of friends," second-grader Junior Beaty observes.
Children swirl around Rachel, following her and Xavier as they zigzag across the field. Not all the kids in Rachel's class know that she is a transgender girl, but some do.
"In first grade she was called Trey," Xavier says matter-of-factly.
While her classmates seem to have accepted Rachel, the wider world still argues about transgender people and what it means to be a man or woman. Young transgender boys and girls are a particularly divisive topic.
Critics wonder if the children are truly transgender or are simply being pushed into an identity by their parents. One study from 1995, published by psychologists Kenneth Zucker and Susan Bradley, claims that 80 percent of transgender children eventually became gender-conforming adults.
New research is beginning to disprove that finding, however.
Kristina Olson is a researcher at the University of Washington and is leading the largest study of transgender youth ever conducted. The study, known as the Transgender Youth Project, is looking at about 300 transgender kids between the ages of 3 and 12.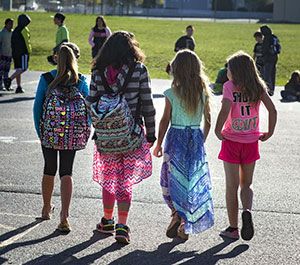 Researchers hope to follow the children for 20 years. So far, Olson's findings seem to contradict the 1995 study. Olson says the earlier research didn't focus specifically on transgender children, instead often surveying children who were gender-nonconforming, but not truly transgender.
In the Transgender Youth Project, "the kids in the study are doing quite well in terms of anxiety and depression compared to past work with kids who have not transitioned," Olson said.
Family support is critical, Olson's research has found. Transgender youth supported by their families and allowed to transition reported levels of anxiety and depression consistent with their age. Transgender youth who were not supported by their families report consistently high rates of anxiety, depression and suicidal thoughts. More than 50 percent of transgender youth report attempting suicide at least once by their 20th birthday.
Olson said she has talked to parents and children from across the nation and found that families in states that don't protect transgender people from discrimination, or that have passed "bathroom bills," report much higher levels of stress.
"It's very hard," she said. "Especially on the parents."
An issue of safety
The Whites attend Westminster Congregational Church. It's a safe place for transgender people, said assistant pastor Jan Shannon.
"For me, the first transgender person I ever met was in this church," she said.
Shannon estimates that about 10 transgender people attend Westminster. Some of them are only out at church, afraid that they'll be fired from their jobs or face other discrimination.
Shannon traveled to Olympia last year, with Betsy White, to testify against a bill that would have required people to use bathrooms that correspond with their biological sex, rather than their gender identity. The bill would have overturned a state administrative rule that went into effect Dec. 26 that allows people to use the bathroom with which they identify. The bill failed in the Washington Senate by one vote.
"These bathroom bills are making it unsafe for a certain group of people," Shannon said. "I have watched trans people be in physical pain rather than use a public bathroom."
Rachel is a particularly good example of how a bathroom bill could endanger transgender people, Shannon said.
"When we talk about the transgender community we are thinking of a 50-year-old guy in a dress with a 5 o'clock shadow, but when you meet Rachel you get a whole other picture of what that means."
Julie Stannard, Rachel's second-grade teacher at Stevens Elementary, agrees with Shannon. She said it was a learning experience figuring out which bathroom Rachel would use at school. Now, it's normal.
"If Rachel were to walk into the boys' bathroom it would be an explosion," Stannard said.
Spokane Public Schools implemented a policy in November that allows students to use the bathroom for the gender with which they identify. It aligns with state law and federal recommendations. Cheney Public Schools has implemented a similar policy, as has the Coeur d'Alene School District. In May, the U.S. Department of Education sent a letter to all school districts in the United States strongly encouraging them to adopt transgender-inclusive policies.
It's these sorts of rules and policies that Joseph Backholm, the director of the Family Policy Institute of Washington, is trying to eliminate.
"It gives a legal right of access for people to be someplace that they wouldn't necessarily have any business being," he said. "If I just want to stand (in a woman's bathroom) there and watch and be creepy, they can't do anything about it."
Although Backholm does not agree that gender is fluid, he said that's not the focus of his work. Instead, he focuses on the policy.
In March, Backholm created the Just Want Privacy initiative. The group is currently canvassing Washington attempting to get the 325,000 signatures needed by July 8 for a ballot initiative that would reverse the state rule. So far, they're reporting only about 10,600 signatures but have thousands of petitions in churches around the state and are confident they'll make that goal, Backholm said. The proposed initiative, if passed, could jeopardize federal school funding by violating Title IX, the federal law that prohibits discrimination in education based on sex. A report released in May estimates Washington schools would lose about $1 billion annually in federal funding.
Backholm believes that most transgender people want to stay out of the spotlight and that bathroom use has never been an issue before.
"Where are the scores of the transgender people who have been left on the sidewalk to pee on themselves?" he said.
Marybeth Markham is a therapist in Spokane, and many of her clients are transgender. In the five years she's worked with the transgender population, she says, she's seen firsthand the trauma some transgender people experience.
"I have kids who are going to school who for nine hours won't use the bathroom because they are so afraid to go in there," she said. "It is an issue because of the fact that people are so scared."
The dangers of no support
Pastor Shannon, who has children of her own, said Rachel's transition would have caused her some hesitation as a parent. But as she got to know Rachel and her family she felt more comfortable. She remembers one interaction in particular: Rachel ran up to Shannon showing off her new pink, sparkly shoes.
"I'm just like, 'You're a chick,' " Shannon said. "What 8-year-old boy in America wants to wear pink glitter shoes?"
Shannon said she sees the effects of rejection on transgender and gay youth.
A lesbian, Shannon recalled the first gay pride parade she attended. She wore her priestly collar and watched as young people physically recoiled from her.
"Not only do they think half their class hates them and their parents hate them, they think God hates them," she said.
Rachel and her 12-year-old sister, Faith White, sit together in a park on a sunny Saturday morning in early April, throwing grass at each other. The two have grown closer, Faith said, since Rachel transitioned.
"She could share anything with me now," Faith said.
Faith is genderqueer, meaning she doesn't identify completely as either a girl or a boy. According to a study of twins at the University of Hawaii from 2013, there appears to be a genetic component to transsexuality.
Faith said Rachel has been happier since she became a girl, but Faith worries about her sister.
"When I first found out I started crying because I didn't want her to be bullied," Faith said. "There are some haters at our school."
Faith's worries are well-placed. According to a national study, 78 percent of transgender people reported being harassed and 35 percent reported being physically assaulted while in grades K-12. Roughly 15 percent of transgender students drop out of school either in K-12 or higher.
"In our culture, we are very transphobic," said Jude McNeil, director of the Odyssey Youth Center, which supports and advocates for lesbian, gay, bisexual and transgender youth. "There is nowhere in the country where it is good for transgender (people)."
McNeil travels the country talking to people and organizations about the appropriate way to treat LGBT people and has trained the staff at a number of schools in the area, as well as the entire Spokane Fire Department. McNeil said that while good things are happening in Spokane, being transgender here is not easy.
Transgender people don't feel safe going into spaces where certain gender roles are clearly defined, like bathrooms, locker rooms or even certain kinds of bars, McNeil said.
"We can't go to the grocery store without people staring at us," McNeil said.
McNeil and Rachel have a unique connection. McNeil met Betsy White early in Rachel's transition and became friends with the family. When it came time for Rachel to choose her new name, she took McNeil's former one.
"I was surprised," said McNeil, who is transgender.
McNeil sees firsthand the effects of isolation. Most transgender people don't have the support Rachel has, at home or at school. But even Rachel, McNeil said, will struggle.
"It's not safe or comfortable," McNeil said. "They are definitely targets."
Not doing it for Mom
It's a Monday morning and Rachel is just waking up. After a hectic morning in the family's small home near Chief Garry Park, Rachel, Faith and their 10-year-old brother Dakota White walk to Stevens Elementary together. Rachel is wearing high heels and a long, colorful dress.
"I just put them on and knew how to walk with them," Rachel says of her shoes.
She runs, showing off her skill in the heels.
"Now that I transitioned to a girl I can't play (basketball) because only boys play basketball," Rachel says, when asked what the biggest difference has been since she transitioned.
Although Rachel displays her femininity prominently, Jude McNeil said not all transgender people choose to do so. Sometimes, McNeil said, transgender people can feel pressured into acting hyper feminine or hyper masculine to prove they are truly transgender.
"I haven't seen that with Rachel," McNeil said. "She is really just hyper feminine."
Faith the protector
It's a sunny day and already warm. Faith keeps a protective eye on Dakota and Rachel, who lag behind. When the three arrive at school, they head into the cafeteria to eat breakfast.
Faith worries about Rachel. Less than a week earlier, she said, some kids were giving Rachel a bad time.
"I am going to find out what happened," she says while eating cereal. "I'm going to the principal with this."
Mostly, Faith says, children at the school are curious about Rachel and Faith. The two get looks and the occasional question. Faith does not mind people asking questions and is happy to provide answers.
"Some kid came up to me and was like, 'That girl (Rachel) is a dude? Does she have a…' " Faith pauses and gestures toward her groin. "If someone asks a question, I'll answer it."
Stannard, Rachel's teacher, said she's known the Whites for years, ever since Faith White was in her class. That connection has helped her tremendously; whenever she has questions about Rachel, she doesn't hesitate to ask the children's mother.
"If you look at Rachel, she's a girl," Stannard said. "And I've known Rachel since she was Trey."
Stannard said all the teachers at Stevens Elementary received training about transgender people from Jude McNeil. Stannard, like many, says she wondered if Rachel was too young to transition or if Rachel was overly influenced by her mom.
"I think if Rachel didn't want to be a girl she would show it," Stannard said. "She isn't one to do this for Mom."
Hormones to delay puberty
In the cellphone video Rachel sits on her father Dale White's lap in their living room. Family pictures hang on the wall behind them, alongside Dale and Betsy's marriage certificate. White asks Rachel, "Do you know why today is a special day? Do you know what Mom and Dad did?"
Rachel asks, "Why? Why?"
White opens a letter and Rachel begins to read aloud, stumbling over the occasional word.
"Trey's gender be legally changed to female. Trey's legal name to become Rachel Marie White," she pauses, comprehension slowly filling her eyes. Then she hugs her father.
Changing her name is just the first step in what will likely be a series of decisions Rachel and her family will have to make over the next 15 years. Choices with physical consequences.
Rachel has already asked her pediatrician for hormone blockers, which stop or delay puberty.
"As I told Betsy, it's not our decision," Dale White said. "It's her decision."
Linda Gromko, a doctor in Seattle who specializes in transgender care, said hormone blockers give transgender youth the time to figure out what to do and can prevent psychological damage later in life.
"Puberty can really be a crisis time for transgender kids," she said. Delaying it is " kind of a no harm, no foul method of giving people more time."
Transgender youth who take hormone blockers will never develop secondary sexual characteristics that clash with their gender identity. Blockers have been used for years to arrest premature puberty and are considered safe, Gromko said.
"She will look like a woman as she develops," Gromko says. "The nice thing about this is you don't have to backtrack."
When a transgender youth is ready to start puberty they start taking hormones. Rachel would likely take estrogen, which will help her develop breasts, keep her from growing facial hair and keep her voice from deepening.
Gromko said doctors administer these hormones in phases, mirroring the phases of puberty. In Rachel's early 20s she will have the option of sex reassignment surgery, although many transgender people don't choose this, Gromko said.
'It was hard just trying to get my head wrapped around it'
Dale White works as a courier, loves basketball and recently got a tattoo on his forearm depicting his skin being flayed open to reveal the Dallas Cowboys logo. On his wrist he wears a rainbow-colored bracelet. He uses transgender terminology like "passing privilege" awkwardly.
"It was hard just trying to get my head wrapped around it because I had never, ever heard of it before," he says of Rachel's transition.
Rachel adds, "Good thing you didn't kick me out!" then snuggles into the crook of her father's arm.
Dale says, "I don't believe you should be hating anyone for anything."
The Whites' extended family aren't as supportive of Rachel, often calling her Trey and semi-boycotting family events, including her birthday party on May 14.
Markham, the Spokane therapist, doesn't know Rachel, but she works with 40 or so transgender kids in the Spokane area.
"Today I've seen five trans people," Markham said. "Tomorrow I will see eight and each one of those people, sadly, is dealing with residual trauma."
Supportive families like Rachel's are rare, Markham said, and don't automatically mean that "this kid is going to come out of it unscathed."
But for now, Rachel is sitting on the couch playing a game on her mother's tablet called "Hair Salon Makeover." It's Monday, May 9, and it's her eighth birthday. She just got home from school. She styles an avatar's hair with a flick of the finger, changing the color, length and volume. Next to her on the couch sits a remote-controlled car – her grandmother's birthday gift to her.
Rachel doesn't want to talk about transitioning. She doesn't want to talk about school, or her future, or what bathroom she'll use when she's older. Instead, Rachel wants to style hair, dress nicely and maybe later drive a remote-control truck around her backyard.
When asked what it was like telling her parents she's a girl, the 8-year-old says, "It wasn't even that hard. Nothing is barely even that hard."
For more on this story
Visit Being Rachel, our home for all things Rachel White, including photo galleries, related stories and videos.