Pastor shot 6 times returns to church: 'It's good to be home'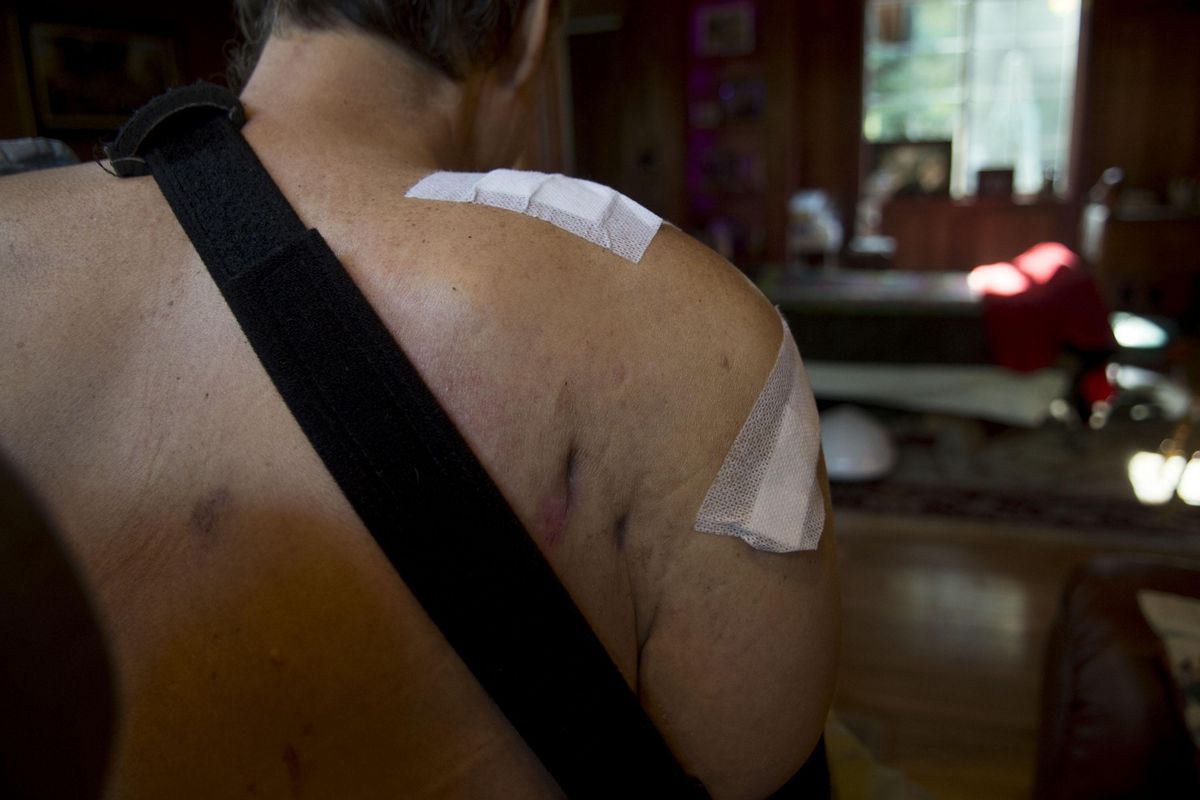 Tim Remington walked briskly into The Altar Church on Sunday morning, his right arm in a sling and his left hand clutching his Bible. He didn't pause to look at the spot in the parking lot where three months earlier he lay in a pool of his blood after he was shot six times.
Pastor Remington had other things on his mind: greeting his Coeur d'Alene congregation, the order of songs for the morning's services, his first sermon since the March 6 attack that nearly took his life.
Donna Long, who joined the church last year, grew emotional when she saw him walk in.
"I just can't believe it," Long said, and added, "It's tears of joy."
After weeks of hospital recovery and months of therapy at home, Remington put on a suit and tie and returned to the altar to preach, pray, cracked a few jokes and share details of his journey with hundreds of church members.
"Love you, Tim!" one called out as Remington took a seat before the crowd at the 8:30 a.m. service.
"Thank you, Lord. Good bless you guys," he said. "It's good to be home."
Remington described his injuries and how none of the .45-caliber bullets hit a vital organ - not even the round that penetrated his skull.
"If you don't see the miracle in that, there's something wrong with you," he said.
As news of the shooting and his survival spread, hundreds of testimonies of God's work flowed in from believers around the world, Remington said.
He spent much of his hour-long sermon talking about the Holy Spirit and encouraging those in attendance to accept God's love.
"God is calling you," he said. "He's calling me."
"The Holy Spirit is alive and well."
Remington also spoke of the pain he endured in the days after the shooting, and how at one point he wanted to let go.
"There was only one thing that saved my life: that was God," he said.
"Amen!" several answered from the pews.
He said he repented in the hospital.
"It's not my choice to come home," Remington said. "My life is not my own. I have been bought and paid for by the blood of Jesus Christ."
The congregation applauded.
Remington also thanked those who have helped him over the past three months: the EMTs who rushed to the scene, other pastors and staff who kept the church going, and especially his wife Cindy and their children, who have been at his side throughout.
Jill Darlene, a Coeur d'Alene woman who went through Remington's Good Samaritan drug treatment program in 2014, said she loved the message of Sunday's sermon.
"It brings hope to those of us who need it the most, that things can get better," Darlene said. "And we just love him."
---