News > Spokane
Former Spokane police chief Kirkpatrick to lead Chicago police reform
Tue., June 7, 2016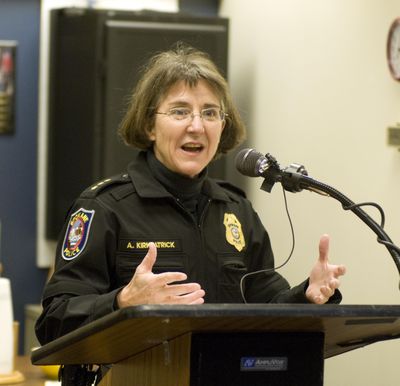 Former Spokane police Chief Anne Kirkpatrick has landed a job in Chicago leading police reform.
Kirkpatrick was named a finalist for Chicago police chief in March, but Mayor Rahm Emanuel instead rejected all three candidates and selected Eddie Johnson, a veteran officer in the department, as chief.
Johnson picked Kirkpatrick to lead the department's Bureau of Professional Standards. She will be tasked with implementing recommendations from the city's Police Accountability Task Force.
"I'm going to start at that starting point and we'll see how things develop," Kirkpatrick said.
She led the Spokane department for a turbulent five years, from September 2006 to January 2012. During that time, the city dealt with the fallout from the March 2006 death of Otto Zehm, culminating in the prosecution of officer Karl Thompson on federal civil rights charges in 2011. Kirkpatrick enjoyed strong support from the city's elected leaders and the department's captains and lieutenants union, but she clashed with the Spokane Police Guild over her discipline of officers.
Kirkpatrick said she believed her experience working on reform efforts following Zehm's death made her well-suited to rebuilding community trust in Chicago.
"Those are storms and I have already gone through many of these storms," she said. "Sometimes we need to embrace these difficult and challenging times."
After leaving Spokane, Kirkpatrick was hired as chief deputy at the King County Sheriff's Office and retired in 2014. Since then, she has been a Seattle-based instructor with the FBI's Law Enforcement Executive Development Association, a private organization that contracts with the FBI for training services.
Local journalism is essential.
Give directly to The Spokesman-Review's Northwest Passages community forums series -- which helps to offset the costs of several reporter and editor positions at the newspaper -- by using the easy options below. Gifts processed in this system are not tax deductible, but are predominately used to help meet the local financial requirements needed to receive national matching-grant funds.
Subscribe to the Coronavirus newsletter
Get the day's latest Coronavirus news delivered to your inbox by subscribing to our newsletter.
---