Sports
Meehan: New greens at Coeur d'Alene Resort draw rave reviews
Fri., June 17, 2016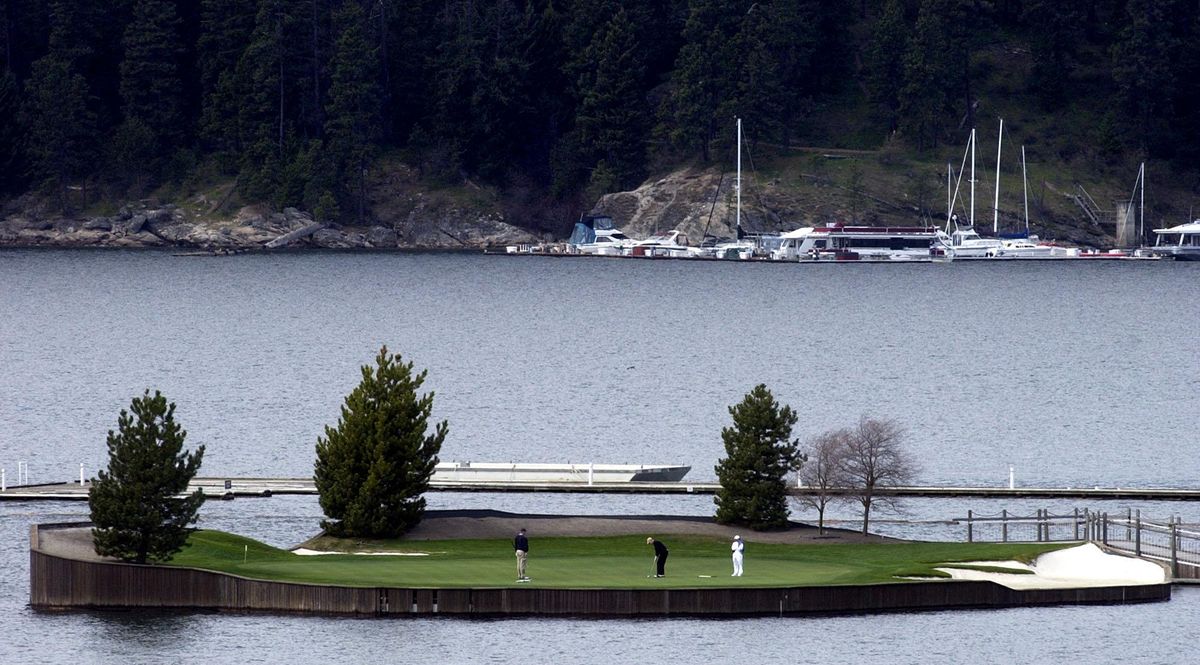 Installing new sod on the Coeur d'Alene Resort's floating green was quite a process. (Jesse Tinsley / The Spokesman-Review)
I was and I wasn't the most qualified person for this assignment.
I was certainly up for a round at the Coeur d'Alene Resort, despite a wardrobe malfunction. I was woefully underdressed on a brisk, breezy June morning. Runs in the family: My brothers were shivering alongside.
I toured the immaculately conditioned course to check out the new greens. Seven were replaced in April 2015, and 11 were replaced last October. Even the practice green was rebuilt to ensure uniformity with those on the course. (Pet peeve: Raise your hand if you've groused about playing someplace where the practice green was nothing like what you encountered over the ensuing four hours.)
The kind folks who extended the invitation were apparently unaware of my fickle association with putting. On good days I'm a decent putter. Many days the relationship meter sails past love-hate toward loathe-hate.
On Thursday I was in the satisfactory range, meaning I had no opportunity to trot out my customary (and illogical) excuses about greens being the root of my putting issues.
"I'm not sorry at all to hear that," Coeur d'Alene Resort superintendent Kevin Hicks said. "We're hearing a lot of comments that they're really rolling true."
The new greens are in excellent shape.
"Nothing but good comments this season," Coeur d'Alene Resort pro Andy Mackimmie said. "People are comparing these greens to some of the finest they've putted on."
The makeover was prompted by winter weather extremes taking a toll on bentgrass greens that were the course's oldest and contained the most poa annua.
"It was the perfect storm where it froze and thawed out three different times," Hicks said. "By the second deep freeze I knew we were in trouble."
His suspicions were spot-on.
"They looked horrible," Hicks said. "A couple of them actually rolled pretty good because there was literally no grass on them, but it was not what we want to present."
"When April rolled around and we could tell it would be June before they would start to come back, that's when the owner (Duane Hagadone) made the decision that we can't wait on this," Mackimmie said.
Seven greens in need of immediate attention were replaced with T1 bentgrass sod grown at Desert Green Turf in Moses Lake. The process of removing the old turf, rototilling, regrading, recompacting and installing new turf took about six days.
The course remained open with several temporary greens (which weren't bad, by the way, because they were cut on bentgrass fairways). Guests were informed up front about the situation and often received vouchers for a free round.
It required eight days to replace 11 greens in October. They had the benefit of favorable weather conditions last winter and earlier this spring prior to the course opening in mid-April.
The bentgrass sod arrived rolled up in 100-foot strips, 4 feet wide.
"You can really lay down some grass in a hurry," Hicks said. "We finished the last roll of sod on April 27. We opened on all seven of the greens by June 2. The weather was absolutely perfect. We were able to push them pretty hard and had them down to almost normal height."
The iconic floating green required special tactics. A barge carried rolls of sod and installation machinery near the front edge of the green and a crane hoisted everything on to the putting surface.
"They couldn't offload the (sod) rolls as fast as they were laying them out," Hicks said.
The result of the projects is smooth, consistent greens that look like they've been in place for a decade. There are flecks of poa annua on some greens that are nearly impossible to eliminate because of its presence in the rough and the seeds are easily transported by golfers, machinery and wind.
"I'm really happy with the whole process," said Hicks, who is in his 13th year at the Resort. "It was a great opportunity to create a consistency that I've never been able to get out of these greens. They all play very similarly. I like the firmness, the putting quality.
"They're as good as the ones I ran in Arizona, and those were considered among the best in Arizona."
Local journalism is essential.
Give directly to The Spokesman-Review's Northwest Passages community forums series -- which helps to offset the costs of several reporter and editor positions at the newspaper -- by using the easy options below. Gifts processed in this system are not tax deductible, but are predominately used to help meet the local financial requirements needed to receive national matching-grant funds.
Subscribe to the sports newsletter
Get the day's top sports headlines and breaking news delivered to your inbox by subscribing here.
---