News > Business
Front & Center: Dog trainer Penney Morse shares new tricks
Sun., June 19, 2016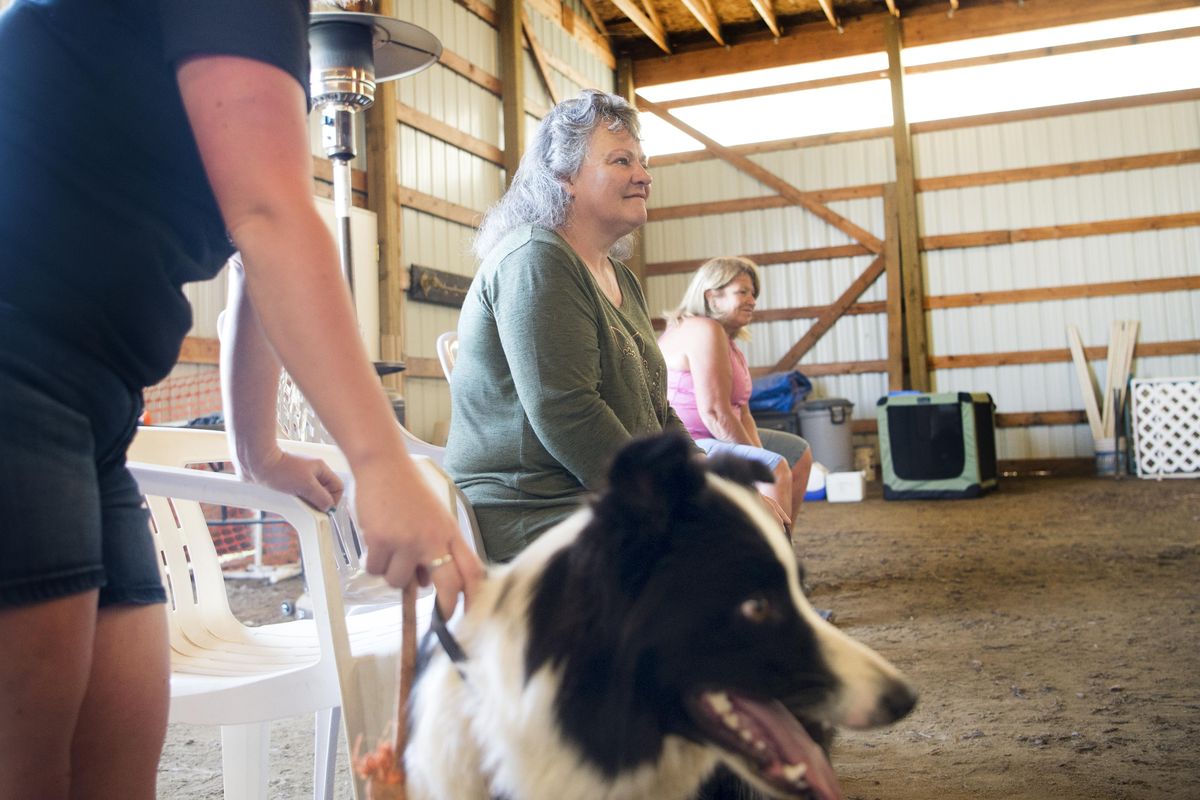 Penney Morse, center, works with dogs on May 18, 2016, at Sunara Dog Training in Deer Park, Wash. (Tyler Tjomsland / The Spokesman-Review)
Penney Morse grew up in a Hillyard household surrounded by siblings and sheepdogs.
Her mother, Loretta Spence, bred collies and Shelties.
Penney, the fourth of five children, was 14 when she asked if she could raise a dog of her own. Her mom agreed, and gave her a puppy named Romper.
Morse's passion for dogs never waned. She has won more than 100 AKC, NADAC and ASCA titles in obedience, agility and rally competitions.
After working in daycare for 15 years, Morse launched Sunara Dog Training in Deer Park. She also breeds papillions.
During a recent interview, Morse explained how owners encourage their dogs' bad habits, and offered alternative training techniques.
S-R: Have you had any formal instruction in training dogs?
Morse: No. I've watched Cesar (Millan) and other trainers, and collected bits and pieces that work for me. But mostly it seems to come naturally. I can tell why a dog is causing problems for its handler, and how handlers create problems.
S-R: Your first career was in daycare. Did skills developed there transfer to this profession?
Morse: Absolutely. Child-raising and dog-raising are very similar – positive training with discipline and rewards.
S-R: What was the biggest obstacle to starting your business?
Morse: We had to build our own building, which didn't go the way we planned. Now the biggest challenge is filling my introductory obedience classes. My advanced classes are usually full.
S-R: How do most people choose their dogs?
Morse: Incorrectly. They don't study breeds enough and pick one that fits their situation. Then, without knowing it, they encourage bad behavior and end up bailing out on the dog.
S-R: What skills do you teach?
Morse: Obedience, which is structure – the dog staying by your side. Agility – working the dog away from you. Rally, a form of obedience where you follow 15 or 20 signs on a course, depending on the competitive level you're in. And treibball (pronounced TRY-ball), where dogs herd large balls into a soccer goal.
S-R: Do dogs respond better to word commands or sounds?
Morse: For discipline, I believe sounds are better because they're closer to dog language. I use a throat-clearing sound to tell a dog when I disapprove.
S-R: What do you like most about your job?
Morse: I love watching dogs and their handlers become a unit, where they understand what each other needs.
S-R: What do you like least?
Morse: People who think they've got it and don't, and create problems with their dogs.
S-R: What are you most proud of?
Morse: The natural way I look at things – catching things that others miss. People tell me I should write a book.
S-R: Any favorite success stories?
Morse: A gal came to me with a rescue dog that had been re-homed four times. The dog was aggressive toward people and other dogs. With training and patience, a year later a light came on in the dog's head, and it thought, "I want to go play with that other dog." The other dog was like, "Un-huh, you bit me." And she goes, "I won't bite you anymore," and they became best buds.
S-R: How many times have you been bitten?
Morse: Just once, by a husky. She was waiting for me. I was not in the right state of mind – I was distracted. And she nailed me good. (laugh) I had to have stitches.
S-R: Are there common misperceptions about dog-training techniques?
Morse: Some people think all training should be positive. The same with children – they should only have positive feedback. That's not reality. In the real world, they're going to get negativity. So positive feedback has to be balanced with discipline.
S-R: How do you discipline?
Morse: I don't discipline a dog that doesn't understand what I'm asking for. But if I know the dog understands, I start with instruction. If that doesn't work, I will use a tap on the shoulder – engage the dog, and get it thinking about what I want. The most important thing is what I do next. If I scold him and then don't reward him when he stops, the dog doesn't understand the difference between what he was doing wrong and now what he's doing right, which is looking at me. When he looks at me he is always right.
S-R: What common mistakes do dog owners make?
Morse: They encourage bad behavior by rewarding it. For instance, when a dog barks at something they are afraid of, and the owner touches the dog and says, "It's OK," they're telling the dog it's OK to bark or be afraid.
S-R: What's the best way to communicate what you want a dog to do?
Morse: Dogs are very simple-minded, so single commands work best. But dogs can multi-task one command. So "stay" may mean "stay while I stand here" or "stay until I lead out past two or three jumps, and then come to me."
S-R: Besides "stay," what's a command all dogs should understand?
Morse: "Leave it" – move away from something, whether it's a cat or something dangerous you don't want the dog to eat.
S-R: Which breeds are most trainable?
Morse: Herding breeds – Border collies, Aussies, Shelties – have the ability to work away from you and understand what they need to do. But they tend not to do well if stuck in a home. They need a job. And if you have toddlers running around, guess what their job is – herding children.
S-R: Which breeds do well indoors?
Morse: It depends on whether you want a dog with attitude or one that's easy-going. Golden retrievers like to be very involved with a family, but they crave attention. Shelties are what we call "push-button dogs." Tell them what to do, and they go, "OK, I got it." Terriers, on the other hand, are like, "I don't think I want to do that today," so you go through more battles reminding them you are the alpha.
S-R: What's the career outlook for dog training?
Morse: It's really taking off, thanks to all the new sports for dogs. I'm hoping to start something this year called "barn hunt," which is really popular down South. It involves a pile of hay with hidden tubes that contain a rat, rat feces, or are empty, and the dog has a limited amount of time to find the rat. There can be up to five rats in the haystack. The dogs love it. And, of course, they can't hurt the rats because the rats are in hard tubes with holes.
S-R: Looking back, what has surprised you about this business?
Morse: The relationships I've developed with my clients. Most become more like family than clients.
S-R: What sort of person is best suited for this career?
Morse: Someone who doesn't take things personally, because people get really sensitive about their dogs.
S-R: What's the best motivator when training dogs?
Morse: I start with treats. We use toys a lot in agility training. But eventually your voice is all you'll need.
S-R: What's the key to training owners?
Morse: Getting them to understand they are responsible for a lot of their dog's bad behavior.
S-R: A recent report claimed most dogs don't like to be hugged. Do you agree?
Morse: Yes. And most people greet dogs incorrectly.
S-R: How should we greet dogs?
Morse: First, get the owner's permission. Some dogs don't like strangers. If the owner says, "OK," let the dog smell the back of your hand, then scratch its chin. Don't pat its head.
S-R: Anything else?
Morse: Never get in a dog's face. That's how people get bitten.
S-R: Can you teach old dogs new tricks?
Morse: Absolutely. And they learn quicker, because they just know.
S-R: Are some dogs smarter than their owners?
Morse: Most are.
This interview has been condensed. If you'd like to suggest a business or community leader to be profiled, contact Michael Guilfoil at mguilfoil@comcast.net.
Local journalism is essential.
Give directly to The Spokesman-Review's Northwest Passages community forums series -- which helps to offset the costs of several reporter and editor positions at the newspaper -- by using the easy options below. Gifts processed in this system are not tax deductible, but are predominately used to help meet the local financial requirements needed to receive national matching-grant funds.
Subscribe now to get breaking news alerts in your email inbox
Get breaking news delivered to your inbox as it happens.
---