News > Features
Ultra runner Gunhild Swanson refuses to slow down
Sun., June 19, 2016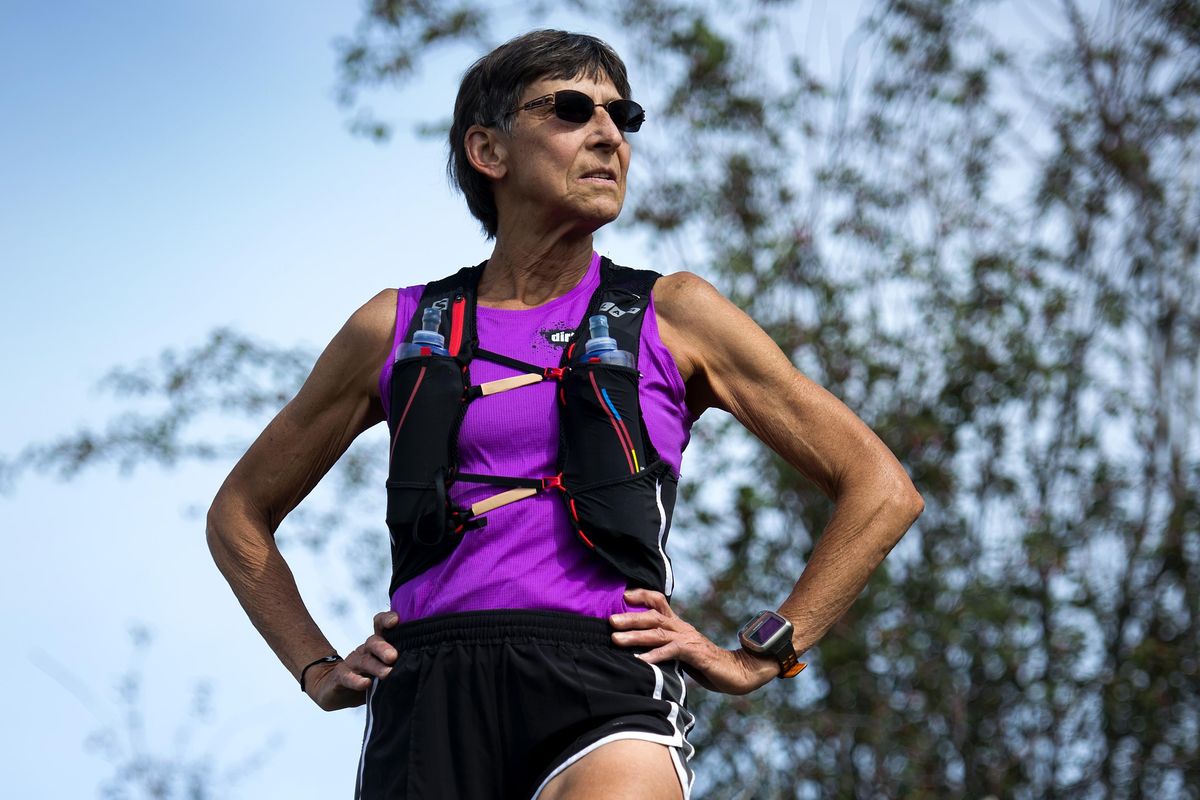 Gunhild Swanson, 71, of Spokane Valley, made international headlines last year when she was the oldest woman to complete the 100-mile Western States trail run ... finishing with 6 seconds to spare. She's doing it again this year and hopes to improve her time. (Colin Mulvany / The Spokesman-Review)
When life gets difficult, Gunhild Swanson runs.
She bears down, digs deeper and puts one foot in front of the other just as she has for nearly 40 years of challenges, hardships and triumphs.
For decades, running has been personal even though the Spokane Valley grandma has won marathons and finished many ultra trail races of 50-plus miles. She was just one smiling face among the thousands trudging toward yet another finish line.
But a mere six seconds – a few footsteps – launched her to international fame last year, putting her on the pedestal with other running greats who tout that running is for everyone, every age, every ability.
While attempting to become the oldest woman to finish the Western States 100-Mile Endurance Race at age 70 – just days shy of 71 – Swanson went off course.
Her 15-year-old grandson, Turlan Morlan, paced her during the nighttime segment. As daylight arrived, they followed the wrong trail for several miles before realizing the mistake. It seemed there was no way that Swanson could beat the 30-hour cutoff. It was too far and she was too tired and there were too many hill climbs. Then she looked at her grandson and remembered people were watching her to see if she would fail like all the women before her who tried to finish at age 70.
"Then I thought if I drop out, if I voluntarily drop, I will never forgive myself," Swanson said.
She reminded herself that it was all about the mind – the body is trained and ready to go, but the mind is the determinant.
"You cannot do something as monumental as ultra marathons with the attitude that you might fail."
Training, grit and determination took over, and Swanson ran faster than she had the entire race, bursting out of the mountains into the city streets and down the hill onto the Placer High School track, where hours of dreaded track training during the previous year shined.
A crowd gathered, her feet quickened, she grabbed the inside lane – shoving a well-wisher out of the way – and sprinted.
When she bolted across the finish line at 29:59:54, history changed and finally a 70-year-old woman had conquered the race. The video of the dramatic finish and epic cheering went viral.
"Boom!" Swanson said, nearly jumping out of her kitchen chair while retelling the historic story. "I showed up. I proved everyone wrong that day."
It's taken Swanson nearly a year to get used to her new place in the world – where people in airports recognize her face and people stop for autographs. Reporters call frequently and her Facebook page gets new friend requests daily. She still gets embarrassed about the publicity but knows it is important.
"It's changing lives and attitudes toward fitness because of what they see me doing," she said. "Maybe it's time to get up off the couch or know you can go farther or maybe you don't need to whine when things don't go your way."
Inspiration crosses generations
In April, Swanson stood on the stage at the Yakima River Canyon Marathon the night before the race and introduced one of her heroes: Kathrine Switzer of Boston Marathon fame.
Switzer was the first woman to run the Boston Marathon in 1967 even after the race director physically tried to rip off her 261 race number and push her from the street. Photographs of the incident propelled Switzer to stardom in an era when women were thought too fragile to run. She was instrumental in persuading the International Olympic Committee to include a women's marathon in the 1984 Olympic games.
"We have so much to thank her for," Swanson said, her voice cracking, as she introduced the legend that day in Yakima. "It's really amazing."
Swanson wore Switzer's famous 261 number in the next day's marathon, which to her was a short training race for next week's Western States race. Swanson plans to run, not get lost and set another record for the oldest woman to finish the grueling California course.
Switzer in turn applauded Swanson for her own role in inspiring people and fulfilling her motto that "talent just needs opportunity."
Ashley Ridgely, who recently graduated from Mead High School, uses Swanson as an inspiration ever since she visited her cross country team shortly after her Western States finish.
"She's the one I think about to get me through those last painful miles," Ridgely said. "She also taught me that you don't have to be fast to be a runner. It comes down to your attitude and the way you run. I'm pretty slow, but I still consider myself a runner."
After Swanson visited the team, coached by longtime running friend Dori Whitford, who also has competed in the Western States, the girls decided to include the number 261 on the back of their shirts – a nod to Switzer and Swanson.
"I was a total Title IX baby," said Whitford, 54, adding that's why she teaches young runners about how women had to fight to run. "I had no idea what Kathrine Switzer and all those people had done for us. I just cruised in."
Swanson presented a shirt, signed by the Mead team members, to Switzer during the April Yakima Canyon race.
"If you just put one foot in front of the other, nothing is impossible," Switzer told the crowd of marathoners and their supporters.
Running is ageless
The carb-loading, pre-race meal turned into a pep talk about running and aging. It was an appropriate conversation since the marathon, which is popular with older runners, is directed by Bob and Lenore Dolphin – unofficially recognized as the world's oldest race directors.
Bob Dolphin, 86, who has severe arthritis in his lower spine, wasn't able to run the half-marathon this year but did walk about 8 miles in the blistering hot sun. He already has 502 marathons on his record and is one of the initial members of the Marathon Maniac group.
Switzer's husband, Roger Robinson – a well-known elite runner and running historian and author – told about running again after getting a knee replacement that he calls "Russell."
He lifted his pant leg to reveal a smiley face drawn on the new knee with a black Sharpie.
"Our society disapproves of old people doing strenuous things," he said. "Sixty years ago, the exact things were said about women. Of course we are running slower, but that doesn't mean not as hard or competitive."
Swanson agrees that age is irrelevant. Yes, it slows your times no matter how much you train. She first ran Western States in 2002. Then in 2005, Swanson captured her first age-group record, becoming the first 60-year-old to finish the historic course. A decade later, she still had the same competitive desire to set the age record and do it again this year at 71.
"Age is just a number," she said. It's irrelevant. It's my abilities that matter."
Swanson began running in 1977. She was 33 and the mother of four children. She took a ski-conditioning class at the old downtown YMCA. The instructor then offered extra gym time for people to run. This was just after the inaugural Bloomsday, and running in Spokane was growing. One mile equaled 24 laps of the wood-floor gym.
"It took me six weeks to be able to cover those 24 stinking laps," she said with a laugh. "See, I'm no different than anyone else."
She liked the challenge so she began running in the evenings, around the block a few times. She signed up for a couple Saturday fun runs. Then there was Bloomsday 1978. In 1980, she ran her first marathon.
Swanson was born and raised in Germany, where school sports weren't offered. She remembers swimming with a swim club and using a bicycle to commute. She also loved solo hikes in the woods.
In 1963, she married an American serviceman and moved to Spokane. She was 18, pregnant and spoke little English.
Once she started running, she realized she could keep up with the group.
"Suddenly I felt like I was good at something," she said. "That was all the fuel I needed."
So she ran and ran and ran.
She ran through her bad first marriage into a wonderful second marriage to fellow runner Jack Swanson. The couple ran for fun and for a social life. She inspired her son, Chris Morlan (who ran in the 1996 men's Olympic trials and now coaches a running group in Spokane) to run and now runs with grandson Turlan. (He loved watching his grandma pass other runners, and during the Western States race last year he would yell out, "You've been Nana'ed " every time she overtook someone on the trail.)
Swanson ran through her husband's long, heartbreaking battle with leukemia, pushing him in a wheelchair for his last Bloomsday. After his death in 2008, Swanson got serious and really started running, conquering trails and mountains.
Chris Morlan was in elementary school when his mom took the ski conditioning class and then started running. He remembers jogging around the gym with her and, in hindsight, saw it as a great outlet for a woman who didn't have a career or an education and was trapped in a bad marriage raising kids.
"How do you make something of yourself in that situation?" he said. "I look back and think, God, wouldn't we all want a physical escape to get your heart pumping and some fresh air?"
Morlan is the only one of the four siblings to embrace running.
He describes his mom as strong without being stubborn, and having a great capacity to withstand personal turmoil both physically and mentally. She almost always smiles.
He knows that helped her persevere last year at Western States when the odds weren't great for her finishing within the time limit.
He thinks it's ironic that if she didn't get lost, her story would have been a short-lived blip. The six-second drama is a mantra for people.
"That last 10 to 15 minutes must have been some sort of out-of-body experience," he said, describing his mom's finish.
That seems a fitting description. As Swanson watches a video of the race, she gives the play-by-play of seemingly every step. Yet as she hits the straight stretch to the finish line, it appears like she's cheering for someone else. A year later, she still jumps around and pumps her arms while talking to the computer screen.
"Oh my God," she blurted as she watched herself cross the line. She put her hands over her face. The emotion is tense, yet joyous.
Turlan Morlan thinks his grandma is cool and a great athlete, but even after running with her during the tensest period of Western States when they realized they were lost, he still thinks of her as Nana.
"She has a huge movie collection," he said. "I liked to go over there when I was little and watch a bunch of movies."
He competes in cross country at Gonzaga Prep. Yet he doesn't think he will likely run when he gets "old."
"Maybe 50 or 55 will be the cutoff for me," he said.
His grandma has no plans to quit running. She has more titles to win, such as becoming the only 71-year-old woman ever to finish Western States.
Mead cross country coach Whitford can't imagine not running until her final days.
"If I'm still breathing," she said, "I'm still running."
Local journalism is essential.
Give directly to The Spokesman-Review's Northwest Passages community forums series -- which helps to offset the costs of several reporter and editor positions at the newspaper -- by using the easy options below. Gifts processed in this system are not tax deductible, but are predominately used to help meet the local financial requirements needed to receive national matching-grant funds.
Subscribe now to get breaking news alerts in your email inbox
Get breaking news delivered to your inbox as it happens.
---