Utah businessman says he didn't take out N. Idaho ad 'looking for a wife'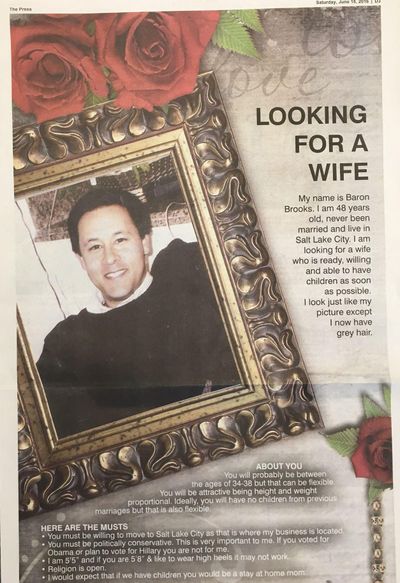 You think your parents meddle in your life?
Salt Lake City businessman Baron Brooks said he was shocked to see a full-page advertisement in a North Idaho newspaper Saturday inviting candidates to interview to be his wife.
The 48-year-old broker in the health food trade quickly deduced who was behind the $900 Coeur d'Alene Press ad, which listed criteria such as age, height and political views – "If you voted for Obama or plan to vote for Hillary you are not for me."
"My father did this without my consent," Brooks said in a phone interview Monday. "I can't even describe to you how embarrassing and ridiculous this is."
He said he was infuriated with his father but also doesn't want to hurt his feelings. And so he has decided to let his father, 78-year-old Arthur Brooks, of Beverly Hills, California, proceed with interviewing women who meet the specifications for a suitable mate. According to the ad, the interviews will take place Saturday at The Coeur d'Alene Resort.
"And then I'll have words with my father separately," said Brooks, the owner of two health food stores. "Who knows, it can't hurt. Who the hell knows?
"What am I supposed to do? He already did it," he added. "No sense in defusing a bomb once it's already gone off."
Arthur Brooks, who breeds and races thoroughbred horses, said Monday he wouldn't answer any questions about his ad until noon Sunday, presumably after he selects a winning prospect for his son.
Reached while on a trip to California, Baron Brooks described his father as "nuts," "neurotic," "passive-aggressive" and without boundaries, comparing him to Larry David's character in the TV series "Curb Your Enthusiasm."
"That's my dad: stumbles into stuff, has a loud mouth, thinks he does the right thing, and then it all blows up in his face."
Brooks also said his father has been ill and really wants a grandson to carry on the family name.
"Ever since he went into congestive heart failure he's done some really kooky stuff," he said. "And this one takes the cake."
Asked why his father would buy an ad in a small daily newspaper in Idaho, Brooks said his dad recently vacationed in Coeur d'Alene and may have been drawn to the area's conservative politics.
"He knew I'm a political conservative, OK?" said Brooks, who also is Jewish. "And most Jewish girls are quite liberal, and that doesn't work for me. You probably are going to get more like a Midwest-type values in Idaho – somebody's who more right of center than you would, say, in Los Angeles."
The ad noted that Brooks is "looking for a wife who is ready, willing and able to have children as soon as possible," and also that "you would be a stay at home mom."
In the interview, Brooks said, "Dating in Salt Lake has been tough because all of the women I meet already have children. … I've never been able to meet a woman young enough to have children. But that's my problem, not his."
He added that he's seeing "two different ladies right now, but nobody that I'd probably marry."
Brooks said he spoke only briefly with his father since learning about the ad, and that his dad told him he also wouldn't talk with him again until Sunday. In the ad, Arthur Brooks promised to provide the person or persons he selects – and any chaperones – with round-trip airfare and first-class lodgings to meet his son.
"He just does this crap. … If I shared some of the stories, you wouldn't believe it," Baron Brooks said. "He just does weird stuff, and nobody knows why."
He said he never would buy such an ad himself, but added that it's "pretty well written" from a marketing standpoint.
"It's worth a shot," Brooks said. "Can't hurt."
---