News > Spokane
Republicans counter Obama visit with Tacoma rally for Bryant, candidate for governor
Sat., June 25, 2016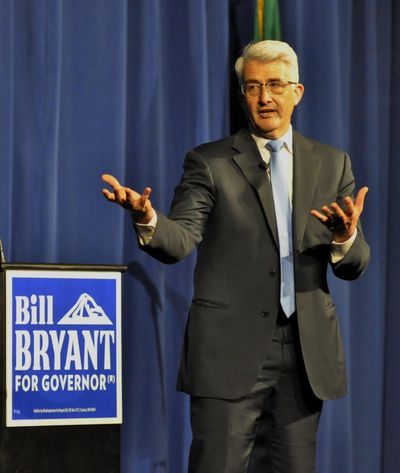 TACOMA – Republicans need to unite around a candidate who can win the governor's office for the first time in 36 years, the state's only three-term governor told party regulars Saturday.
Blasting Democratic Gov. Jay Inslee as a "rudderless ship in a sea of government," former Gov. Dan Evans ticked off a series of problems ranging from prison inmates released too soon to "traffic chaos" on a Seattle-area interstate to contend his successor is missing in action.
Evans joined current New Mexico Gov. Susana Martinez, the chairwoman of the Republican Governors Association, in an effort to boost the prospects of Bill Bryant, the GOP's favored, although not their only, candidate in the 11-person race to replace Inslee.
Bryant promised to "build a state where every kid has an equal chance to get ahead," increase jobs in areas outside the Puget Sound region that are still struggling with high unemployment and make state government more responsive to business.
"People want a government that gives a damn about them and right now they don't think it does," he told a crowd estimated at 1,000 by organizers.
The event was a bit of counter-programming to Friday's fundraising dinner for Inslee for 3,000 in Seattle that featured President Barack Obama. But while the Seattle dinner had tickets starting at $250, the Tacoma rally was free, although attendees were asked to register and to donate to the Bryant campaign and other Republican candidates.
Bryant supporters tried to use the Obama visit to their candidate's best advantage.
"He brought President Obama yesterday," Martinez said to a chorus of boos. "I'd say they're a little nervous."
But even before the weekend, the two candidates had a large disparity in their campaign funds. Inslee reported raising about $6.5 million in the last filing with the Public Disclosure Commission; Bryant had raised less than a third of that, about $1.8 million.
A series of speakers blasted Inslee as an ineffective leader. Senate Majority Leader Mark Schoesler, R-Ritzville, said Inslee was touting a reduction in tuition at state colleges during his term, but that it was really the work of Senate Republicans who proposed and won a tuition freeze in his first two years when the governor wanted an increase, and a tuition cut in the last two when Inslee had called for another freeze.
While Inslee enjoys the support of his party's incumbent president and is backing its nominee, Bryant has refused to say whether he will support presumptive GOP nominee Donald Trump. By bringing Martinez for the rally, the campaign seemed to be signaling that Bryant will continue to keep his distance. The New Mexico governor has criticized Trump's rhetoric and said she would not consider being his vice president.
Several speakers urged the crowd to consider Bryant as the "top of the ticket" in Washington.
Local journalism is essential.
Give directly to The Spokesman-Review's Northwest Passages community forums series -- which helps to offset the costs of several reporter and editor positions at the newspaper -- by using the easy options below. Gifts processed in this system are not tax deductible, but are predominately used to help meet the local financial requirements needed to receive national matching-grant funds.
Subscribe to the Coronavirus newsletter
Get the day's latest Coronavirus news delivered to your inbox by subscribing to our newsletter.
---