News > Spokane
Father finds a dozen wife prospects for son Baron Brooks
Sun., June 26, 2016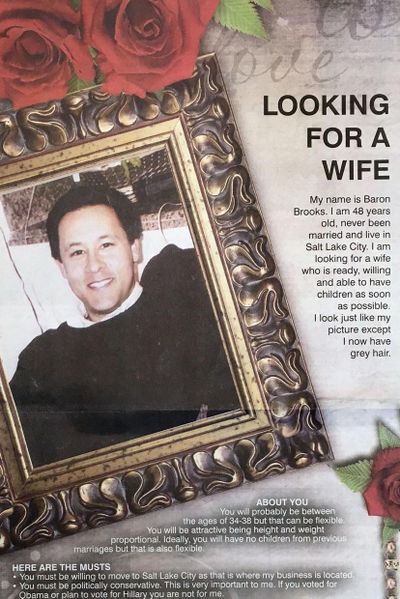 Arthur Brooks showed up in Coeur d'Alene this weekend ready to find a suitable mate for his son, Salt Lake City businessman Baron Brooks, and left with around a dozen prospects.
The thoroughbred horse breeder from California made headlines around the world last week after he bought a full-page newspaper ad inviting women to interview for a chance to meet and possibly marry his son.
Baron Brooks, 48, said he had no idea what his 78-year-old father was up to and reacted with shock and embarrassment when he learned about the "Looking for a wife" ad seeking a conservative woman "ready, willing and able to have children as soon as possible."
"It was so shocking that I wasn't even sure what I was reading, even though I read it twice," he said. "I thought it was a joke at first."
He described his father as "nuts," "neurotic" and knowing no boundaries. But he let the elder Brooks go ahead with his plan to contact and interview candidates at the Coeur d'Alene Resort this weekend.
Baron Brooks said Sunday that resort management asked his father not to conduct the interviews there after all, following a wave of news and social media coverage of the audacious plot. But Arthur Brooks still gathered the names of about 12 women who expressed interest in the ad, published June 18 in the Coeur d'Alene Press, and he plans to interview them in the next few weeks.
"I think maybe one of them was local, but almost all of them were from all over the United States, and even some international," Baron Brooks said Sunday. "But he has a file and he's contacting them."
Brooks, who owns two health food stores, said he doesn't need his father's help finding dates. But he also doesn't want to thwart his father's efforts, noting that his dad has health problems and really wants a grandson to carry on the family name.
"I said if it's truly legitimate and wasn't some crackpot, and I got to see their photo first and I had an attraction, yeah, I would go through with it, just so feelings would not be hurt," Baron Brooks said.
After fielding calls from potential daughters-in-law, Arthur Brooks flew Saturday to Salt Lake City and met with his son. The two appeared together Sunday morning on "Fox and Friends" to talk about the entire episode. The father said he's been to Coeur d'Alene many times, and that he placed the $900 ad on a recent visit and included a photo of his smiling son.
"I was there with my lady friend a few weeks back and I thought that this would be a good idea," Arthur Brooks said in the TV interview.
"Oh, naturally," his son interjected.
Arthur Brooks continued, "I thought maybe I would get five or six ladies, hopefully, in Coeur d'Alene who would be interested."
The matchmaking story was picked up by newspapers, magazines, TV stations and websites across the country. It even appeared in The Times of Israel and the New Zealand Herald.
Baron Brooks said the phones have been ringing nonstop at his stores in the week since the story broke.
"It was literally out of control," he said. "I had to stop everything and take the week off because it was so out of hand."
Everywhere he goes, people recognize him and want to talk about the ad, Brooks said.
He also said he forgave his father, who has returned home to Beverly Hills, California.
"He was very contrite," Brooks said. "He never dreamed in a million years that this little thing that he thought was cute and funny would go worldwide viral."
Local journalism is essential.
Give directly to The Spokesman-Review's Northwest Passages community forums series -- which helps to offset the costs of several reporter and editor positions at the newspaper -- by using the easy options below. Gifts processed in this system are not tax deductible, but are predominately used to help meet the local financial requirements needed to receive national matching-grant funds.
Subscribe now to get breaking news alerts in your email inbox
Get breaking news delivered to your inbox as it happens.
---