Sports
Two Lewis and Clark students headed for USA Boxing Junior Olympic National Championships
Sun., June 26, 2016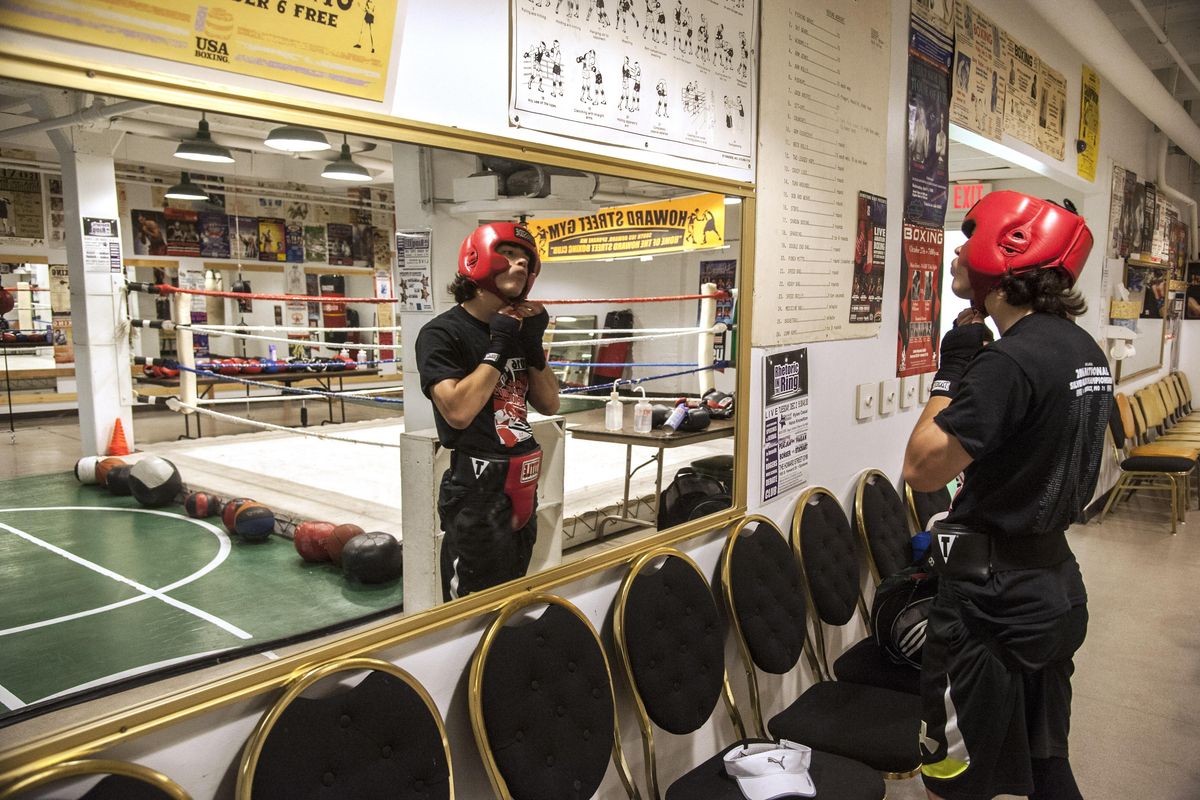 Israel Alvarez puts on his protective gear during training at the Howard Street Gym, June 22, 2016. (Dan Pelle / The Spokesman-Review)
Israel Alvarez stepped into the ring last January to face a boxer who most expected to win and become one of the top junior prospects in the nation. But 30 seconds into the fight, the 16-year-old Spokane fighter landed a punch that broke the contender's jaw and Alvarez won with a decisive knockout.
Now it's Alvarez, a rising junior at Lewis and Clark High School, who now must face 10 other fighters who want their shot at the top.
He and 15-year-old Patrick Cody, a rising sophomore at LC, travel this weekend for legitimate chances to earn national junior boxing titles at the USA Boxing Junior Olympic National Championships, which start Monday in Dallas.
"I think they have good shots at winning," said Ray Kerwick, who trains Alvarez and Cody at Spokane's Howard Street Boxing Club. "But the luck of the draw has a lot to do with it."
The powerfully built Alvarez pursues his opponent in the ring. He is willing to take a punch for the chance to find an opening that he quickly exploits.
Cody, 15, is a compact bundle of energy. He effortlessly bounces side to side and is more likely than not to be smiling as he picks his opponent apart.
Alvarez is ranked No. 2 nationally at 145 pounds and Cody is No. 4 at 101 pounds.
"The last time our program had anything like this was the mid-1990s," Kerwick said.
Kerwick's son, Mahlon, earned a spot as an alternate on the U.S. Olympic boxing team in 2000.
"We've sent one fighter a couple of times to this event, but never two," he said.
Alvarez, who has been boxing since he was 7, earned the No. 2 national ranking when he finished with a silver medal last January in the 2016 Junior Open and again in the Youth National Boxing Championships last weekend in Reno, Nevada.
Alvarez lost the gold medal to Joey Spencer, who injured a shoulder and will not compete in the upcoming championship.
"It's kind of disappointing," said Alvarez, who was hoping for a rematch. "I feel great. I'm really prepared for this."
Kerwick said Alvarez, who also plays football, baseball and wrestles for LC, fights with an aggressive style and tries to impose his will.
"He's more of a boxer. We are working on his power … but he can be heavy handed," said Kerwick said, who noted the punch that broke the contender's jaw.
While Kerwick described Alvarez as very coachable, he raved about Cody's athletic ability. Cody made LC's varsity wrestling team this past season as a freshman.
"He's just a natural athlete," Kerwick said of Cody. "He's just got quick reflexes."
Alvarez will be among 11 fighters in his class, and Cody is in a grouping of 13. Each fight will have three, two-minute rounds and each fighter will only be allowed to fight once every 24 hours.
To win the title, the boxers may have to fight five times in the tournament that runs through Saturday, Kerwick said.
"I don't have the weight for knockouts," Alvarez said. "I'm looking to box as best as I can and make sure the refs know I'm the better boxer."
Kerwick has had the fighters running a minimum of 4 miles a day. Alvarez also has been taking part in daylong football practices.
Cody has only been boxing for a couple of years, but he's not new to the game.
"When we were younger, we would watch my dad box," he said. "We didn't spar. We just worked on basics. But once I got my first fight started, I did really good."
In his first bout, Cody beat another fighter who had a 3-1 record. Cody lost his second fight, but he's focused on learning and now owns an 11-1 record, he said.
"Since then I've really pushed myself," he said with an ever-present grin. "Right now, when we go to Dallas, I'm looking to win it all."
Kerwick said it's not the established boxers in the upcoming tournament that he's worried about. Both fighters have plans to deal with them.
"The fighters you don't know about, they are the ones you really have to be careful with," he said. "If it's somebody we don't know, you go in with blinders on. Then, after the first round you make adjustments."
But Kerwick likes his fighters' chances.
"We still have a good shot beating any guy in these weight classes," he said.
Local journalism is essential.
Give directly to The Spokesman-Review's Northwest Passages community forums series -- which helps to offset the costs of several reporter and editor positions at the newspaper -- by using the easy options below. Gifts processed in this system are not tax deductible, but are predominately used to help meet the local financial requirements needed to receive national matching-grant funds.
Subscribe to the sports newsletter
Get the day's top sports headlines and breaking news delivered to your inbox by subscribing here.
---