Crowds around moose likely panicked the animal, resulting in injury, officials say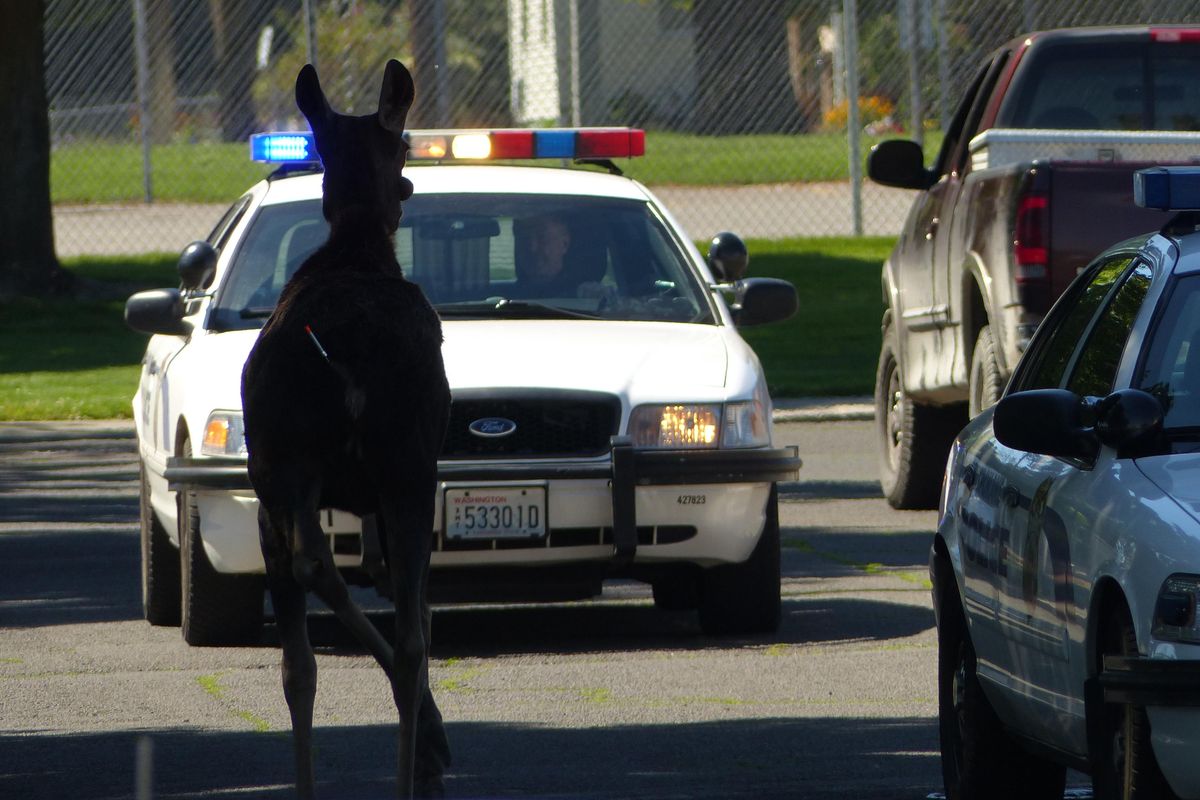 Crowds gawking at a yearling moose that wandered into a north Spokane neighborhood might have frightened the animal, causing it to panic and run into traffic, wildlife officials said.
The moose was hit by a driver who didn't report the accident and was injured so badly that it had to be euthanized once it was finally tranquilized.
The episode led wildlife officials to urge the public not to approach wild animals in urban environments.
Spokane police Officer Kellee Gately said witnesses told her that two mothers with young children went into a yard at York Avenue and Cannon Street to take selfies with the injured moose Tuesday morning.
Gately said that might be seen as criminal child endangerment. At a minimum, Gately said she would have reported the incident to Child Protective Services if she had seen it.
Gately said she's frustrated with people's lack of awareness of the danger involved in getting too close to wild animals, especially an injured one.
Witnesses said two moose wandered into the neighborhood near Audubon Elementary School just off Northwest Boulevard about 10 p.m. Monday. They first appeared coming from the west in the direction of the Spokane River.
At one point, people in the area had converged on a parking lot where the moose were being followed and watched.
Reports indicated the two moose may have felt threatened by being penned in, officers said.
Some time later, one of the moose was apparently struck by a car, and it wandered into a front yard at Cannon and York across from the school playground, where it stayed until morning.
The other moose disappeared from the scene, witnesses said.
A police officer and two wildlife officials responded to the yard, where the injured moose was hiding behind a thick hedge.
They had to repeatedly remind members of the media and the public to stand back in case the moose decided to charge.
The yearling female, which weighed more than 400 pounds, was tranquilized Tuesday morning, allowing wildlife officials to examine it. With fractures in one hip and leg, the animal's injuries were too severe for it to be saved, state Fish and Wildlife officials said. The meat couldn't be salvaged, either, because of the toxicity of the tranquilizer used.
Wildlife Officer Jolynn Beauchene said she called one of the people following the moose after her agency got a report of the sightings Monday night. She said she tried to convince a man following the moose to leave them alone and give them a chance to wander away during darkness.
"They are not going to go out of their way to attack," she said.
However, a moose that is being harassed might charge, which can be dangerous, she said.
Spokane has about 15 encounters a year involving the public and wandering moose, wildlife conflict specialist Candace Bennett said.
During hot weather, the animals will enter the city where there is shade, water, food and no predators, she said.
Bennett said people approaching the two moose Monday night may have led to the animals' panicking and running into traffic.
A spokeswoman for the Fish and Wildlife department tried to warn people to stay back.
But the spectacle was hard to resist. Some onlookers were determined to take selfies with the wounded animal – a habit that has become especially problematic in Yellowstone National Park.
"We love that people love wildlife," said Fish and Wildlife spokeswoman Madonna Luers. "But you need to let them be wild, give them space … and get a telephoto lens for a real camera."
Maureen Harris at the Tress Chic style shop on Northwest Boulevard was rinsing a customer's hair when the injured moose was shot with the tranquilizer and ran down Cannon Street.
Harris and customer Gloria Halonen ran from the shop with Halonen's hair still dripping wet.
The episode prompted Beauchene, the wildlife officer, to say, "Please, these are wild animals and not pets."
---