A&E > Entertainment
After 30 years, Goo Goo Dolls still making music
Thu., June 30, 2016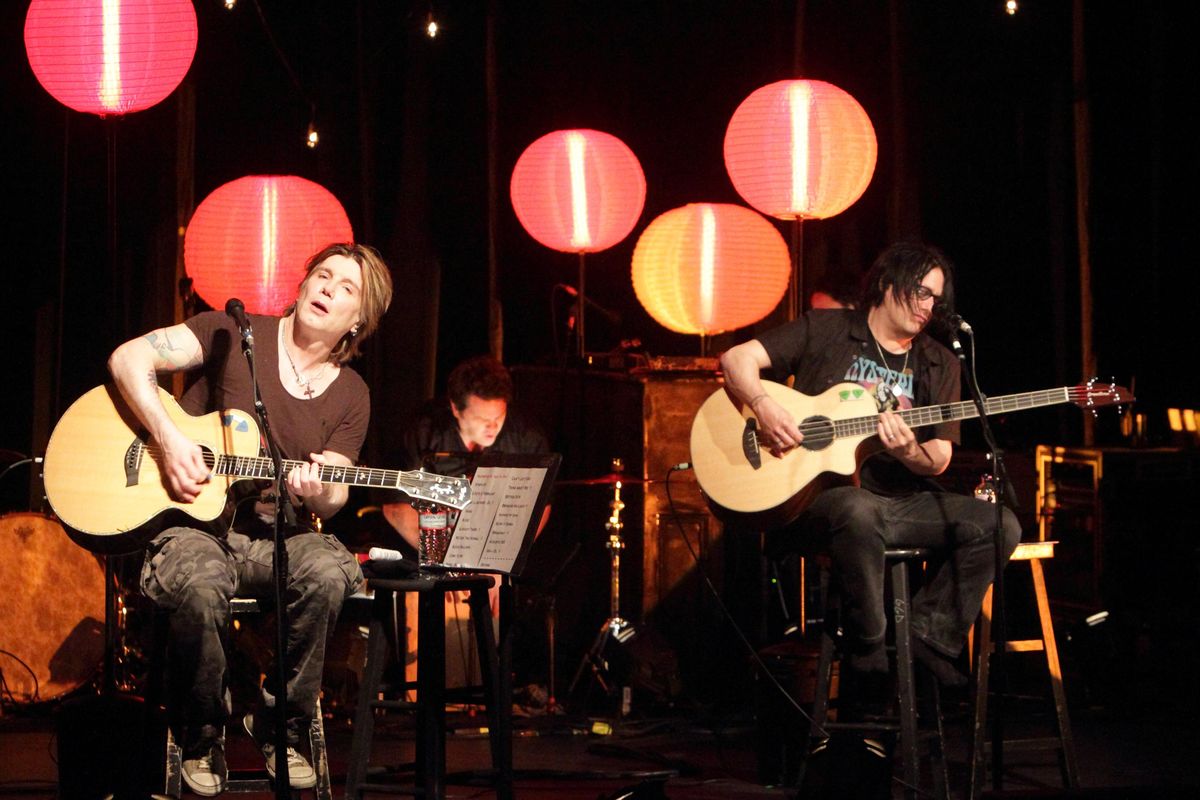 Johnny Rzeznik and Robby Takac of the band Goo Goo Dolls perform in concert during the groups Otis Midnight Sessions Tour at the Baby Grand on Wednesday, April 30, 2014, in Wilmington, Del. (Owen Sweeney / Owen Sweeney/Invision/AP)
There are few songs better associated with late-90s alt rock than "Iris."
The sweeping power ballad, with its singalong-worthy chorus – "And I don't want the world to see me / 'Cause I don't think that they'd understand / When everything's made to be broken / I just want you to know who I am" – was everywhere.
"Iris" was on the Billboard charts for nearly a year, hitting No. 1 on the pop, modern rock and adult contemporary charts and was one of the most-played songs of 1998. Rolling Stone put it at 39 on its list of 100 best pop songs, and it was No. 1 on Billboard's list of the top 100 pop songs from 1992-2012.
It was part of a remarkable string of hits from the band Goo Goo Dolls, a string that includes "Name," "Slide," "Black Balloon," "Dizzy," "Broadway," and that fun Supertramp cover "Give a Little Bit." All told, Goo Goo Dolls have sold more than 10 million records and scored 19 top 10 singles on various charts.
That's a lot of success for a band formed 30 years ago in Buffalo, New York. Goo Goo Dolls – singer-songwriter-guitarist John Rzeznik and vocalist-bassist Robby Takac – in May released their 11th album, "Boxes," and are out on tour with fellow '90s rock band Collective Soul and newcomers Tribe Society. The tour comes to Northern Quest on Wednesday.
In a phone interview from New York City, Rzeznik said something had to happen first before "Boxes" could become a reality. He and Takac had to "clean house and take responsibility for ourselves and move on and work as hard as we can," he said.
"We're seeing eye to eye more than than we have in the past 15 years," he said. "We understand each other pretty well. We understand the other guy's boundaries. We understand what topics not to get into."
For Rzeznik's part, cleaning house included getting sober. It's been a year and a half since he's had a drink, and it's frightening, he said, but it's also given him a different perspective.
"It's actually feeling something again after 20 years of taking a drink every time I had an uncomfortable emotion, and actually having to feel this stuff without drowning – it is really scary," he said.
The other part involved changing up how they wrote and recorded the record. He didn't want to lock himself away to write. Instead, he called on old friends and new collaborators to write and produce.
He also drew on his experience working with a young EDM band, Cash Cash, on a song called "Lightning."
"People have a preconceived notion of what a Goo Goo Dolls album is supposed to be, and I wanted to throw that all away," he said. Working with Cash Cash was "so alien to me," it blew him away.
"The perspective on songwriting in this generation and the perspective on the world is just fascinating to me," the 50-year-old said. "I learned an incredible amount, and it's fun, too."
One lesson? "You don't need to sit in a $5 million recording studio the whole time. The way young people make records today is very guerrilla. … A lot of these incredible records are made in a couple of rooms in a house. The technology has gotten that good."
Still, they made "Boxes" in some nice spots, including Rzeznik's own studio in Hollywood, Takac's studio in Buffalo, in New York City and at Bear Creek Studio in Seattle, with Ryan Hadlock (The Lumineers, Vance Joy).
"It was fun to bring in ideas and have other people riff on them," he said. "You never knew where they were going to go."
While their set list on Wednesday might feature a song or two from "Boxes," longtime fans shouldn't worry. They'll play "Iris." They'll play "Name" and "Slide." Rzeznik and Takac aren't tired of those old hits yet.
"I'm grateful for those songs. Those songs gave me and Robby a life," he said. "People want to hear them. I never thought anybody would want to listen to us, ever. … I (play them) with a lot of gratitude. I could be playing in a bar. I could be selling used cars. It's crazy."
Local journalism is essential.
Give directly to The Spokesman-Review's Northwest Passages community forums series -- which helps to offset the costs of several reporter and editor positions at the newspaper -- by using the easy options below. Gifts processed in this system are not tax deductible, but are predominately used to help meet the local financial requirements needed to receive national matching-grant funds.
Subscribe to the Spokane7 email newsletter
Get the day's top entertainment headlines delivered to your inbox every morning.
---