Sports
Central Valley girls young on roster but play like veterans
Wed., March 2, 2016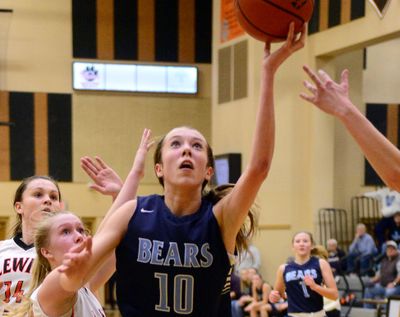 The Central Valley girls basketball team has been ranked No. 1 all season.
Along the way, the Bears have done nothing but reinforce why many expected good things from them.
Even if the roster says they're young.
Now they head to Tacoma this week with no other way to finish things off – with three more wins to keep their unblemished record intact.
CV (25-0) takes on the other unbeaten team in the 4A tournament, Moses Lake (23-0), on Thursday during the lunch hour at the Tacoma Dome. Tip is at 12:15.
CV coach Freddie Rehkow is mildly surprised that his team is undefeated.
"I knew the possibility of being undefeated at this point could happen," he said. "But I thought our youth might have had a slip at least during the regular season."
They had to beat a talented Lewis and Clark team not only twice in league but in the district final and in the subregional final.
"Lewis and Clark is such a good team," Rehkow said. "I knew if we could play well against them and not play young we'd have a chance."
CV starts three sophomores (twins Lexie and Lacie Hull and Hailey Christopher) and two freshmen (Mady Simmelink and Camryn Skaife). The Bears will take two other freshmen and three other sophomores to state.
They lost lone senior Emily Burns to a foot injury and junior Courtney Carolan suffered a season-ending injury in preseason.
The Bears haven't played young. Some of it is because most of them have played club ball at a high level.
Rehkow doesn't expect his team to be bothered by the bright lights and bigger stage at the Tacoma Dome.
"They've played in some big games but they're still teenagers," Rehkow said. "They're going to walk into that big place and they'll be nervous. But if we can get them settled down we'll be okay."
Lexie Hull leads CV in scoring (18.1 points), and she and her sister lead in most other categories. Offense won't be the key at state she said.
"Defense is what we focus on," she said. "We spend more time in practice working on defense than offense. We've just got to keep working together and play good defense and we'll be good."
Rehkow said that won't change at state either.
"That's been our horse," Rehkow said. "We're not going to get off the horse that brought us here."
Local journalism is essential.
Give directly to The Spokesman-Review's Northwest Passages community forums series -- which helps to offset the costs of several reporter and editor positions at the newspaper -- by using the easy options below. Gifts processed in this system are not tax deductible, but are predominately used to help meet the local financial requirements needed to receive national matching-grant funds.
Subscribe to the sports newsletter
Get the day's top sports headlines and breaking news delivered to your inbox by subscribing here.
---