Sports
Central Valley's Cameron Tucker has matured as more balanced player
Wed., March 2, 2016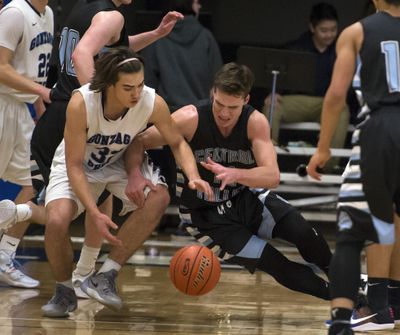 Cameron Tucker has learned a valuable lesson.
It's taken the 6-foot-4 Central Valley senior three years, but he's discovered that by doing less he can do more.
A three-year starter, Tucker thought he would have been to state once already before his senior season. So he has much appreciation for what the Bears have accomplished this season.
"It's been one of the best basketball seasons I've ever had," Tucker said.
As a sophomore, Tucker showed much potential. An athletic player with good hops, he caused other teams problems at times.
But he also caused himself more difficulty when he'd put his head down and drive to the basket without giving cause to what defenses were doing.
"I wasn't trusted much with the ball because I'd dribble it off my foot or something," Tucker said.
Then last year he had to move inside and play post – out of position really for his skill set.
With the emergence of junior Ryan Rehkow this season, Tucker was able to move to the wing where he's more naturally suited.
"He's been playing within himself a lot more, letting the game come to him," CV coach Rick Sloan said.
It was never more evident than last Saturday when the Bears defeated Kentridge to earn a trip to Tacoma. He finished with a quiet 15 points, most coming in the second half.
"He's obviously our best player," Sloan said. "He's always been a phenomenal athlete. It really helps us right now that he's playing well."
Tucker plans on playing in college.
He has some options and is being patient about his decision. He's put in much time trying to perfect his game. He even paid for a personal trainer.
"I'm more comfortable now," Tucker said. "We've never once butted heads. He's helped me tremendously with my game, probably more than anyone."
Sloan is as close with this year's seniors as any group he's had because his son, Tanner, is a senior and has played with his peers going back to elementary school.
"Cameron is a good kid," Sloan said. "And he's a good teammate. He's as athletic as all get out. He's been a joy to have around and very loyal to our program. He's been very coachable."
Tucker said the plan for state is simple.
"We just need to keep doing what we're doing," he said. "If we play together I think we're an unstoppable team."
Local journalism is essential.
Give directly to The Spokesman-Review's Northwest Passages community forums series -- which helps to offset the costs of several reporter and editor positions at the newspaper -- by using the easy options below. Gifts processed in this system are not tax deductible, but are predominately used to help meet the local financial requirements needed to receive national matching-grant funds.
Subscribe to the sports newsletter
Get the day's top sports headlines and breaking news delivered to your inbox by subscribing here.
---