Sports > High school sports
Hannah Burland leads experienced East Valley team in search of title
Wed., March 2, 2016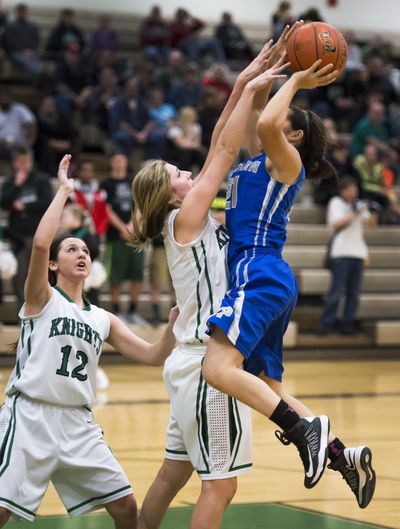 Bruce Springsteen is known as The Boss … and so is Hannah Burland.
Even amongst her fellow East Valley seniors, Burland is the undisputed leader.
"She's the MVP," senior teammate Skylar Bastin said. "She's the one who can rein the rest of us in if we start to have too much fun. She keeps us focused on what we need to do."
But Burland is more than that.
The smooth senior with the silky shot is the backbone of an East Valley team making its third straight trip to the State 2A girls basketball tournament. The Great Northern League's Most Valuable Player, Burland led the Knights to a 21-3 record that included 11 straight wins during the league season.
And she's signed to play basketball at Lewis-Clark State College next year.
With Burland playing the lead and calling the tune, the Knights have found a liking for the big stage. Add some of the energy of Springsteen's "Born to Run," the joy of "Dancing in the Dark" and the shared drive of "Glory Days" and you have a set list that has carried them to three straight state tournaments and the school's first two state trophies for girls basketball – a sixth-place finish as sophomores, a fifth-place finish last year.
The Knights feature four seniors who were born to play together, grew up together and bring a great deal of talent to the program, but that talent is dwarfed by the sense of joy and fun they bring to the game. In some ways, this East Valley teams is fueled by an abundance of laughter.
Seniors Burland and Jordan Phelan, along with Bastin and her twin sister Maddie – as well as Hanna Burland's cousin, Elle Burland – are returning starters from a year ago and are veterans of two state tournament squads.
And there's a level of self-described goofiness about the group. They work hard, but they also insist on having a good time while they do.
"We're all pretty goofy," Phelan admits. "Hannah? She's the league MVP, but she's a little goofy, too, and she loves to laugh."
Yes, this group would be dancing in the dark if they hadn't already danced their way through the spotlight of the Great Northern League season. The team has lost just three games and they were by a total of seven points. And just one of those losses came in a league game.
Ironically, the league loss came in the regular-season finale at home on Senior Night and long after the Knights had wrapped up the title.
Clarkston went to East Valley and earned a 55-53 victory.
"It was embarrassing, but I think it may have been just what we needed heading into the playoffs," Burland said. "It reminded us that we cannot let up against anyone and it got us refocused on what we have to do in the playoffs."
The Boss put the team on her back by turning in a double-double in a rematch with the Bantams in the District 7 2A championship game, scoring 28 points and grabbing 10 rebounds in a 68-60 win.
The Knights have stormed into the postseason, whipping Ephrata, 76-51, and drubbing North Kitsap in a first-round game Saturday in Ellensburg, 61-39.
They open the state tournament against Anacortes at 10:30 a.m. on Thursday. The winner faces the winner of a game between North Seattle's Shorecrest High and Washougal on Friday at 3:45 p.m.
"We feel like we have more to prove at state," Burland said. "Just getting a trophy isn't enough this time."
It's Burland's finale after all, and what would be more appropriate for The Boss than a few choruses of "Glory Days."
Local journalism is essential.
Give directly to The Spokesman-Review's Northwest Passages community forums series -- which helps to offset the costs of several reporter and editor positions at the newspaper -- by using the easy options below. Gifts processed in this system are not tax deductible, but are predominately used to help meet the local financial requirements needed to receive national matching-grant funds.
Subscribe to the sports newsletter
Get the day's top sports headlines and breaking news delivered to your inbox by subscribing here.
---