News > Obituaries
Obituary: Brown, Tommy George, Col. Usaf, Ret.
Age 70
Wed., March 2, 2016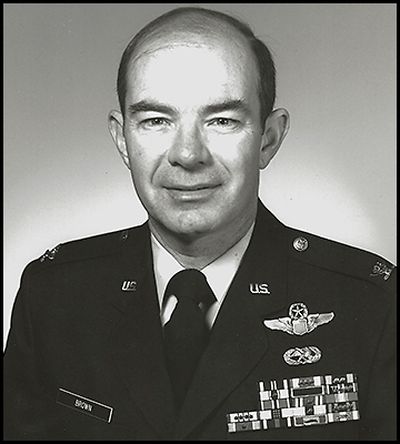 BROWN,

Tommy George, Col. USAF, Ret.
(Age 70)

Born April 26, 1945 in Wenatchee, WA and passed away on February 11, 2016 in Spokane, WA after a hard fought battle with pancreatic cancer.
Tom was raised on a fruit orchard near Monitor.
He graduated from Wenatchee High School and attended the University of Puget Sound where he was affiliated with the Theta Chi Fraternity.
He graduated in 1967 and earned a commission in the United States Air Force (USAF).
He served in the USAF from 1967 until 1995 where he flew fighter (RF-4C) and trainer (T-38 and T-37) aircraft accumulating nearly 4000 flying hours including over 400 hours in combat in Vietnam in 1969.
He was also stationed in Germany and Japan.
His many awards and decorations partially include the Legion of Merit, Distinguished Flying Cross, 11 Air Medals and five Meritorious Service Medals.
Tom's last Air Force assignment was with the Air Force Survival School at Fairchild AFB.
Tom retired with the rank of Colonel and resided in Spokane.

In 1970, he married his high school sweetheart, the former Mary Jane Roberts.
He and Mary Jane have traveled extensively.
They both enjoyed snow skiing and adored the desert in Arizona where they wintered.
He has fished and hunted throughout the world.
Tom is survived by his wife of 45 years, Mary Jane; a brother-in-law John Roberts and his wife Daryl; a sister-in-law Barbara Pool and her husband Don; a sister-in-law Virginia McLeod and her husband Paul; and a sister-in-law Devona Ferrel and her husband Chuck.
He had one niece, Kara Roberts and four nephews: Travis Pool, Devin McLeod, Camden McLeod and Darrin Brown; as well as a great-niece and three great-nephews.
He was a life member of the following organizations: National Rifle Association, Air Force Association, Military Officer's Association, Order of Daedalians, and Veterans of Foreign Wars.
He also volunteered countless hours as a CASA/Guardian Ad Litem, Hunter Education Instructor, and working with Honor Flight.
He was an active member of Spokane Rock Rollers.
A Memorial service will be held at St. Marks Lutheran Church, 316 E. 24th Ave., Spokane, WA on Saturday, March 5th at 1:30 pm.
Memorial contributions may be made in Tom's name to Inland NW Honor Flight, 608 W. 2nd, Ste 309, Spokane, WA 99201-4403; Spokane Rock Rollers Scholarship Fund, PO Box 14766, Spokane Valley, WA 99214; or Hospice of Spokane, PO Box 2215, Spokane, WA 99210-2215.
Local journalism is essential.
Give directly to The Spokesman-Review's Northwest Passages community forums series -- which helps to offset the costs of several reporter and editor positions at the newspaper -- by using the easy options below. Gifts processed in this system are not tax deductible, but are predominately used to help meet the local financial requirements needed to receive national matching-grant funds.
Subscribe to the Coronavirus newsletter
Get the day's latest Coronavirus news delivered to your inbox by subscribing to our newsletter.
---