News > Spokane
Hundreds of auto dealers find "home" in Wilbur
Thu., March 3, 2016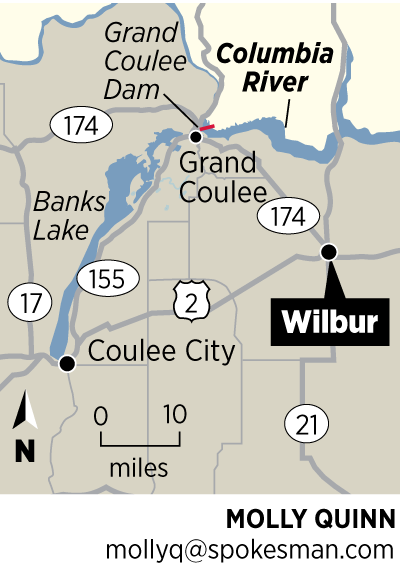 The town of Wilbur has less than 1,000 people, but in the last two years it has become the business home to hundreds of wholesale auto dealers across the nation.
Their car lots don't dot Main Avenue in the Lincoln County town. Most of the dealers have never even set foot in it. They merely apply for a special license from the state and use an office stocked with tables, chairs and file cabinets as their official address.
That could change in the coming days, if a bill revising state dealer license statutes is signed into law.
American Dealer Licenses is a Chicago-based company whose owners said they settled on Wilbur two years ago after searching for office space on Craigslist.
President Maurice Kiglies said the company merely provides a service for people around the country who want to be wholesale auto dealers, a license Washington offers but most states don't.
Their license holders may buy and sell anywhere from a few cars to more than 100. The state's wholesale dealer license allows them to bid on cars at auctions around the country and sell them to other dealers.
"It's a good way to help the little guy that wants to play with the big boys," Kiglies said.
But the state Department of Licensing is worried Washington's wholesale dealer license is becoming a way for unscrupulous dealers to operate without proper oversight. Around the country, wholesale dealers have been tied to odometer fraud, misrepresentations and "title washing," a term for selling and reselling a vehicle to cover up problems in its past, such as being damaged in a flood, said Louis Denny, a department investigator.
Washington has offered wholesale dealer's licenses for decades, but until about two years ago it never had more than about 50 people holding one. That changed when the state of Indiana canceled a similar license because of consumer protection concerns. Since that time, the number of applications for the once little-used license has gone up 800 percent, Tony Sermonti, the department's policy and legislative director, told a House committee recently.
Most of those new dealers and applicants are not registered Washington businesses and never come to the state, Sermonti said. Some have "questionable financial backgrounds."
"It's a problem because we have no consumer protection," Rick Jensen, of Dealers Auto Auction Northwest in Airway Heights, told the committee. DAA auctions cars and trucks to licensed, registered dealers, including people who hold a wholesale license.
Most of those new applications for wholesale licenses are coming through American Dealer Licenses, which has 270 dealers based - on paper - at its facility in Wilbur or a second one in Moses Lake. American Dealer gives them a Washington address required for the license, helps with the application and keeps their dealers' required paperwork on file at the registered address for department inspectors to review.
The company employs a handful of office staff at each facility, and its dealer list is growing at a rate of about 20 to 30 dealers a month, vice president Adrian Kiglies said.
The company does a complete background and credit check on any applicant before accepting a dealer, he said. The problems that department officials are citing are in other states, the Kiglies brothers said.
The brothers live in Chicago. Asked how they wound up with an office some 1,800 miles away in Wilbur, Maurice Kiglies replied: "We've always loved rural areas." Rent is low and the residents there tend to be honest and "hungry for work," he said. Two years ago after Indiana changed its licensing laws, they were checking Craigslist for office space in Eastern Washington and decided on Wilbur.
Chances are they'll have to find new office space in another state soon. This week the Legislature gave final approval to a bill that says a wholesale dealer can only buy and sell cars with other dealers. They can't have office space with more than two other dealers in the same building.
If Gov. Jay Inslee signs the bill, it would take effect immediately.
Local journalism is essential.
Give directly to The Spokesman-Review's Northwest Passages community forums series -- which helps to offset the costs of several reporter and editor positions at the newspaper -- by using the easy options below. Gifts processed in this system are not tax deductible, but are predominately used to help meet the local financial requirements needed to receive national matching-grant funds.
Subscribe to the Coronavirus newsletter
Get the day's latest Coronavirus news delivered to your inbox by subscribing to our newsletter.
---