Sports
WSU women end season with another frustrating loss
Thu., March 3, 2016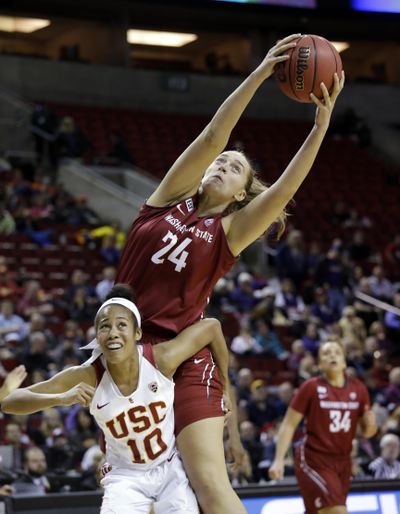 SEATTLE – Their last one was not discernibly different from the majority of the Washington State women's basketball team's defining losses this season, it's just the one that will linger longest.
The ninth-seeded Cougars (14-16) fell to No. 8 seed USC 77-73, thus putting the Trojans (19-12) in a group of teams including Oklahoma State, Saint Mary's, Utah, UCLA, Washington, California, USC, and, once again, Utah that defeated the Cougars in the final seconds of close games.
By and large, those games were lost thanks to factors largely in WSU's control. On Thursday, the Cougars missed 6 of 11 second-half free throws, including one by Borislava Hristova that would have tied the game with 14 seconds left.
The Cougars were already fouling intentionally to extend the game since Nike McClure missed two free throws with 30 seconds left after stealing the ball with WSU trailing by two.
"Obviously, you think about the missed box out, you think about the missed scout coverage on out-of-bounds plays," WSU coach June Daugherty said. "As a coach it's going through your mind it's just one or two things you couldn't get done."
The teams played with contrasting strengths. While WSU outscored USC 15-4 in fast-break points and swiped 11 steals, the Trojans dominated the boards, collecting 17 offensive rebounds and outrebounding the Cougars 43-26.
USC had 23 second-chance points to WSU's seven, thanks in large part to Temi Fagbenle, who finished with 18 points and a career-high 17 rebounds.
While the Cougars tried to contend with Fagbenle down low, Courtney Jaco began to heat up from the outside. The Trojans hit 5 of 6 3-point attempts in the second half, led by Jaco, who hit 5 of 6 in the game, scoring 19 points to lead the Trojans.
"I thought in the final 20 minutes we started to attack more," USC coach Cynthia Cooper-Dyke said. "We were kind of looking for someone else to take responsibility in the first two quarters and it threw us off our rhythm."
Hristova led the Cougars with 25 points on 8-of-13 shooting. Taylor Edmondson and Louise Brown scored 12 and 10 points, respectively, both shooting 5 of 10 from the field.
The Cougars are 17-44 against the Trojans but split the regular-season series. Each team won a close game at home.
WSU led through much of the fourth quarter and seemed to have gained the upper hand when Mariah Cooks hit a shot to give WSU a one-point lead then tapped an offensive rebound to Hristova, who scored over over Fagbenle. Hooks hit another go-ahead basket on a no-look pass from Bianca Blanaru to give WSU a 66-64 lead with five minutes to play.
The Cougars have a young team and start two freshmen, Hristova and Maria Kostourkova, and sophomore Caila Hailey. But Thursday's game was the last for seniors Alexas Williamson, Dawnyelle Awa, Cooks and Edmondson.
The four combined to play 8,047 minutes at WSU and have been involved in WSU's best conference finish since 1998. They helped take WSU to back-to-back postseason berths for the first time in school history.
"To be a senior on this team and be around my teammates who have shaped me on and off the court, I'm so blessed for it," Edmondson said. "I'm with great people each and every day, and it can't get much better than that."
Local journalism is essential.
Give directly to The Spokesman-Review's Northwest Passages community forums series -- which helps to offset the costs of several reporter and editor positions at the newspaper -- by using the easy options below. Gifts processed in this system are not tax deductible, but are predominately used to help meet the local financial requirements needed to receive national matching-grant funds.
Subscribe to the sports newsletter
Get the day's top sports headlines and breaking news delivered to your inbox by subscribing here.
---