Obituary: Krupke, Mary Jane (Grossman)
Age 87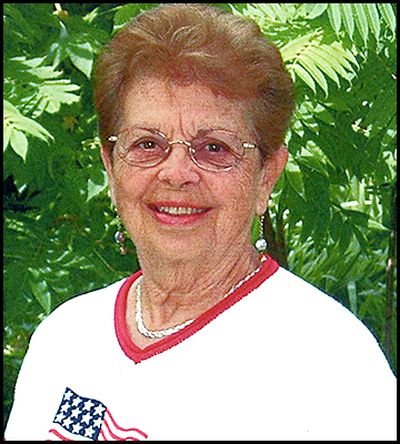 KRUPKE,

Mary Jane (Grossman)
October 31, 1928 -

February 6, 2016

"You can make all the plans you want, but God has made His, and doesn't feel it necessary to check in with you."
MJ

Halloween, 1928, brought a special treat to the Spokane home of George and Corinne Grossman - their daughter, Mary Jane, who shared her birth year with Shirley Temple, James Garner and, more importantly to her, the debut of Mickey Mouse.
She attended Logan Elementary, where she made many life-long friends.
Mary Jane began piano lessons about this time - a talent that she continued to use her entire life (even though MJ said she was eventually "fired" by her piano teacher because "the only practice she was doing was at her lesson").
Mary Jane attended North Central High School in Spokane where she participated in the Color Girls, the Red Feather marching unit, tennis team, ice skating shows, The Doll Shop - the biannual variety show, and youth activities at Central Baptist Church.
During the summer of her senior year, Mary Jane got a job working at Owen's Specialty Shop.
While working there, she met Gordon Krupke who had come to see his aunt who also worked there.
After graduating from high school in January 1947, Mary Jane worked at the Washington Water Power Co. before attending Eastern Washington College of Education.
Mary Jane married Gordon Krupke on April 17, 1948 at her parents' home in Spokane.
They moved to Reardan, where Gordon began his farming career.
Mary Jane was an active member of the Reardan United Methodist Church, Spring Creek Grange, Mule Days, Reardan Athletic Booster Club, Reardan Garden Club, and the Harrington Golf Club.
As a 46 year breast cancer survivor, Mary Jane spent 28 years as a volunteer and Spokane Area Coordinator for the Reach to Recovery Program of the American Cancer Society.
Mary Jane enjoyed boating and swimming at the family cabin at Waitts Lake, and collecting puka shells, laying in the sun and whale watching on the beaches of Kauai and Maui.
She and Gordon traveled on several cruises and a guided tour to Europe.
In 2008, Gordon and Mary Jane celebrated their 60th wedding anniversary.
Mary Jane was preceded in death by her husband, Gordon and her son-in-law Dean Daniels.
She is survived by her daughter Gail Daniels, son Steve (Cheryl) Krupke; grandchildren Joe (Sara) Holwegner, Jacquie (Beau) Hedrick, Nathan (Amy) Krupke, Lindsay (Matt) McDonald, Chad (Cami) Daniels, Craig Daniels; great-grandchildren Carson and Emma Holwegner, Benjamin and Brayden Hedrick, Eli and Norah Krupke, David and Ryan Daniels; brothers George Grossman, and Robert (Charleigh) Grossman.
A memorial service will be held at 1p.m.
on Saturday, March 5, at the United Methodist Church, 155 S. Oak St. in Reardan, WA.
In lieu of flowers, memorial gifts can be sent to the Reardan United Methodists Church (PO Box 186, Reardan, WA 99029), the American Cancer Society/Reach to Recovery (920 N. Washington, Suite 200, Spokane WA 99201) or to your charity of choice.
---