Five more states take their turns in race for White House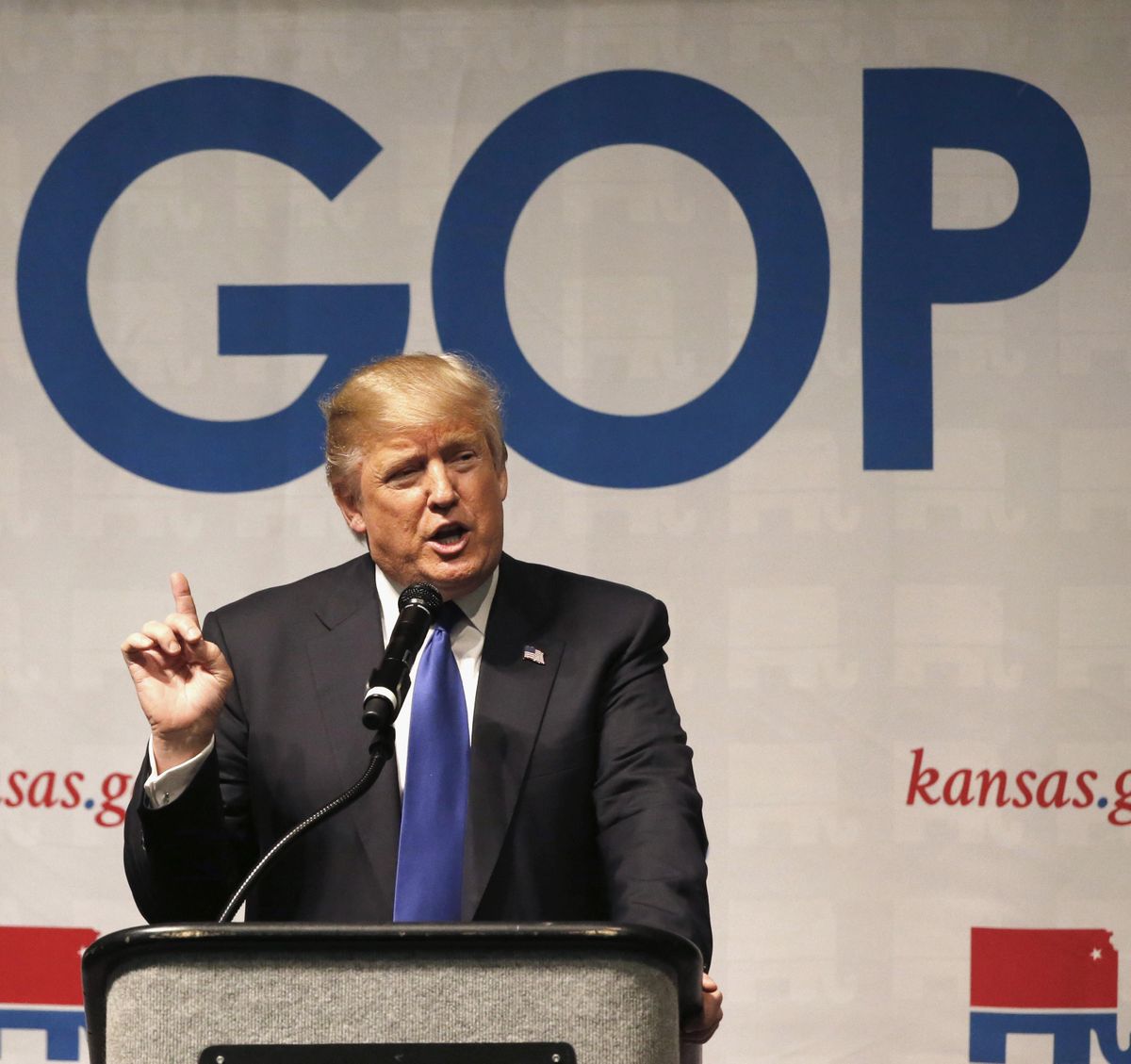 WASHINGTON – Eager to lock up the GOP nomination without a convention fight, Donald Trump battled Saturday to pad his lead in the delegate count as four more states delivered verdicts on the fractious Republican race for president. Democrats in three states were choosing between Hillary Clinton and Bernie Sanders.
Saturday's GOP races in Maine, Kansas, Kentucky and Louisiana and Democratic contests in Nebraska, Kansas and Louisiana were largely overshadowed by Super Tuesday contests in the rear-view mirror and critical contests soon to come. But with front-runner Trump yet to win states by the margins he'll need in order to secure the nomination before the GOP convention, every one of the 155 GOP delegates at stake on Saturday was worth fighting for.
In very early returns, Texas Sen. Ted Cruz led in Kansas.
Trump skipped a promised appearance at a convention of conservatives in the Washington area to get in one last morning rally in Kansas and then headed to Orlando, Florida.
"Everyone's trying to figure out how to stop Trump," the billionaire marveled at an afternoon rally that was interrupted frequently by protesters.
"It's sort of exciting, isn't it?" Trump said of the demonstrators.
Earlier, he'd warned in Wichita: "The Republicans are eating their own. They've got to be very careful. "We have to bring things together."
It was anger that propelled many of his voters to the polls.
"It's my opportunity to revolt," said Betty Nixon, a 60-year-old Trump voter in Olathe, Kansas. She said she liked the businessman because "he's not bought and paid for."
In Louisiana's primary, 74-year-old Stan Register in Baton Rouge voted for Cruz – "a real conservative."
"I don't feel comfortable with Trump," Register said. "Trump has not actually told what he plans on doing" as president.
Florida Sen. Marco Rubio and Ohio Gov. John Kasich, too, bid for Republican votes. But both had higher hopes for winner-take-all contests on March 15 in their home states.
On the Democratic side, Clinton hoped that strong support among African Americans in Louisiana would propel her to victory. Vermonter Sanders, trailing far behind Clinton in the delegate count, had higher hopes of making progress in Nebraska and Kansas, where the Democratic electorate is less diverse.
Heading into Saturday's round of voting, Clinton had 1,066 delegates to Sanders' 432, including superdelegates – members of Congress, governors and party officials who can support the candidate of their choice. It takes 2,383 delegates to win the Democratic nomination. There were 109 at stake on Saturday.
With the GOP race in chaos, establishment figures frantically are looking for any way to stop Trump, perhaps at a contested convention if none of the candidates can roll up the 1,237 delegates needed to snag the nomination.
A Trump backer had a stern warning for those trying to block the Trump juggernaut: "If the big, fat GOP don't like him, they don't like me," said 65-year-old Connie Belton, a retired homemaker from Wichita.
Kasich, lagging far behind among the Republicans, acknowledged that a sure way to grab the spotlight for his campaign would be to hurl insults at Trump. But he wasn't biting.
"I'm with Harry Potter: I'm not going to the dark side," he told reporters after a rally in Traverse City, Michigan, where Kasich hopes for a strong showing in Tuesday's primary.
Rubio, for his part, has had no qualms denouncing Trump as a fraud and a "con artist."
"It's not enough to say, `Vote for me because I am angrier and over the top and am going to do and say things no one is going to do,"' he told conservatives at the conference that Trump had skipped.
Going into Saturday's voting, Trump led with 329 delegates. Cruz had 231, Rubio 110 and Kasich 25. In all, 155 GOP delegates were at stake in Saturday's races.
Rubio, going all-out for victory in Florida on March 15, planned to campaign in Jacksonville on Saturday afternoon.
Cruz's schedule had him in Kansas and Idaho, which votes Tuesday.
Kasich, looking for political survival with victories in the Midwest, said Ohio would be "the crown jewel" for him.
Ahead of a debate Sunday night in Flint, Michigan, Clinton met with about 20 African-American ministers in Detroit on Saturday and said "the future" of the Supreme Court was on the ballot in November's general election.
Sanders had events in Ohio on Saturday as the Democrats kept close watch on those two big states and their upcoming delegate hauls.
---