Gonzaga finds clear pathway to WCC tournament semifinals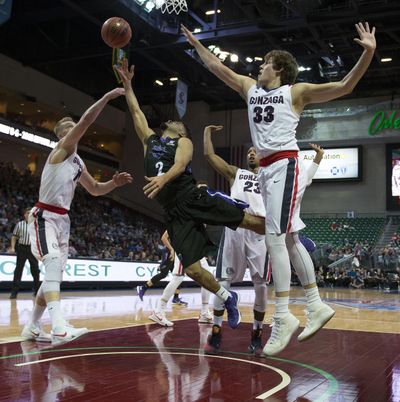 LAS VEGAS – On a day when a couple of top seeds found themselves in scraps with underdogs, Gonzaga found relatively smooth sailing.
The second-seeded Zags coasted past No. 7 Portland for the third time this season, rolling to a 92-67 victory in the WCC tournament quarterfinals late Saturday night in front of 7,209 at the Orleans Arena. GU won the three games by a combined 62 points.
Gonzaga (24-7) advances to Monday's semifinals against No. 3 BYU (23-9) at 8:30 p.m. The teams split two regular-season games. GU has defeated the Cougars in three of the last four WCC tournaments.
"It's always good to get through that first night," Gonzaga coach Mark Few said. "The intensity, the desperation of the first team you're playing facing the end of their season, to be able to deal with that the guys did a really nice job."
Top-seeded Saint Mary's (26-4) meets No. 4 Pepperdine (18-12) at 6 in the other semifinal. The Waves swept the Gaels in the regular season. Saint Mary's trailed at half before pulling away from LMU for a 60-48 victory. BYU held off Santa Clara 72-60. Pepperdine edged San Francisco 90-86
Gonzaga forward Domantas Sabonis, with his Hall of Fame father Arvydas in the stands, unveiled a few new weapons, including a behind-the-back move and seconds later a series of low-block pivots for another easy basket. The 6-foot-11 sophomore had 17 points in the first half and finished with 24.
"In practice maybe once or twice," said Sabonis, when asked if he's tried the behind-the-back move before. "I was either going to go over the top (of the defender) or behind the back. I'm just happy it wasn't a turnover. Coach (Few) would have killed me."
Eric McClellan, the WCC defensive player of the year, showed his scoring side with 14 of his Gonzaga career-high 26 points in the opening half as the Zags built a 46-32 lead. They led 44-25 after three McClellan free throws.
"It's a new season," McClellan said. "Our guys have really been playing confidently and free. We just wanted to come out and do the same thing tonight."
Silas Melson added 15 points and Kyle Wiltjer chipped in 13 points, eight rebounds, three assists and three blocks. The Zags made 51 percent of their shots, including 10 of 24 beyond the arc.
Gonzaga's biggest concern was reserve center Ryan Edwards' right knee injury. A Portland player inadvertently rolled into Edwards' leg pursuing a loose ball midway through the first half. Edwards hobbled out to take a seat behind the bench at the start of the second half, keeping his right leg straight when he sat down.
"We'll see how he feels (Sunday)," Few said. "We'll just deal with what we have to deal with."
The Zags didn't commit a turnover for the first 12-plus minutes. They had just three in the first half while enjoying a 22-8 edge in paint points.
Portland (12-20) kept it somewhat close, pulling within 12 early in the second half. Sabonis drove inside and scooped a pass to McClellan for a layup. The big man then scored a back-to-the-basket layup and swished a 3-pointer to put Gonzaga on top 68-50.
Gonzaga held a 36-24 edge in paint points and committed a season-low five turnovers. The Zags finished with 16 assists, led by Kyle Dranginis with five and McClellan with four.
"We really need that (all-around play) from (McClellan) and our guards," Sabonis said. "It just makes it a lot easier for the team when we have more people scoring."
Bryce Pressley led the Pilots with 16 points. Leading scorer Alec Wintering, battling foul trouble throughout, was limited to 13 points on 4-for-9 shooting. The Pilots made just 40 percent from the field, 7 of 23 3-pointers.
---