Sports > Outdoors
Skishoeing: Hybrid skis inspired by ancient Asian hunters offer new approach to exploring winter
Sat., March 5, 2016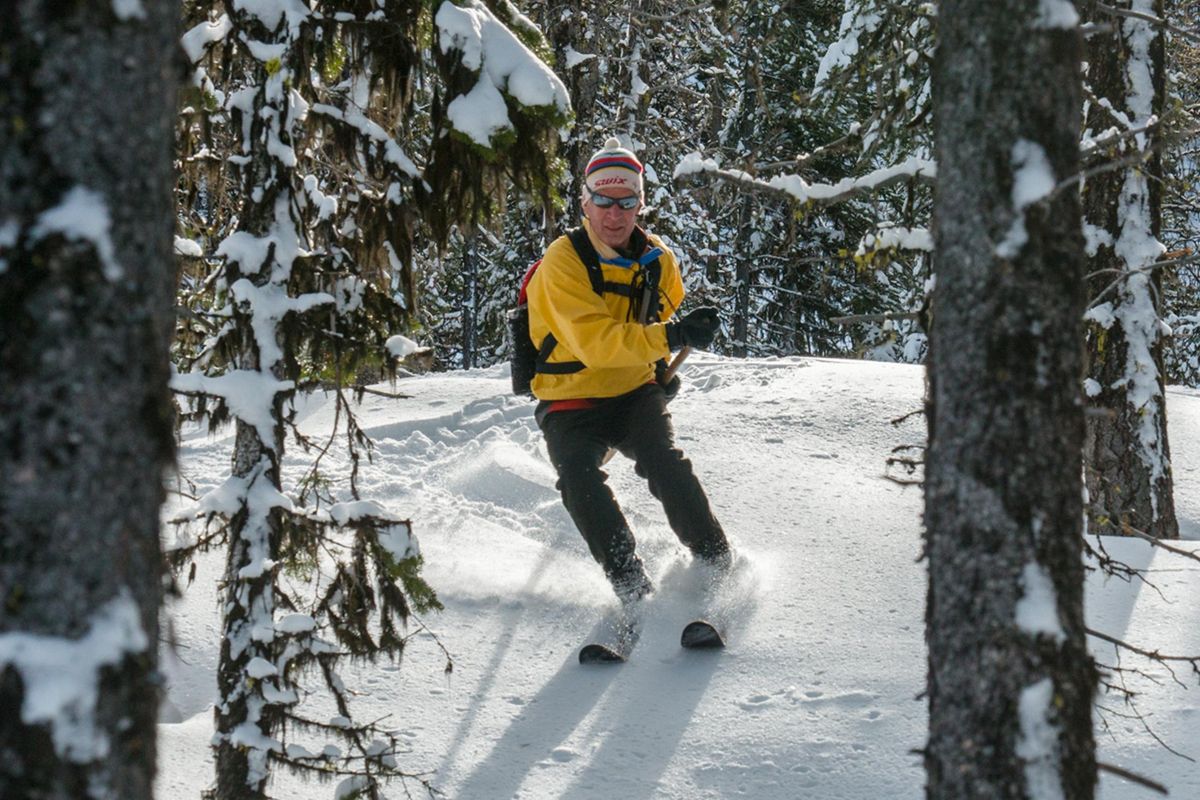 Don Portman, veteran Methow Valley skiing instructor, heads downhill through the woods on Hok skis. (Courtesy)
Short, fat skis with free-heel bindings and built-in climbing skins are luring a growing number of winter trekkers into a sport Nils Larsen calls "skishoeing."
"Adults step out on these and feel like kids again," said Larsen, who attracted dozens of people, young and old, to try out his Hok skis recently at tiny Sitzmark Ski Area near Tonasket, Washington.
"People get focused on matching their size and weight to the ski," he said. "We talk more about usage. The 145-centimeter version has more ski DNA while the 125 has more snowshoe DNA. Either way the emphasis is on efficiency and mobility."
A kids' version also is available.
Larsen, who emerged as a free-heel downhill guru in the 1980s, is promoting boards inspired by ancient Asian herdsmen-hunters.
In 2005, he traveled to northwestern China to make a documentary film on indigenous people who still use skis with nailed-on horse skin for traction in the Altai Mountains region bordering Mongolia.
Those skis and horse skins _ along with a single, long, wooden pole called a tiak for balance _ may be the roots of skiing, he said.
Larsen, 61, pitches the technique and products from Curlew, Washington, population 200, the world headquarters for Altai Skis. "We're the largest ski company in Curlew," he deadpanned.
In 2009, he launched the Altai Skis concept with Francois Sylvain of Quebec. They had worked together in ski development for Karhu, where Larsen had worked for years in marketing and design, doing national demos, training reps and working directly with ski designers.
"In the process, I got to ski a lot," he said.
Larsen and Sylvain formed the company devoted to building a short ski and permanently installed skin that allows the skishoer to have good traction while allowing some forward glide.
Altai Skis had an edge on the other companies who tinkered with the concept. "We really believe in this type of skiing," Larsen said. The first Hoks were sold to consumers in 2011.
The glued-in, nylon-polyester skins purposely make them much slower than skis, but you wouldn't know it watching a Larsen demonstration. The laid-back three-pin wizard could strap his boots into fence railings and still look graceful schussing and carving turns on gnarly slopes.
"If your goal is skiing fast, use skis," he said, noting that the big advantage of the Hok is utility.
For example, several moose and cougar researchers in Yellowstone Park have switched from snowshoes to Hoks for doing their backcountry work more efficiently, he said.
Larsen and longtime Methow Valley nordic skiing instructor Don Portman demonstrated the easy transition to skishoeing during an off-piste Hok test drive.
"You have to step yourself out of the alpine attitude," Portman said as he climbed up a hill holding a tiak to his side almost as one would hold a canoe paddle.
"Hoks aren't as fast. They have less glide. The idea is to get into them and just go – uphill, downhill, through brush and around trees; no problem."
When side-hilling, Portman showed how the tiak works best pointed to the uphill side. "That's counterintuitive," he said. "You think it should point downhill, but try it; uphill is better."
Soon high on a timbered slope, Portman turned and pointed his Hoks downhill toward a brushy opening a telemark skier would trek half a mile to avoid.
He flexed his knees into a classic downhill skiing position centered on the skis and then eased his hips slightly backward. This put some weight onto the pole, which he extended backward like a tail and into the snow.
He seemed to be using the tiak as a rudder. However, he was forming a tripod.
The weight-back tripod stance brings the tips up on the short, maneuverable Hoks and the skins slow the descent. This allows quick and easy parallel turns even in crud snow and brushy conditions. Just un-weight, turn your feet and the Hoks turn, too.
"The Hoks have special appeal to skiers who transition to snowshoeing but can't get excited about walking downhill," Portman said.
Two traditional ski poles are important for propulsion in cross-country skiing and body positioning in dowhilling, Larsen said.
"As a ski instructor for 30 years, I never teach using poles for balance," he said. "But a single tiak with Hoks is all about balance. It's so easy and intuitive.
"The Altai people have these loosey-goosey bindings and no way could they ski downhill without the single pole. But with it, they are amazing.
"Without a pole, your arms swing all over trying to stay balanced. Put a pole in your hand and it's like closing your eyes and touching a wall. You don't have to lean into the wall, but it gives you great balance. You drag the tiak around, left side, right side, wherever it needs to be.
Using a single pole as a tripod adds fore-and-aft stability to the short Hoks and turns them into downhilling machines when needed.
"I would ski trees with a single pole and Hoks that I wouldn't consider with tele gear," Larsen said.
Binding options for Hoks include the simple three-pin (Larsen's favorite), three-pin with cable or the German-made universal binding that can be adjusted to a wide range in sizes and clamped around most boots.
Larsen enjoys Hoking in his old leather three-pin backcountry ski boots, but when skiing more aggressively or on more adventurous terrain or hard-packed snow he favors a Scarpa T4 hard-shell boot. Hard-pack and ice are the nemesis of Hoks, even though they have metal edges.
While some features have been improved from the outset, the natural finish of the Hok's wood laminate construction hasn't changed. "We're not into revolving graphics every year," Larsen said. "It's a crazy waste of money. We want them to be a very affordable way to get on skis."
The Hoks shine as an incentive to get out and make tracks in what Larsen calls "pocket backcountry."
"You can drive to the end of the road and follow a critter track or just climb up into the woods and make a few turns where you might not go on backcountry skis," he said. "It's about simplicity."
Local journalism is essential.
Give directly to The Spokesman-Review's Northwest Passages community forums series -- which helps to offset the costs of several reporter and editor positions at the newspaper -- by using the easy options below. Gifts processed in this system are not tax deductible, but are predominately used to help meet the local financial requirements needed to receive national matching-grant funds.
Subscribe to the sports newsletter
Get the day's top sports headlines and breaking news delivered to your inbox by subscribing here.
---