Ted Cruz, Donald Trump each grab 2 wins; Dems divide states too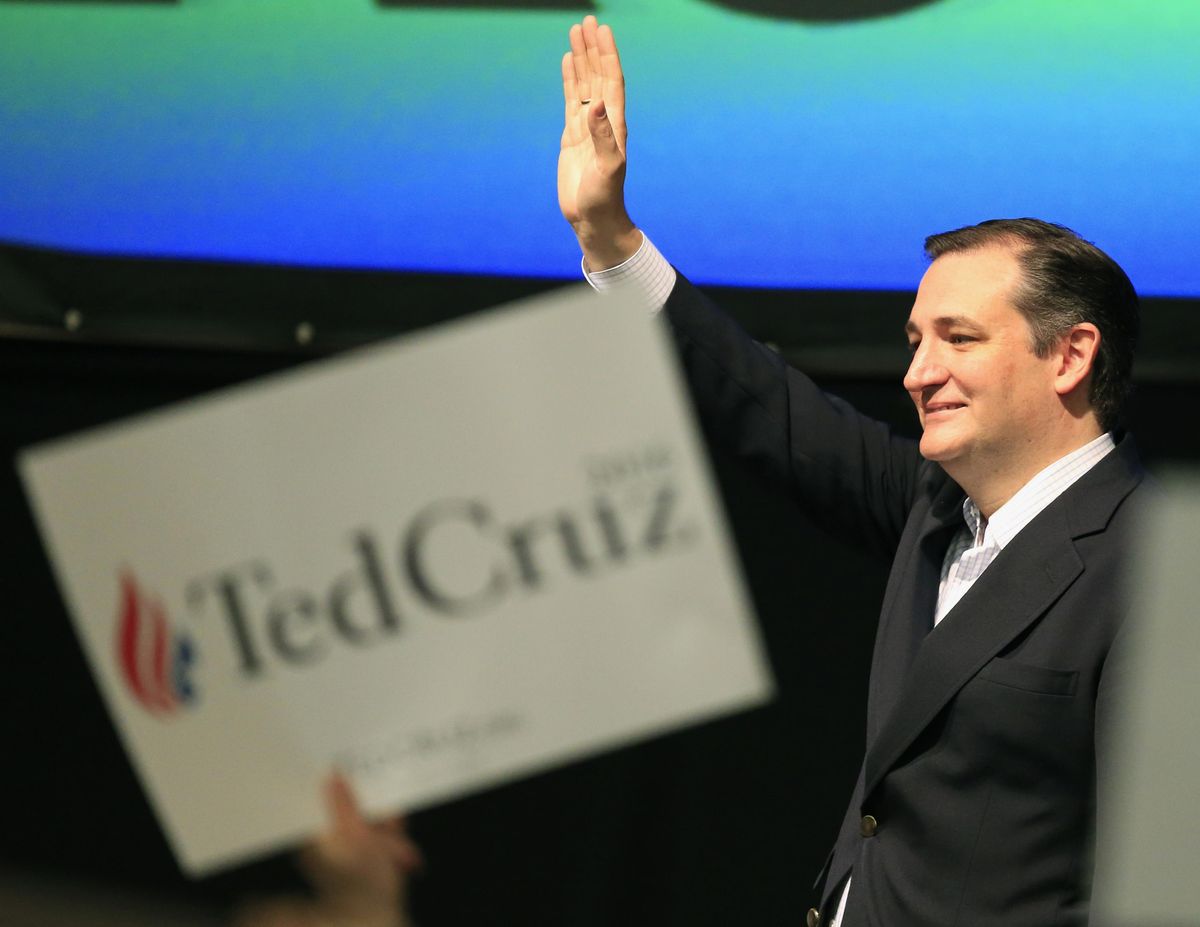 WICHITA, Kan. – In a split decision, Ted Cruz and Donald Trump each captured two victories in Saturday's four-state round of voting, fresh evidence that there's no quick end in sight to the fractious GOP race for president. On the Democratic side, Bernie Sanders notched wins in Nebraska and Kansas, while front-runner Hillary Clinton snagged Louisiana, another divided verdict from the American people.
Cruz claimed Kansas and Maine, and declared it "a manifestation of a real shift in momentum." Trump, still the front-runner in the hunt for delegates, bagged Louisiana and Kentucky. Despite strong support from the GOP establishment, Florida Sen. Marco Rubio had another disappointing night, raising serious questions about his viability in the race.
Trump, at a post-election news conference in West Palm Beach, Florida, declared himself primed for a head-on contest between himself and Cruz, and called for Rubio to drop out.
"I would like to take on Ted one-on-one," he said, ticking off a list of big states where he said Cruz had no chance. "That would be so much fun."
Cruz, a tea party favorite, said the results should send a loud message that the GOP contest for the nomination is far from over, and that the status quo is in trouble.
"The scream you hear, the howl that comes from Washington D.C., is utter terror at what we the people are doing together," he declared during a rally in Idaho, which votes in three days.
With the GOP race in chaos, establishment figures frantically are looking for any way to derail Trump, perhaps at a contested convention if no candidate can get enough delegates to lock up the nomination in advance. Party leaders – including 2012 nominee Mitt Romney and 2008 nominee Sen. John McCain – are fearful a Trump victory would lead to a disastrous November election, with losses up and down the GOP ticket.
"Everyone's trying to figure out how to stop Trump," the billionaire marveled at an afternoon rally in Orlando, Florida, where he had supporters raise their hands and swear to vote for him.
Trump prevailed in the home state of Senate Majority Leader Mitch McConnell, who has been critical of the front-runner for incendiary comments on Muslims and a slow disavowal of white supremacist groups.
Rubio, who finished no better than third anywhere and has only one win so far, insisted the upcoming schedule of primaries is "better for us," and renewed his vow to win his home state of Florida, claiming all 99 delegates there on March 15.
But Cruz suggested it was time for Rubio and Ohio Gov. John Kasich to go.
"As long as the field remains divided, it gives Donald an advantage," he said.
Campaigning in Detroit, Clinton said she was thrilled to add to her delegate count and expected to do well in Michigan's primary on Tuesday.
"No matter who wins this Democratic nomination," she said, "I have not the slightest doubt that on our worst day we will be infinitely better than the Republicans on their best day."
Tara Evans, a 52-year-old quilt maker from Bellevue, Nebraska, said she was caucusing for Clinton, and happy to know that the former first lady could bring her husband back to the White House.
"I like Bernie, but I think Hillary had the best chance of winning," she said.
Sanders won by solid margins in Nebraska and Kansas, giving him seven victories so far in the nominating season, compared to 11 for Clinton, who still maintains a commanding lead in competition for delegates.
Sanders, in an interview with The Associated Press, pointed to his wide margins of victory and called it evidence that his political revolution is coming to pass.
Stressing the important of voter turnout, he said, "when large numbers of people come – working people, young people who have not been involved in the political process – we will do well and I think that is bearing out tonight."
Count Wichita's Barb Berry among those who propelled Cruz to victory in Kansas, where GOP officials reported extremely high turnout. Overall, Cruz has won seven states so far, to 12 for Trump.
"I believe that he is a true fighter for conservatives," said Berry, a 67-year-old retired AT&T manager. As for Trump, Berry said, "he is a little too narcissistic."
Clinton picked up at least 55 delegates to Sanders' 47 in Saturday's contests, with seven delegates yet to be allocated.
Overall, Clinton had at least 1,121 delegates to Sanders' 479, including superdelegates – members of Congress, governors and party officials who can support the candidate of their choice. It takes 2,383 delegates to win the Democratic nomination.
Cruz won at least 64 delegates on Saturday, Trump at least 49, Rubio at least 13 and Kasich nine, with 20 delegates still to be allocated.
In the overall race for GOP delegates, Trump led with at least 378 and Cruz had at least 295. Rubio had 123 delegates and Kasich had 34.
It takes 1,237 delegates to win the Republican nomination for president.
Benac reported from Washington. Associated Press writers Bill Barrow in Jacksonville, Florida; David Eggert in Warren, Michigan; Catherine Lucey in Detroit; Melinda Deslatte in Baton Rouge, Louisiana; John Hanna in Olathe, Kansas, John Flesher in Traverse City, Michigan, and Ken Thomas and Stephen Ohlemacher in Washington contributed to this report.
- - - - -
Updates delegate count.
---