News > Spokane
Police identify suspect in shooting of Coeur d'Alene pastor
Sun., March 6, 2016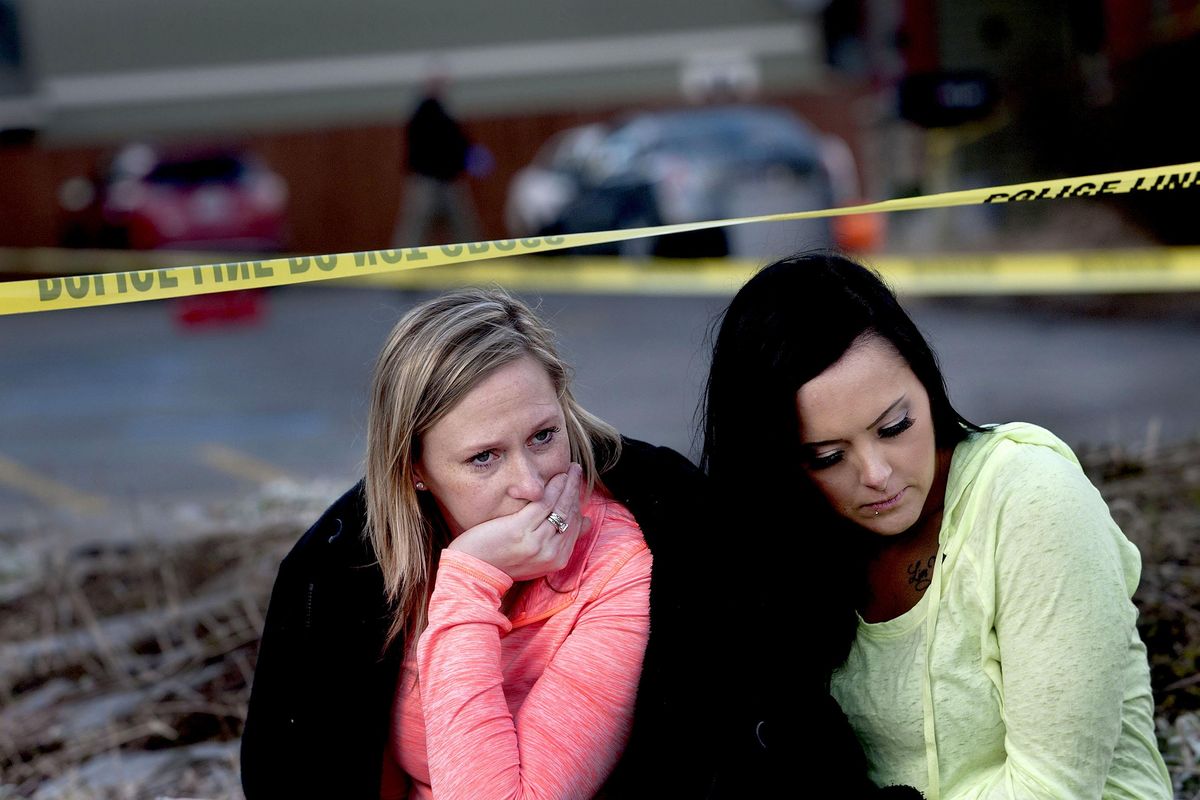 "He saved me," said Amanda Padula, left, as she and Deborah Young sat outside Altar Church in Coeur d'Alene, where pastor Tim Remington was shot six times as he was leaving services on Sunday, March 6, 2016. The women benefited from Remington's Good Samaritan Rehabilitation program. (Kathy Plonka / The Spokesman-Review)
Members of a Coeur d'Alene church prayed Sunday night for the recovery of their pastor after he was gunned down earlier in the day by an assailant in the church parking lot.
And they marveled at reports from the hospital that pastor Tim Remington was expected to pull through despite being shot as many as six times, including in the head and a lung.
"He's absolutely fine," said John Padula, outreach pastor at Altar Church, after speaking with doctors at Kootenai Health.
The suspected shooter, 30-year-old Kyle Andrew Odom, of Coeur d'Alene, fled the scene in a silver 2004 Honda Accord with Idaho license plate K578519, police said. Odom has blond hair and blue eyes, is 6 feet tall and weighs about 170 pounds.
He is considered armed and dangerous, police said. Anyone who knows his location is asked to call 911.
"We need to make sure this individual is taken off the streets as quickly as possible," Coeur d'Alene police Chief Lee White said.
Odom was a corporal in the Marine Corps and studied biochemistry at the University of Idaho, according to his Facebook page.
Remington, 55, was shot the day after he prayed with presidential hopeful Ted Cruz at a campaign rally in Coeur d'Alene and gave the invocation at the start of the event.
He has spent years building a faith-based recovery program for drug addicts and alcoholics, and he has counseled jail inmates.
Remington has been threatened several times over the years by addicts he has tried to help, Padula said.
White said investigators don't yet know of a motive for the shooting.
"For the Coeur d'Alene Police Department, this is all hands on deck," he said. "We're getting everybody out here to investigate this crime."
The shooting was recorded by a security camera at the church, at 901 E. Best Ave. Padula, who viewed the footage, said the suspect was inside the church during morning services.
The man "kind of wandered around," then went outside and waited in his car about 10 minutes before Remington left the church just before 2 p.m., Padula said. Remington opened his car door, and the shooter walked up behind him "and just started shooting him in the back," he said.
The shooter stood in a military-like posture, Padula said. "It didn't look like the first time he had shot. He stood pretty professional as he was shooting."
Remington's car was pierced by bullets and shell casings were left scattered on the pavement.
Two men at the church quickly ran to their pastor's aid. Remington was shot in the lung, head, hip and shoulder but escaped life-threatening injuries, Padula said.
Church members and friends hailed his survival as the work of God.
"One of the bullets tried to enter the brain but stopped at the skull. … He is and will continue to be alive and serving God!" Roger Crigger said in an update on social media.
May Traverso, who has attended Altar Church since 2011, described Remington as "tirelessly devoted, self-sacrificing, loving."
"He did not deserve this," Traverso said, tears welling in her eyes. "I don't get this."
Remington is director of Good Samaritan Rehabilitation, which provides drug and alcohol treatment. The faith-based approach aims to instill a sense of purpose, identity and confidence in people, and he believes recovering addicts benefit from spending time with Christian mentors. He and his family have invited addicts to live with them over the years.
"He lives for God and for everybody else. He is the most selfless man I have ever met in my life," Padula said. "When I was struggling, when I was using drugs still, he just loved the daylights out of me and helped me, as he has done for 1,700 people now who have graduated our program."
His daughter, Amanda Padula, said she was addicted to opiates for seven years before she went through Remington's recovery program in 2010. "He showed Christ's love to me and changed my life radically," she said.
Deborah Young said she was addicted to heroin, opiates and alcohol before she went through the program in 2014.
"When I was in my darkest time he was the one who pulled me out," Young said. "I love him like he's my father."
Coeur d'Alene Assembly Church opened its doors Sunday evening for church members and others in the community to gather for prayer. Remington's wife, Cindy, and their daughter and three sons were at the hospital with him, John Padula said.
Local journalism is essential.
Give directly to The Spokesman-Review's Northwest Passages community forums series -- which helps to offset the costs of several reporter and editor positions at the newspaper -- by using the easy options below. Gifts processed in this system are not tax deductible, but are predominately used to help meet the local financial requirements needed to receive national matching-grant funds.
Subscribe now to get breaking news alerts in your email inbox
Get breaking news delivered to your inbox as it happens.
---