News > Obituaries
Obituary: Moeller, Eloise Kay (Tipton)
Age 93
Sun., March 6, 2016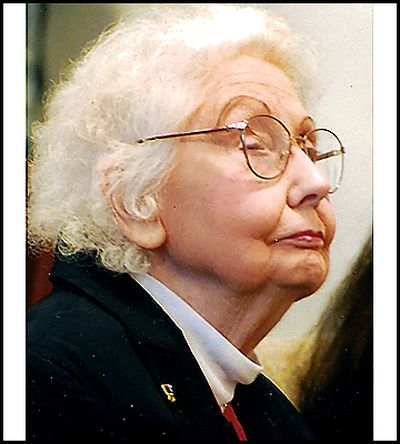 MOELLER, Eloise Kay (Tipton)

Eloise was born July
30, 1922 in Zanesville, OH.
She went into the arms of Jesus on February 24, 2016.
She married Herman Walter Moeller on July 21, 1940 in Zanesville, OH.
Her hus- band preceded her in death.
They have one daughter, H. Marlene Moeller and an adopted daughter, Ann M. Bickel, both of Spokane; granddaughters Josie Lazo, San Francisco and Bekki Lazo, Spokane; nieces and nephews Andrea (Gary) Hatley, Bremerton, Heidi (Dave) Tennent, Kirkland, Vickie (Jim) Hughes, Sultan, Carol Trebesch, CA, Martie (Ken) Belsaas, MO, Linda Chestney, NH, Darleen (Wade) Galuska, CO, Laraine (Paul) Williams, Elk; sister-in-law Adeline Schweitzer, SD and so many nieces, nephews, grand and great-nieces and nephews too numerous to mention.
Eloise and Herman owned and operated Inland Washer and Appliance for years in Spokane.
Eloise was the owner and operator of Little Nells Music Shop for over 30 years and her customers became her very close friends.
The celebration of her life will be held at Heritage Funeral Home on Saturday, March 12, 2016 at 1:00 pm.
A grateful thank you to Aspen Quality Care and their people for taking such good care of Eloise as well as Hospice of Spokane for their excellent care.
Local journalism is essential.
Give directly to The Spokesman-Review's Northwest Passages community forums series -- which helps to offset the costs of several reporter and editor positions at the newspaper -- by using the easy options below. Gifts processed in this system are not tax deductible, but are predominately used to help meet the local financial requirements needed to receive national matching-grant funds.
Subscribe to the Coronavirus newsletter
Get the day's latest Coronavirus news delivered to your inbox by subscribing to our newsletter.
---