News > Obituaries
Obituary: Williams, Angie Louise (Skogman)
Age 97
Sun., March 6, 2016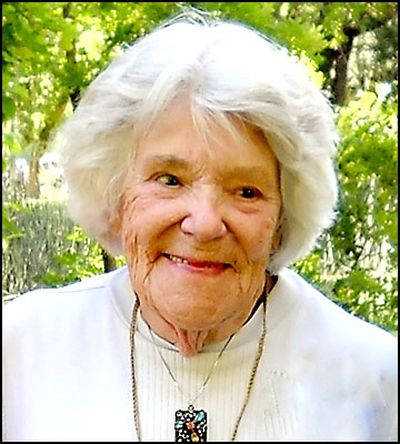 WILLIAMS, Angie Louise (Skogman)

97 Years of Life

Our earthly home lost an angel on March 1st when God reached down and took Angie Louise Williams by the hand to become part of the angelic host in heaven.
Her earthly family and friends are saddened at our loss but we think there was cheering in heaven when God welcomed her with the words, "Well done good and faithful servant".
Angie was born in Butte, Montana on June 24, 1918 to Edythe and Anselm Skogman.
When Angie was old enough to ask questions, which wasn't very long, she asked where she came from.
Her father, whom her children called Bompo, said that he brought her home from the copper mine in his lunch bucket.
She didn't tell us when she figured out the real answer, but she must have done so because after graduating from North Central High School in 1936, she met and married Elmer Paul Williams.
Together they had six children and were happily together for 59 years.

Angie and Elmer lived in several towns during their marriage.
They were married in a Methodist church a block from where Angie lived, then lived in Colville, WA, moved to Spokane, moved back to Colville, then moved to Marcus; where Angie ran a hamburger joint named the 'Sweet Shop', while raising four boys.
When the last two children came the 'Sweet Shop' went away and the next move was back to Spokane.
She found Millwood Presbyterian Church and it became a haven for the family and her; with good sermons and discussions which provoked much thought and pondering which she loved dearly.

Their last move was to a small acreage in Deer Park, WA, where Elmer at last had a huge workshop, a tractor, a garden and a hay field; and Angie had all the room she wanted to plant flowers, grow vegetables and be creative.
They started attending the Open Door Congregational Church, because Millwood Presbyterian was too far away, and again they found good sermons and thought provoking discussion.
They were happy living in Deer Park.
When the last two children were finally independent, she started to work for the American Red Cross as a volunteer, and soon was hired as a permanent employee.
Her work at American Red Cross was mostly in Service to Military Families.
She did, on several occasions, travel to other cities to join the ARC response to emergencies in those locations.
In later years she worked on call at nights and weekends providing assistance to military service personnel.
Angie continued doing on call work for the ARC well into her late 70's.

Somehow she found time to take a writing course at a local community college.
Thus fortified with a newly enhanced skill, she wrote letters and short stories which were a delight to all who read them.
When she wasn't on the phone doing ARC work or fixing meals in the kitchen for her 'Prince', as she liked to call Elmer, she either had her nose in a book or magazine or she was outside planting tulip bulbs and digging in the dirt.

Nothing was as important as her family.
She put together week long events for her grandchildren, having them in her house, feeding them, entertaining them and encouraging them.
Yes she had help.
Usually from a high school girl she hired for the occasion.
She was always ready to have a meal together with whom ever was around, and friends of family were always welcome.
Her unique ability to make strangers feel integrated into her house and home endeared her to many.

Angie is preceded in death by her husband Elmer; and her oldest son, Stanley Paul.
She is survived by Robert Norman, Kenneth Ray (Diane), James Stuart (Cheryl), Judith Kay Lewis, and Timothy Steven Williams.
She has thirteen grandchildren, fourteen great-grandchildren, and many nieces and nephews.
A Memorial Service for Angie will be held at the Open Door Congregational Church in Deer Park, WA, on Saturday March 12th, at 1:00 PM, with Rev.
Dr. Daniel N. Berg officiating.
In lieu of flowers, a donation could be made to the Inland Empire Chapter of the American Red Cross, 315 W. Nora, Spokane, WA 99205.
LAUER FUNERAL HOME in Deer Park, Washington
Local journalism is essential.
Give directly to The Spokesman-Review's Northwest Passages community forums series -- which helps to offset the costs of several reporter and editor positions at the newspaper -- by using the easy options below. Gifts processed in this system are not tax deductible, but are predominately used to help meet the local financial requirements needed to receive national matching-grant funds.
Subscribe to the Coronavirus newsletter
Get the day's latest Coronavirus news delivered to your inbox by subscribing to our newsletter.
---