News > Spokane
Coeur d'Alene police chief on pastor shooting: 'This could have been much worse'
Mon., March 7, 2016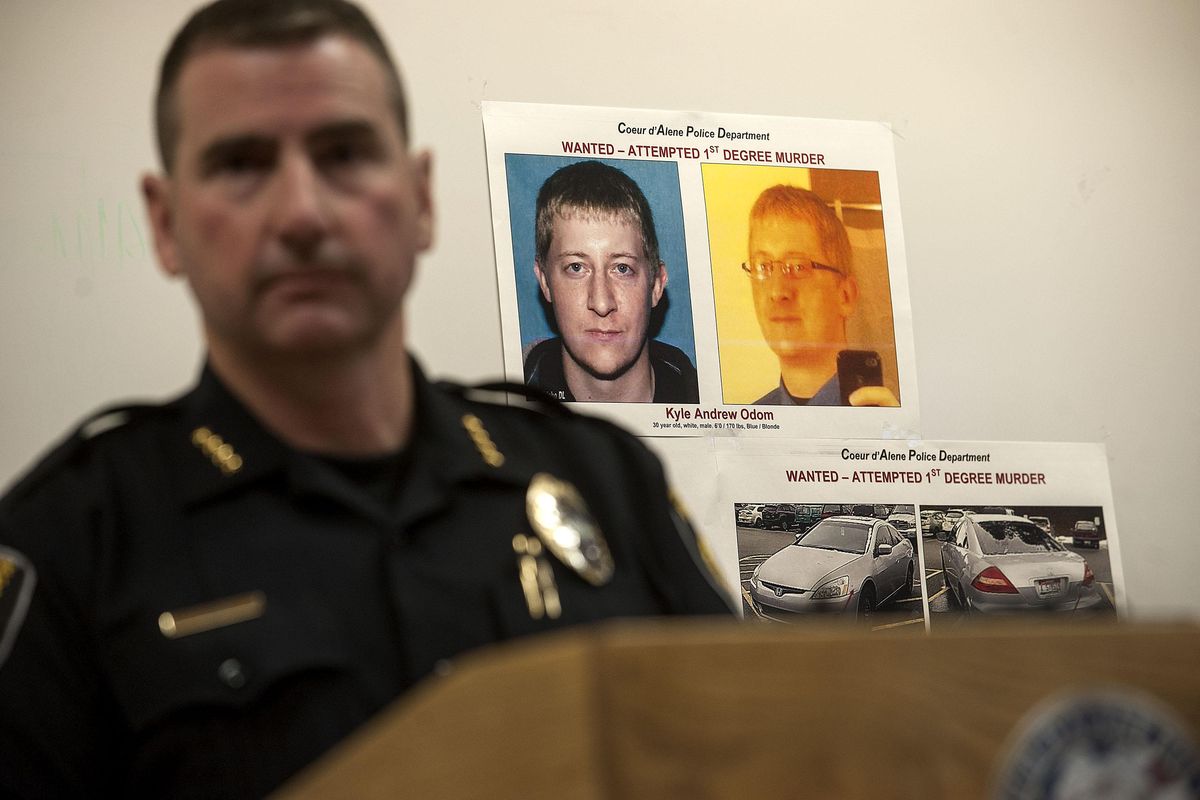 Coeur d'Alene police Chief Lee White said at a press conference Monday, March 7, 2016, that the suspect in the shooting of Tim Remington of the Altar Church was armed inside the church during services and that the outcome "could have been much worse." (Kathy Plonka / The Spokesman-Review)
Kyle Andrew Odom was armed while inside the Altar Church on Sunday before he walked outside, waited for pastor Tim Remington to emerge and shot him in the parking lot, police said Monday.
"I think our community as a whole got very, very lucky on Sunday," Coeur d'Alene police Chief Lee White said at a news conference. "I think this could have been much worse," he continued, noting the rash of mass shootings in the U.S.
"I'm not saying that's what was planned in this case," White said. "But the fact he was armed and acting in such a suspicious manner in the middle of a church … it's one of the reasons we're concerned about Mr. Odom and his whereabouts, and what his next plans may be."
Remington was shot six times, according to church officials, and was listed Monday in fair condition at Kootenai Health.
The police chief said investigators think Odom left Idaho soon after the attack.
"His whereabouts are completely unknown," White said.
Police tracked his movements west to Spokane and later received information that led them to believe Odom had turned south at some point and may have crossed into Oregon. They lost the trail around 8 p.m. Sunday.
A warrant has been issued for Odom's arrest on a charge of attempted murder.
White confirmed that Odom, a 30-year-old former Marine and University of Idaho graduate, has a history of mental illness.
"Initial reports indicate that, yes, there was some history of mental illness there. The degree of it and the scope of it, I really can't speak about," he said.
About 750 people gathered at Candlelight Christian Fellowship in Coeur d'Alene on Monday evening to pray for Remington.
Several local pastors, a county commissioner, parole officers and others urged forgiveness for the alleged shooter and praised Remington for his dedication to serving others.
"We are here to pray for that person who had it in his heart to bring destruction," said Paul Van Noy, the senior pastor at Candlelight Christian Fellowship and the head of the Coeur d'Alene ministerial association.
Others echoed Van Noy's sentiment, urging forgiveness and encouraging prayer for Odom, the alleged shooter.
"I believe that if he walked through this door people would be praying for him," said Gary Brown, a pastor at Freedom Fellowship, adding, "I think this is going to bring so much good."
Brown's son went through Good Samaritan, the faith-based drug and alcohol rehabilitation program that Remington founded. Many of the attendees graduated from Good Samaritan.
"It saved my life," Jesse Petschel said of Remington's program.
Police said security video at the church shows the suspect shooting Remington multiple times just before 2 p.m. Sunday. Investigators identified Odom as the suspect through evidence at the scene, interviews with witnesses and review of the video footage.
White said Coeur d'Alene police are working with other law enforcement agencies in the area and the U.S. Marshals Service to find and apprehend Odom.
"At this point we think that he acted alone. We do not have any information on a possible motive for the attack," White said.
Investigators also have not been able to interview Remington, who remained sedated in the hospital, to ask if he knows Odom, the chief said.
"However, it does appear that this was a preplanned attack, and I will tell you that some details surrounding Mr. Odom's planning are disturbing," White said, declining to go into those details. "There are many pieces to this puzzle, and after talking with people who knew Mr. Odom, it causes great concern for his immediate well-being and the well-being for those around him."
Remington is expected to recover and be released within a week, said John Padula, the church's outreach pastor.
"They said that the surgeries and everything went absolutely amazing," Padula told The Spokesman-Review on Monday. "He came out of surgery late last night. He's still sedated and they plan on keeping him sedated all day today because of the amount of pain he'll be in when he wakes up."
Odom, of Coeur d'Alene, fled the scene in a silver 2004 Honda Accord with Idaho license plate K578519, police said. He has blond hair and blue eyes, is 6 feet tall and weighs about 170 pounds.
He is considered armed and dangerous, police said.
"We don't currently have any reason to believe anybody else in the community is in danger. However, we're asking the public to remain vigilant, and if you see Mr. Odom or the vehicle, please call 911," White said.
Police tracked Odom's vehicle using license plate recognition cameras on Interstate 90, White said.
"It was instrumental in letting us know his movements immediately after the shooting. … Really the only definitive information we got was from those cameras," he said.
Odom is a 2004 Lake City High School graduate. His resume says he was a flight equipment technician in the Marine Corps from 2006 to 2010 and that he was awarded an Iraq Campaign Medal and a Global War on Terrorism Service Medal, among other commendations.
He also studied at the University of Idaho from 2011 to 2014 and received a bachelor's degree in biochemistry, his resume states.
Police said Odom's family members have cooperated with the investigation.
The family released this statement Monday: "Our family is devastated by Sunday's events. We are praying for Pastor Tim, his family and his continued recovery. We are also praying for Kyle's safe return and to get the help he needs. We love you Kyle!"
Remington, 55, was shot the day after he prayed with presidential hopeful Ted Cruz at a campaign rally in Coeur d'Alene and gave the invocation at the start of the event, attended by around 3,000 people at the Kootenai County Fairgrounds.
He has spent years building a faith-based recovery program for drug addicts and alcoholics, and has counseled jail inmates.
At Monday night's vigil, Lee Lancaster said the more he learns about Odom, the more he's confused by the shooting.
"Nothing we've learned about this guy fits the profile," Lancaster said. "This guy would have fit right into this church."
Rick Remington updated the audience on his brother's condition. Neurologists said he would have limited feeling in his right hand, which was better than originally expected. Rick Remington said the first word out of his brother's mouth was "pain."
"He's a little bit scared," he said to the audience. "He will survive. He will come out of it and God will be glorified."
Van Noy and others urged participants to see the shooting as a catalyst to build community and revitalize the Christian faith.
"We have sorrows and we have reason to rejoice," Van Noy said. "Pastor Tim is going to be fine."
Staff writer Eli Francovich contributed to this report.
Local journalism is essential.
Give directly to The Spokesman-Review's Northwest Passages community forums series -- which helps to offset the costs of several reporter and editor positions at the newspaper -- by using the easy options below. Gifts processed in this system are not tax deductible, but are predominately used to help meet the local financial requirements needed to receive national matching-grant funds.
Subscribe now to get breaking news alerts in your email inbox
Get breaking news delivered to your inbox as it happens.
---