News > Spokane
Secret Service arrests suspected shooter of CdA pastor outside White House
March 8, 2016 Updated Wed., March 9, 2016 at 12 a.m.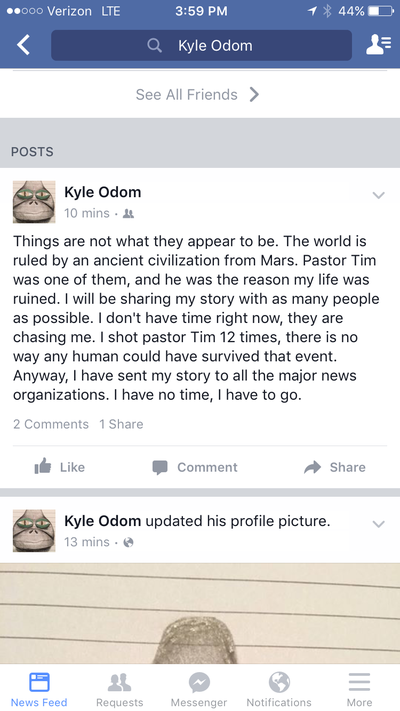 The U.S. Secret Service arrested the suspected shooter of a Coeur d'Alene pastor Tuesday night as he threw computer flash drives and other items over the south fence of the White House in Washington, D.C.
Agents apprehended Kyle Odom without problems Coeur d'Alene police Chief Lee White said Tuesday night. Odom was not armed.
"I think everyone can breathe a good sigh of relief that at least this part of the case has come to a conclusion," White said.
Odom fled Coeur d'Alene after the Sunday shooting, according to police. He drove his silver Honda to Boise and boarded a plane Monday to Washington, despite a felony warrant for attempted first-degree murder and a coordinated multistate manhunt following the shooting of pastor Tim Remington, White said.
"We are learning things literally by the minute – more details about his travel plans and his apprehension and the status of what's occurring currently at the White House," he said at a news conference at police headquarters.
Just a day before the shooting, Remington led prayers during a Coeur d'Alene campaign stop by GOP presidential candidate Ted Cruz.
Remington, pastor at Altar Church, remains hospitalized at Kootenai Health but is recovering from six gunshot wounds from a .45-caliber pistol.
Odom sent writings and computer flash drives to media organizations that arrived Tuesday afternoon. A manifesto he wrote and a Facebook account he is associated with included passages that indicate he is struggling with mental illness.
Odom apparently claimed Remington was a "Martian" and a member of "an ancient civilization from Mars."
White said he believes the manifesto and Facebook posts were written by Odom. "If anything, I think his social media posts gave us some insight into his psyche," he said.
The writings show that Odom also had targeted John Padula, outreach pastor at Altar Church, on Sunday, and the attack was planned, Coeur d'Alene police said Tuesday. Police assigned two officers to keep watch over Padula and his family.
"I usually have my kids around me, and that was the thing that concerned me, was my wife and my kids," Pedula said Tuesday night.
Concerning Odom's arrest, Pedula said, "Everybody is absolutely relieved because we did not want to see him end up doing any self-harm. This is an absolute miracle, and I believe God is going to do something big in his life."
Odom's manifesto included the names of many members of Congress, including Sen. Patty Murray, D-Wash., and Israeli government officials.
"It was extensive and it was disturbing to us," White said.
Police quickly alerted the FBI and Secret Service. Law enforcement in Boise found Odom's parked Honda, and investigators surmised Odom was traveling to the nation's capital.
In a matter of hours, Secret Service agents had Odom, a former Marine and University of Idaho graduate, in custody.
Hazardous materials and bomb teams were working Tuesday night to identify the items Odom tossed onto the White House grounds, White said.
Asked how Odom cleared airport security in Boise, the chief said, "As far as the inner workings of TSA and how someone with a felony warrant could board an airplane, I'm not the person to answer that question."
Kootenai County Prosecuting Attorney Barry McHugh said the Secret Service will evaluate if any charges will be filed against Odom in the District of Columbia, before he is extradited to Kootenai County to face shooting charges.
Many members of the Altar Church and others who knew Odom and his family had wished and prayed for his safe arrest.
"We are thankful for the safe apprehension of our son Kyle," the family said Tuesday night. "As Kyle was not living with us, we are learning of his plans as they are being released by police.
"We are truly thankful to God he is safe and no one else has been injured."
White said Tuesday his department "worked tirelessly since we were first notified of this case."
Staff writer Eli Francovich contributed to this report.
Local journalism is essential.
Give directly to The Spokesman-Review's Northwest Passages community forums series -- which helps to offset the costs of several reporter and editor positions at the newspaper -- by using the easy options below. Gifts processed in this system are not tax deductible, but are predominately used to help meet the local financial requirements needed to receive national matching-grant funds.
Subscribe now to get breaking news alerts in your email inbox
Get breaking news delivered to your inbox as it happens.
---