Shed hunting has become popular and profitable hobby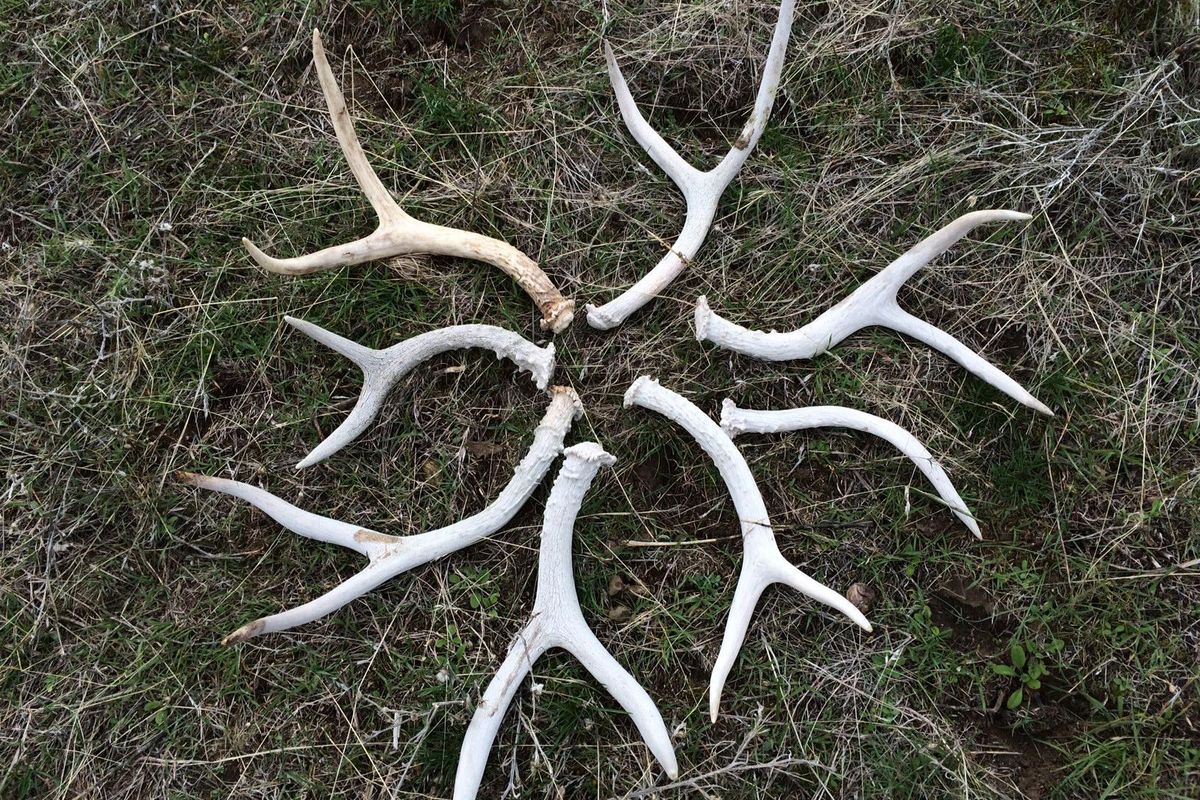 It's that peaceful time of year when the forest begins to give up its secrets.
As the warmer temperatures push the snowline further up the mountain, emerald green shards of grass begin to hint of the promise of renewal.
It's in these remote corners, not yet adorned by the songs of birds, that shed hunters wear the treads off boots in the eternal search for calcified treasures.
"I like the woods in the spring," said Tim Kuntz of Loon Lake. "I just like to get out and hike."
The 57-year-old produce manager said he's been making his annual treks to the woods since he moved to his 13 remote acres some 15 years ago. The endless hikes are always a success even if it doesn't produce an antler.
"I deal with the public all day long. I'm okay running across somebody, but I'd rather have the serenity," he said.
The deep snow pushes down vegetation and open lanes for hiking, especially on the forests' steepest slopes, that become nearly impassable during warmer times of the year.
It's through these places that deer, elk and moose travel in their daily efforts to survive the winter. Along these well-worn paths, the bucks and bulls eventually drop the headgear they worked so hard to grow the year before.
"It's funny. My wife always says, 'What are you going to do with them?' I think about that myself," Kuntz said. "When I think about it, I don't want to give them up. It reminds me of being in the woods and finding it."
Big business
Shed hunting has grown in popularity over the years, largely because of profit. Fresh antlers can fetch up to about $10 a pound, or $200 apiece if the antler would make a beautiful piece of furniture.
The price varies largely with size, age and use. Older "hard white" antlers, which typically have been in the weather longer, bring in about half as much as "hard brown," which typically are the freshest antlers dropped in the most recent season.
Antlers can start hitting the ground as early as late December. But some deer keep their headgear into April. Some of those that drop and are found eventually are ground down and used in Asian markets as aphrodisiacs.
Post Falls hunter Troy Pottenger uses shed season to locate the whitetail bucks in Idaho and Washington that he will be pursuing later that fall, he said in a previous interview. While he keeps some of the larger antlers, Pottenger said he sells the rest to pay for out-of-state licenses for other hunts.
The popularity of shed hunting has led to inevitable human-animal conflicts. Horror stories of so-called "sportsmen" chasing elk herds in the hopes that bulls drop antlers have given the activity unwanted notoriety.
Several dog trainers have tapped into the market by training dogs to comb through the woods to find sheds for their masters.
Because of the growing demand and popularity, some Western states have proposed law changes to restrict shed hunting until April to prevent animals from getting pushed at the end of winter, when they are the most vulnerable.
In Washington, a law was amended last year to take away the financial incentive to trespass to find sheds. Before the change, the hiker could be cited for trespassing but keep the antlers. Under the new change, the antlers can be seized.
In addition, several properties managed by the Washington Department of Fish and Wildlife have winter restrictions designed to prevent shed hunters from pushing wildlife, department spokeswoman Madonna Luers said.
As with all activities in the woods, hikers should know the rules and boundaries before they set foot in those places.
Solace sought
Kuntz sometimes travels to Ellensburg and Montana to look for elk sheds. But he typically stays within a 100-mile radius to search for deer and moose antlers.
And while some hunters are turning to dogs, Kuntz, who has owned bird dogs over the years, said he doesn't like the idea of having one to hunt antlers.
"I don't like having a dog in the woods in the spring," he said. "I can walk through the woods and not be invasive. You can walk right by a deer. If you don't make eye contact, he might do nothing. But when you have a dog with you, that's when you are really stepping on their toes and stressing them."
With the antlers he has found, Kuntz has made a few antler lamps. He also made an arrangement with silk flowers that he pared with a rather large moose antler.
"There are so many people who don't have any idea that they lose their antlers every year," Kuntz said. "People see some of my bigger horns … and they are so intrigued.
"There is some connection to them," he continued. "Even for somebody who doesn't go out in the woods, they are still intrigued by them."
---