News > Pacific NW
Defense: Ex-Pasco officer was overseas at time of 1986 Spokane killing
Sat., March 12, 2016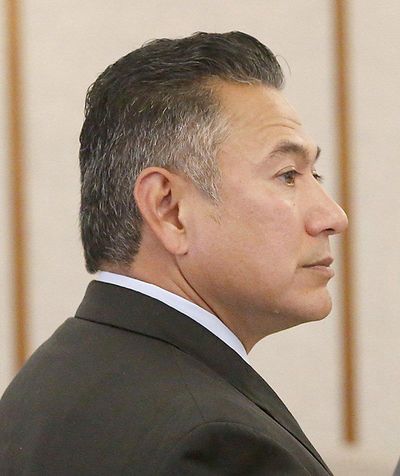 A former Pasco police officer was stationed in South Korea when a prostitute was killed in Spokane in 1986, according to his attorney.
A motion filed Friday asks for Richard J. Aguirre's murder case to be dropped because the evidence, backed by certified military records, gives him a "complete alibi defense."
"Mr. Aguirre could not have murdered the victim because he was not even on the same continent when the crime occurred," John Henry Browne, a Seattle lawyer, wrote in the motion. "The state's notion that Mr. Aguirre is the perpetrator of this heinous crime is a factual impossibility."
Ruby J. Doss, 27, was beaten and strangled to death on Jan. 30, 1986.
The case went cold until the 29th anniversary, when a Spokane detective learned that Aguirre was a match for a DNA profile from a condom found near Doss' crime scene.
Aguirre was charged last June and has been held in jail since then.
His trial on one count of first-degree murder with sexual motivation is scheduled June 20 in Spokane County Superior Court.
Spokane County Prosecutor Larry Haskell could not be reached for comment Friday.
A hearing to address the defense motion and other matters is set for April 27-28.
Aguirre's other two felony charges in Spokane County – tampering with a witness and voyeurism – already have been dismissed by prosecutors, the clerk's office said.
He also faces third-degree rape and fourth-degree assault charges in Franklin County Superior Court. The trial date is June 8.
Aguirre, now 51, had been stationed at Fairchild Air Force Base until he was given overseas orders.
Browne attached an "Airman Performance Report" to his motion, showing Aguirre's report period at Osan Air Base was Dec. 24, 1985, to Dec. 23, 1986.
That document does not show if he ever returned to Washington on leave during his year in South Korea.
Aguirre returned to Fairchild, where he remained until his release from active duty in January 1988. He was hired that same year by the Pasco Police Department.
Local journalism is essential.
Give directly to The Spokesman-Review's Northwest Passages community forums series -- which helps to offset the costs of several reporter and editor positions at the newspaper -- by using the easy options below. Gifts processed in this system are not tax deductible, but are predominately used to help meet the local financial requirements needed to receive national matching-grant funds.
Subscribe now to get breaking news alerts in your email inbox
Get breaking news delivered to your inbox as it happens.
---