News > Obituaries
Obituary: Matthes, Betty Jeanne Carns
Age 89
Sun., March 13, 2016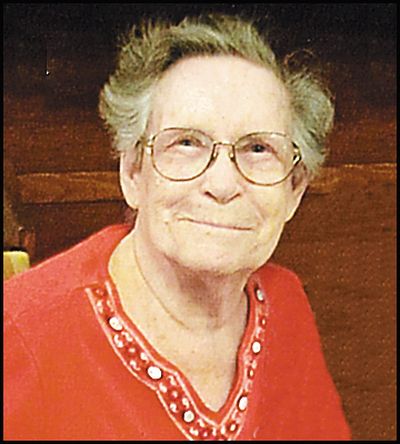 MATTHES, Betty Jeanne Carns

Betty Jeanne Carns Matthes passed away on February 22, 2016, in Gilbert, Arizona.
She was born December 23, 1926, in Adams County, Iowa, and graduated at the top of her Murray, Iowa, high school class.
In a delightful collection of "Carns Yarns" she authored later in life, Jeanne said growing up in Murray with her parents, Lucille and Frances Carns, and her siblings was the ideal childhood.
Jeanne lived and worked in Spokane, Washington, most of her life where her son, Michael Ellyson, was born and raised.
Jeanne was well traveled, visiting Ireland, Mexico, Vancouver, the Southeastern U.S., and the Grand Canyon.
In 2012, Jeanne moved to Chandler, Arizona, to be close to her niece, Anne (Burchett) Barton and Anne's husband Lester.
She came to love Arizona palm trees and sunsets.

Family and friends will miss Jeanne's wise counsel, loving generosity, and compelling sense of humor.
Throughout her life, Jeanne had a way of sparking fun for those around her.
Just last year Jeanne endeared herself to her physical therapist by teaching her to tap dance!
Preceding Jeanne in death were her parents; husband, Wayne Matthes; siblings Gayle Burchett of Grand River, Iowa; Max Carns of Tonapah, Nevada; and Richard Carns of Murray, Iowa.
Survivors include her beloved brother Merrill Carns and wife Joy of Osceola, Iowa; son Michael Ellyson and his wife Maura of Ansbach, Germany; grandchildren Neale Ellyson of Moscow, Idaho; Seanaghan Ellyson and his wife Mackenzie of Tucson; and Matthew Ellyson and Mardi Williamson and her husband Aaron along with great grandchildren Phaydra, Kaehlin, and Quincy Williamson of Spokane.
According to Jeanne's wishes, her ashes will be interred beside her husband's at Greenwood Memorial Terrace in Spokane.
Local journalism is essential.
Give directly to The Spokesman-Review's Northwest Passages community forums series -- which helps to offset the costs of several reporter and editor positions at the newspaper -- by using the easy options below. Gifts processed in this system are not tax deductible, but are predominately used to help meet the local financial requirements needed to receive national matching-grant funds.
Subscribe to the Coronavirus newsletter
Get the day's latest Coronavirus news delivered to your inbox by subscribing to our newsletter.
---