News > Spokane
Then and Now: Spokane's telephone companies
Mon., March 14, 2016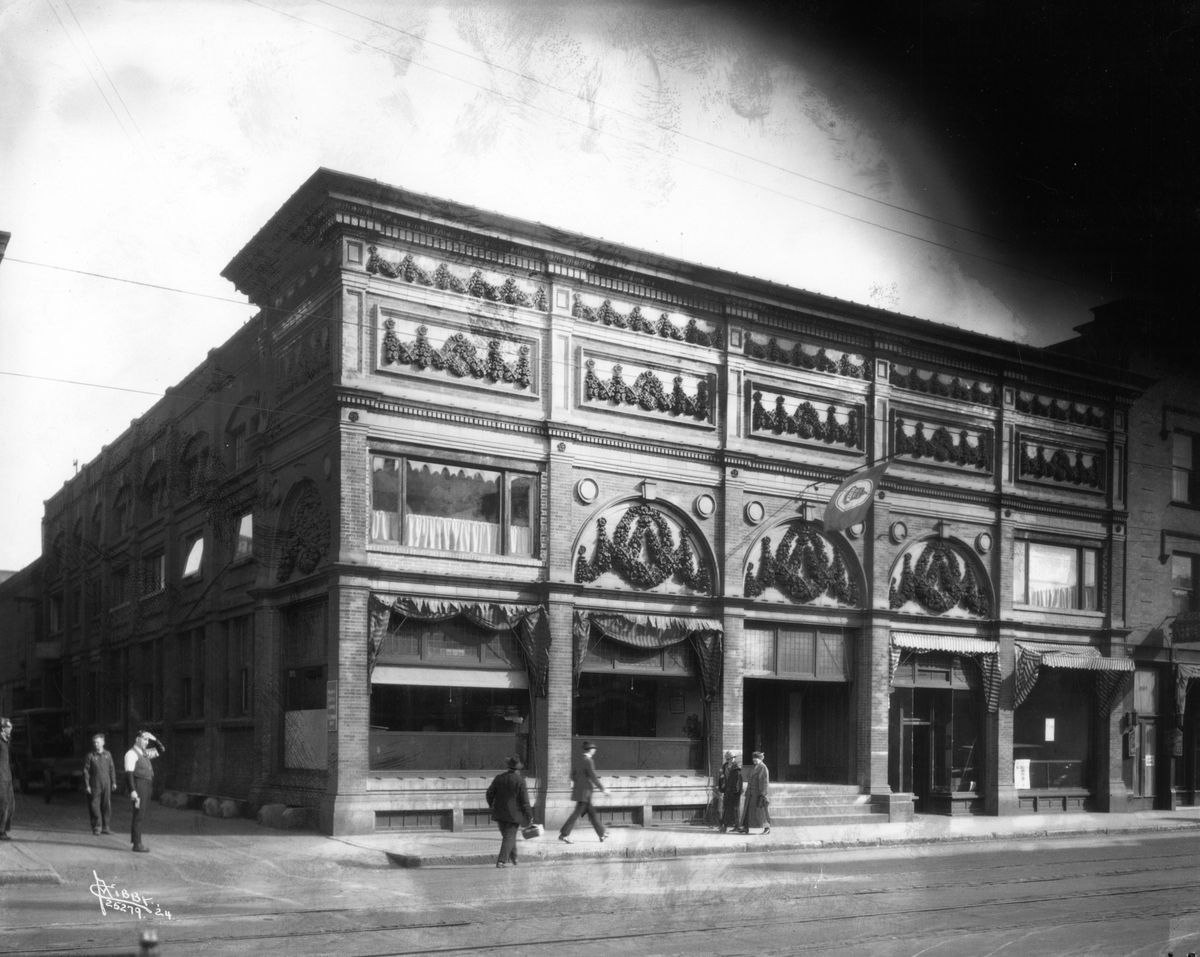 1924: Architect Albert Held designed the Home Telephone and Telegraph Building at 165 S. Howard St. in 1907 for the phone company headed by Thaddeus S. Lane, a Montana businessman. Lane's company sold out to competitors in 1915, though phone equipment stayed in the building for many years. Through the years, the building housed a piano store and several investment and insurance firms. In 1970, the Beaux Arts terra cotta embellishments were covered up with Roman brick on the west side and stucco on the south and east, leaving only the upper friezes visible. (Libby Collection / Eastern Washington Historical Society archives)
Just a few years after Alexander Graham Bell demonstrated his new invention, Charles B. Hopkins installed the first telephones in the Inland Northwest. In 1884, he bought an old Army telegraph line between Colfax and Almota, on the Snake River, for a $20 gold piece. He installed phones at each end.
He figured the Palouse Gazette, his newspaper in Colfax, would use it to scoop his newspaper competitors. But that first telephone was so popular with locals, he pivoted from the newspapers and started the C.B. Hopkins Telephone System. He sought out and bought other telegraph wires to expand his modest phone company. Around the country, telegraph offices were adding telephone services for quick communication.
Hopkins partnered with another telephone entrepreneur, W.S. "Billy" Norman of Spokane, who owned Inland Telephone and Telegraph. Norman also owned the Hotel Spokane and an interest in Washington Water Power Co. After the financial panic of 1893, Hopkins moved to Spokane. The company had a license agreement with the American Bell Co., but nationwide calling was still a distant dream.
There were other telephone startups, each stringing their own lines around the city and outlying areas. Starting around 1905, Montana businessman Thaddeus S. Lane and his Home Telephone and Telegraph began stringing telephone wires around Spokane and installing phones. Lane's company quickly gained market share and competition was fierce.
Home Telephone and Telegraph put up an elegant new building at 165 S. Howard St. in 1907 and added new technology like automatic dialing, called "girl-less" calling. Before that, telephone operators, usually women, had to manually connect each call.
Consumers had to choose between phone companies, and some subscribers had phones from both services. But Lane was juggling many creditors who had financed his phone companies. In 1915, Norman and Hopkins took over Home Telephone and its equipment, but the company used the name Home Telephone and Telegraph until 1935, when it became Pacific Telephone and Telegraph. Later it became Pacific Northwest Bell.
Phone equipment remained in the South Howard building for many more years, but the rapid expansion of the phone system meant that some equipment had to be moved into the neighborhoods they served. These exchanges had distinctive names, such as Keystone, Glenwood or Walnut, with the first letters of the name corresponding to the exchange's numerical prefix.
The giant Bell telephone system that had taken over thousands of tiny phone utilities in the early part of the 20th century was broken into several regional companies by federal regulators in 1982.
– Jesse Tinsley
Local journalism is essential.
Give directly to The Spokesman-Review's Northwest Passages community forums series -- which helps to offset the costs of several reporter and editor positions at the newspaper -- by using the easy options below. Gifts processed in this system are not tax deductible, but are predominately used to help meet the local financial requirements needed to receive national matching-grant funds.
Subscribe now to get breaking news alerts in your email inbox
Get breaking news delivered to your inbox as it happens.
---